Changing the world, one children's book at a time
Professor Jane Hale's lessons go beyond French and comparative literature
When Professor Jane Hale begins a new semester, she harbors goals for her students that far exceed the confines of the French and comparative literature curriculum she teaches.
She wants them to consider the gifts of those around them instead of pointing to their flaws; she wants them to think
I never thought of that
instead of
I know the answer
. 
"That's what I want them to get out of the class – to learn to see people's strengths...and to move beyond 'This is right and this is wrong,'" Hale says. 
Sitting in her Brandeis office surrounded by shelves of books written in English, French and Creole, Hale admits these are tough ideas to teach. But she also finds literature a more practical teaching tool than people may at first believe.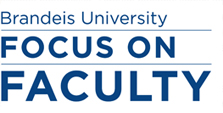 "The perspective you get from reading literature is the most helpful in bringing about social change," Hale says, given that a story is generally told from one person's perspective – the author's. "You can't say a person's life is wrong. You can like it or not like it, but reading lets you live a person's experience with them, and at the end, you're usually changed."
Changing the world has always been on Hale's radar. Growing up in Virginia in the 1960s, she watched the women around her become housewives, nurses – or teachers – but Hale had a different path in mind for herself. After watching President John F. Kennedy's speech about the establishment of the Peace Corps, a 12-year-old Hale told her mother then and there that she'd join one day.
She did. Following her graduation from the College of William and Mary with a degree in French, Hale joined the organization and was sent to Chad, where to her surprise, she was assigned to teach English at a high school. 
Even more surprising to Hale, she now says with a laugh, is that she found her life's passion in the classroom.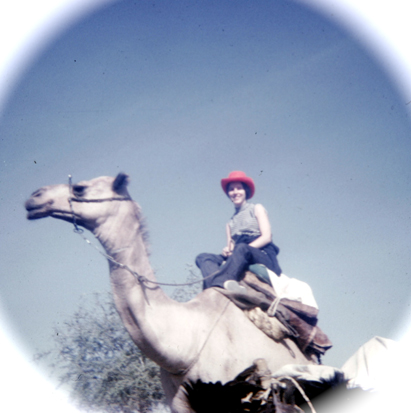 Jane Hale photographed in Chad while serving in the Peace Corps.
"It was the thing that used all of my skills," she says.
So Hale returned to school herself, got a master's in education at the ​University of Chicago and found a job teaching second grade in North Carolina. It was 1974, but only the first year of desegregation for the country school, where her students where largely the children white mill workers and black sharecroppers mixing for first time in the classroom.
Hale calls it the toughest job she's ever done. She enjoyed it, but also wanted to see what her other options were as an educator. College-level teaching seemed to offer the greatest freedom, and so she returned to school once again and earned a Ph.D. in French from Stanford University.
In 1985, she found her first full-time professorship at Brandeis, where she's remained ever since.
"I feel like I found my place here," she says.  
As she began teaching 20th-century French theater, she also reflected on what she had hoped to accomplish back in her Peace Corps days. Mostly, she was focused on the deep link between language, learning and culture.
Some of the students she was teaching in the U.S. initially had poor English or French skills, but incredible minds and stories. There might be 15 native languages in a class of 20 students, she says, and teachers would never know that unless they asked. That's why she insists her students get to know one another – they sit in a circle; they learn each other's names and backgrounds.
"It just made me think you could get a 'C' in French, and still be a great person," she says emphatically. "You just have to get students to see their stories, to see that they're interesting. If you ask students to write about something they're passionate about, it can be pretty amazing." 
As much as she enjoyed working with college students, she also wanted to get at the root of the literacy problem, and began thinking about how children in economically-deprived countries learn to read.
If you went into a store in many areas in Africa, you'd be hard-pressed to find a children's book, Hale says, and if you did it would feature "a little blonde kid – like Barbie."
This motivated her to embark on a number of projects.
Brandeis wasn't as diverse a community in her early years here, she says, and she wanted to bring a greater variety of cultures to campus. In 1994, she received a Fulbright Scholarship to travel to Senegal to research and create an African literature course that would be taught in French. She also developed an interest in Caribbean culture, as the Boston area is home to the third-largest Haitian population in the U.S., and has taught a course on Haiti's history and culture through literature, also in French.
One of her more ambitious projects has been the founding of an organization called Families Reading Together, which runs programs like Family Literacy Lesotho and Famni Ki Li Ansamn. She remains the director of the nonprofit, and has recruited students, as part of Brandeis' Experiential Learning program, to help her put picture books in the hands of families in Lesotho, Haiti and even here in Massachusetts. When books were not available in the recipients' native languages, the organization conducted a national contest seeking writers and illustrators, and published a few books of their own.
"I love reading books to little children more than anything in the world," Hale says. "I'm interested in helping more people in more places have the experience I had, reading in my father's lap."  
Hale lives with her husband William Bicknell, M.D., who teaches family medicine and international public health at Boston University, in log cabin on the South Shore, where she sometimes reads detective novels – in English, French and now even Creole – in her spare time. But for the couple, who frequently travel abroad for their respective projects and to meet with friends and colleagues they've developed over the years, "spare time" is a relative term.
"We try to find ways to make our work work in people's lives," Hale says. "We're not terribly theoretical. We enjoy trying to find out how people live."
Hale will be on sabbatical next semester, and in the fall will teach "Reading, Writing and Teaching Across Cultures" and "Subsaharan Africa and the French Language." As for what will follow, she says it's anyone's guess.
"I've never really known what I was going to do next," Hale says. "You can see your life as having a story or theme in retrospect, but not at the time. I've been lucky – I've had the freedom here to do pretty much what I want to do."
Return to the BrandeisNOW homepage