Cast faces personal demons in 'Little Monsters'
Brandeis Theater Company performs workshop production of Maria Alexandria Beech's new play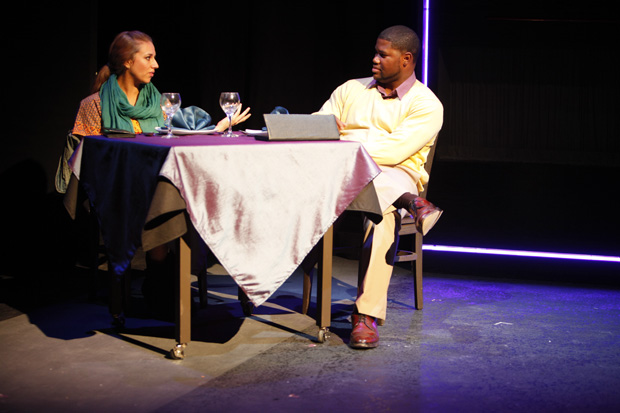 As an overweight woman who has an uneasy relationship with her mother, her appearance and dating, Sara is like many college students. She is trying to figure out who she is and where she fits in.
Except she is not a student, she is a 30-something Latina artist living in New York City, and she is fictional. The protagonist of "Little Monsters," a Brandeis Theater Company workshop production in cooperation with the off-Broadway non-profit Primary Stages, Sara is the invention of playwright Maria Alexandria Beech.

'Little Monsters' 

Tickets for the following workshop performances can be purchased for $10 online, by phone at (781) 736-3400 or by visiting the Atrium Box office in the Shapiro Student Center:
Friday at 8 p.m.
Saturday matinee at 2 p.m.
Saturday at 8 p.m.
Sunday matinee at 2 p.m.
Join in a post-show discussion with the playwright, director and members of the creative team following the matinee Feb. 19.

"As someone who has started over many times, who has never been age-appropriate for what I was doing, I'm interested in the idea of limbo - what it's like not to be in one phase of your life, not in the other, but stuck in this third zone," says Beech, who worked as a broadcast journalist and an emerging markets analyst before getting her start in theater. "I'm interested in those existential cracks you can fall into."
It actually began on a lighter note. Entrenched in serious reading as a panelist for the New York Foundation and Cape Cod Theater Project, she wanted to try her hand at a longer version of the popular 10-minute comedic bar plays she had been writing for the Bowery Poetry Club. But amusing tales of mother-daughter clashes and online dating gone wrong quickly gave way to heavier themes.
"Beneath all this humor, I started to get the impulse to explore why this woman can't connect on any of these dates," Beech says. "From there, it very organically started to grow into this study on adult relationships with a parent and the notion of how the parental role has gotten extended."
The play was written in less than five months, with Beech sending 10 pages at a time to the Dorothy Strelsin New American Writers Group, an invitation-only collaborative of which she is a part at Primary Stages. It is ultimately about relationships and identity, with nods to politics and technology, the latter a subject matter that surfaced after Beech attended the Aspen Ideas Festival.
"The Internet all of a sudden pairs people up of every background and religion in ways that are arbitrary and bizarre. You get a reshuffling of the human race that is so fascinating," Beech says. "You have the entire world in this little device, and when you're in a limbo state, that's your window into the world."
That subject matter and diversity of characters is part of what drew the Brandeis Theater Company to "Little Monsters," says Brandeis Theater Company Managing Director David Colfer.
"The age and circumstances that many of the characters find themselves in are similar to the age and circumstances that many of the students are in," Colfer says, although the various ethnicities do not necessarily match.
Beech says that makes it more of a challenge for the actors, who have to embody the characters through skill, and not fall back on their natural physical appearance.
Samantha Richert, a third-year theater graduate student, is playing the role of Sara. As a thin, 24-year-old blond woman, it is a stretch, but one that she is happy to tackle. She must transform herself into the character through hair dye and a padded suit, but mostly through research and acting. You can say a lot more as an artist that way, Beech says, adding that so far Richert "has achieved something really beautiful" with her character.
The feeling is mutual. Though the play underwent 35 revisions, it came to Brandeis in good shape, she says, needing only minor tweaks along the way. But whenever questions about the characters arise, Beech is there to answer them, a benefit of the partnership.
"You can ask questions and go back and forth instead of just being confused," Richert says. "But things are changing all the time, so when I go in tonight, I could very well be... a unicorn." According to Colfer, rolling with those changes is part of the learning experience the workshop provides.
This is her second time participating in the workshop, which partnered with Primary Stages as many years ago at the behest of its managing director, Elliot Fox '87, a theater program alum.
Fox says he knew Brandeis no longer had a graduate playwriting program, while Primary Stages had a "bunch of writers with new plays that I needed to find a home for." The company has a similar partnership with Fordham University in New York, which he thought worked well, giving both students and playwrights a complete experience.
"There are certain things about a play that you're not going to discover until you get up on your feet," Fox says.
Return to the BrandeisNOW homepage