MLK Day offers opportunities for service, reflection
Photos from the Brandeis Archives show scenes from Dr. King's visits to campus in 1957 and 1963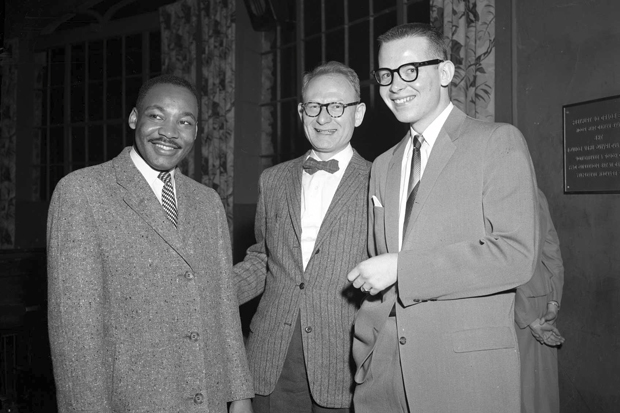 Varied celebrations of the life and legacy of Dr. Martin Luther King, Jr. are planned for Monday, Jan. 17, offering Brandeis students, faculty, staff and alumni opportunities for community building and public service, as well as the traditional evening program of inspirational speeches, music and poetry.
From 11:30 a.m. to 1:30 pm, a free lunch will be available in Shapiro Campus Center, during which volunteers will engage in community building activities and hear from people from various immigrant, ethnic and religious groups about what in their traditions motivates them to serve on Martin Luther King Day.
From 2 to 4 p.m., volunteers will do community service work on campus and around greater Boston. Volunteers will work on issues including immigration, Haiti, poverty, homelessness and Sudan.
There will be a free dinner and reflection on the day's activities from 5 to 6 p.m. back at the campus center, after which the Brandeis remembrance and celebration of Dr. King's life will take place. This year that event is titled "The Queens of His Dream" and the program features women speakers, musicians and poets.
Alexander Levering Kern, who is Brandeis' Protestant chaplain and executive director of Cooperative Metropolitan Ministries (CMM), says the hope is that the volunteer work will lay foundations for meaningful long-term relationships between members of the Brandeis community and the broad array of community groups they will serve.
CMM arranged the volunteer opportunities and meals with funding from a competitive grant from the Massachusetts Service Alliance, a state-federal partnership to encourage service learning and civic engagement.
"We hope these relationships will endure, and that there will be a return on Sept. 11 to recognize the 10th anniversary with another day of service that underlines the best of American values and the shared teachings of our sacred traditions," Kern said. "I am especially conscious of the fact that Dr. King, over the course of his life and ministry, was concerned with suffering everywhere."
"There is unexpected poignancy and urgency" to this year's King Day activities, he added, because "we will gather together as our nation mourns the mass attack in Arizona, and remembers the Haitian earthquake anniversary.
Volunteer opportunities – to and from which free transportation will be provided – include:
Participants in the CMM programs also are being asked to consider donations for Haiti relief. Needed items include non-spoilable foodstuffs, especially proteins; non-food materials, including vitamins, packets of metal spoons, toothpaste and tooth brushes, dish detergent and bars of hand soap; medical and sanitary materials such as masks, gloves, gauze, ACE bandages, hand sanitizers, wound cleaners, sanitary pads and diapers, and educational materials including reams of white copy paper, pencils, pens, crayons, scissors, school glue, scotch tape and colored construction paper.
Return to the BrandeisNOW homepage