Before and after Holocaust: Spitzer family life, struggles
Recently donated papers and photos valuable to researchers and Spitzers' descendants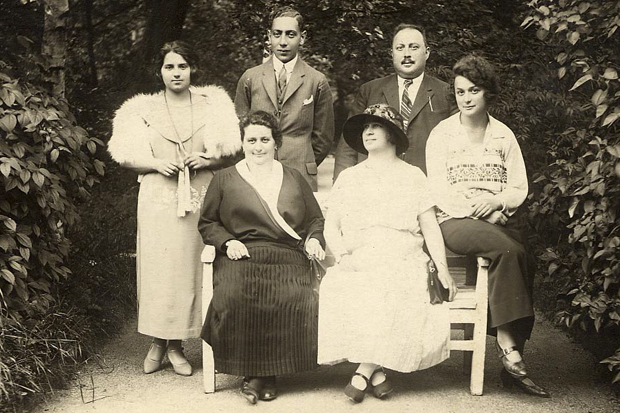 Harry Spitzer, a Czech rabbi's son, raised his children in the United States celebrating both Jewish and Christian holidays. When his daughter wanted to attend Hebrew school, he forbade it.
Decades later, Linda Powers attributes her father's reticence to his experiences as a Holocaust survivor. It's a subject she's delving into now, a dozen years after his death, from a collection of family documents she recently rediscovered and donated to Brandeis' Robert D. Farber Special Collections. It dates back to the late 19th century.
"Looking back at my family was never encouraged," said Powers, adding that her father didn't speak much about the war. "I never thought I'd be doing this."
The documents, written predominantly in Czech and German, originally belonged to her aunt and uncle, Bruno and Draga Spitzer, the only family members to make it out of Czechoslovakia before the German invasion. In 1939 the couple settled in Massachusetts, where he initially worked as a laborer and she as a librarian.
The collection includes correspondence between them and their family; internal documents of the T.G. Masaryk Circle, an association of Czechoslovak citizens residing in Boston in which the couple was active; and financial and legal documents -- European mortgages, World War II food coupons, diplomas, passports and several Hebrew books and studies of family patriarch Rabbi David Spitzer.
While the collection is helping Powers learn more about her own family history after many of its authors have died, her donation can help others in their study of broader topics, according to Special Collections Librarian Sarah Shoemaker. It's not on exhibit, Shoemaker said, but the collection is available to anyone who requests access to it.
Judaica Librarian Jim Rosenbloom initially visited Powers to look at Rabbi Spitzer's books, and only learned of the documents' existence and value later.
"The Haggadah is the first thing that caught my eye, but it's one of the better collections [of documents] I've seen in a while," Rosenbloom said. "It would be of interest to a variety of people" including students of Jewish history, the Holocaust and American history.
Perhaps the most stunning and unique part of the collection is contained in a folder labeled "Harry Affidavit," which includes Harry Spitzer's first-person accounts of his time in concentration camps in Theresienstadt and Auchwitz, where his father and mother, respectively, died. It also contains six years worth of letters Bruno and Draga wrote to politicians and government agencies seeking aid to bring Harry to the United States, where he finally arrived at the age of 21.
Combined with hundreds of candid photos, the collection paints a chilling portrait of how the war affected one family on both European and American soil.
Archives and Special Collections Assistant Surella Seelig, a Ph.D. candidate in history, found the photos to be the most compelling part of the donation.
"It's a great lesson," said Seelig. "It shows how the war didn't just end. People didn't just suddenly return to their happy lives. People can relate to it, see a family actually being a family, well-off people having a really good time with no sense of what's going to happen."
To request an appointment to view the collection, contact Sarah Shoemaker.
Return to the BrandeisNOW homepage