Myra Kraft '64, philanthropist, Brandeis trustee, dead at 68
Her commitment to the university, and to people of all kinds, was deep and life-long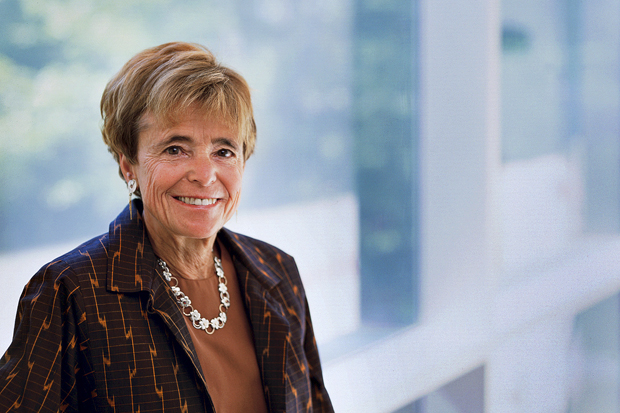 Trustee Myra (Hiatt) Kraft '64, who first visited Brandeis with her father as a child in the 1950s and over the next half-century became one of the university's most prominent and generous alumnae, died on July 20 after a long battle with cancer. She was 68.
Through her work with the Robert and Myra Kraft Family Foundation and as president of the New England Patriots Charitable Foundation, she sought to improve the lives of people in Boston, Israel and around the world. She was involved with many Boston area philanthropic organizations.
"Myra was not just a philanthropist – she was a humanitarian in both a personal sense and a community sense," said Brandeis President Frederick M. Lawrence. "She will be missed by countless friends and by all of those who benefited from her tireless work, her wisdom and her personal acts of kindness."
Mrs. Kraft served on the presidential search committee that brought Lawrence to Brandeis, and the Krafts hosted an event for the president and his wife, Kathy, at their home the night before his inauguration on March 31. It was to be her last public appearance. "It meant so much to me and to Kathy that they would do this," Lawrence said.
By the time she arrived at Brandeis as a freshman, in the fall of 1960, Mrs. Kraft already was quite familiar with the university. Her father, Worcester, Mass., businessman Jacob Hiatt, was a visionary early Brandeis leader and as a teenager she often accompanied him on visits to campus.
"I remember being here with my father for commencements in the 1950s, when they were held at the Ullman Amphitheater," Mrs. Kraft recalled during a 2008 interview. "Brandeis was an exciting place to be in those days – there was such a buzz around the place. It was where I always wanted to go to school. I had no idea I would still be involved 50 years later."
During his long association with the university, Hiatt established the Hiatt Career Center, created a pioneering chair in Christian studies, and served as chair of the Board of Trustees from 1971-77.
Mrs. Kraft and her husband, Robert, a leading Boston businessman and the owner of the New England Patriots football team, followed in her father's philanthropic footsteps. The Krafts supported a number of initiatives at Brandeis, including a chair in Arab politics and numerous student scholarships. Mrs. Kraft became a Brandeis trustee in 1986 and served as vice chair of the board for 10 years.
"I am a firm believer that if you are given something, it is your responsibility to give back," Mrs. Kraft said in explaining her generous support of her alma mater. "Brandeis provided me a great educational experience. I am committed to helping Brandeis in any way I can."
For nearly 20 years, Mrs. Kraft worked closely with Nancy Winship, P'10, P'12, senior vice president of institutional advancement at Brandeis.

"Through her charitable work – here at Brandeis and around the world – she changed the lives of many people," Winship said. "It is hard to imagine our world without her."
During the 2008 interview, Mrs. Kraft fondly recalled her days as a Brandeis student and remembered that the Class of 1964 had a unique personality.
"Our class was very politically aware. It was an exciting time with so much happening  John F. Kennedy was elected, the beginning of the Freedom Rides, the Ban the Bomb movement and the Cuban uprising," she said. "I wasn't one of the radicals, but I do remember walking around just before graduation in my cap and gown circulating a petition."

One of her favorite professors, David Hackett Fischer, the Earl Warren Professor of History, is still a member of the Brandeis faculty. She took two classes with Fischer, including a tutorial that met at his home. Mrs. Kraft and Fischer stayed in contact over the years.
"At the time, my wife and I had just had our first baby," Fischer recalled. "I have a memory of the students sitting in a circle in our small living room and Myra holding our baby on her lap. You could see she had a special attraction to children even then, and helping children became a significant part of her philanthropy."
Although the demands on Mrs. Kraft's time increased when her family purchased the Patriots in 1993, she remained committed to Brandeis. She served on her Reunion committees and hosted gatherings for the Class of 1964 either at her home or at Gillette Stadium, where the Patriots play home games.
"Her loyalty to Brandeis was intense from the beginning, and that never changed," said Trustee Ellen Lasher Kaplan '64. "She was always a vibrant and enthusiastic member of our class."
Said classmate Danny Lehrman '64, "She never outgrew Brandeis. She loved Brandeis. I loved Brandeis. We loved Brandeis together."
Among the programs that Mrs. Kraft supported at Brandeis was the establishment of the Myra and Robert Kraft and Jacob Hiatt Professor of Christian Studies. The family also created a similar chair in Judaic studies at Holy Cross, a Jesuit institution in Worcester.
"She didn't just throw money at something and then walk away from it," said Professor Bernadette Brooten, the incumbent on the Kraft-Hiatt chair at Brandeis. "She stayed with it and was involved for many years. Her expansive vision and hands-on commitment have forever altered the lives of countless individuals and groups."
Along with her husband, whom she married in 1963 while still a Brandeis student, Mrs. Kraft leaves four sons, Jonathan, Daniel, Josh and David; her sister, Janice; and six grandchildren.
Services were held at 10 a.m. on July 22 at Temple Emanuel in Newton, Mass.
Return to the BrandeisNOW homepage