Lawrence promises new strategic vision, concrete plans and exchanges of ideas
Investiture of 8th president focuses on bedrock values of Brandeis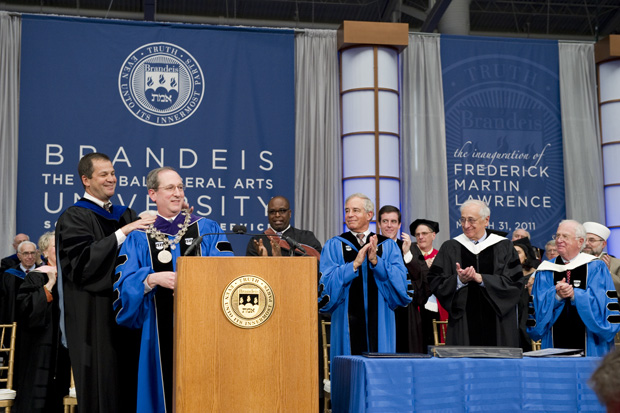 Fred Lawrence pledged to address both the uncertainties of the global future and the hopes of the campus community for new beginnings and an improved environment as he was invested as Brandeis University's eighth president.
"In the coming months, I will lay out a strategic vision with concrete plans for securing Brandeis' place as an elite, global liberal arts institution," Lawrence told a crowd of nearly 1,500 faculty, students and alumni who had laughed and cheered as he reviewed the university's history and his own before making his promises.
On campus, he pledged, "We will listen. We will be open to new ideas. We will encourage open debate. We will lead by example."
Visit the inauguration website.
The 90-minute ceremony, attended by scores of representatives of leading colleges and universities, was replete with academic regalia in rainbow colors. Musical interludes were provided by the Brandeis Wellesley Orchestra, the Brandeis Chorus and J. Bernard Calloway, who received his master of fine arts degree in 2000 and currently has a starring role in the Broadway show "Memphis."
Numerous academic and alumni groups greeted the new president with messages of optimism and support, including Faculty Senate Chair Timothy J. Hickey '77, who said the faculty has been impressed with Lawrence's "open leadership style [and his] demonstrated ability to unite the community."

Ralph D. Gants, associate justice of the Supreme Judicial Court of Massachusetts, offered greetings from the Commonwealth. Northwestern University President Morton O. Schapiro also offered humorous advice to his fellow president.
Schapiro recalled Clark Kerr's statement on being dismissed by Ronald Reagan from the presidency of the University of California that he was leaving the job as he entered it — "fired with enthusiasm." He expressed hopes that, given the strains of the job, Lawrence would be blessed with, among other things, the wisdom of Solomon and the stomach of a goat.
Though he complained good-naturedly that Schapiro's was a hard act to follow, from the beginning it was Lawrence's day, and his personal engagement was evident everywhere. When Professor Nancy Armstrong opened the proceedings with a vibrant rendition of "America," the new president softly but noticeably joined in her singing of the little-known fourth stanza with which she concluded. The opening prayer by Rabbi William Hamilton of Congregation Kehillath Israel in Brookline, where Lawrence is a longtime member, referred to the president's family "who are here today," and to those "who are here in spirit," an invocation of Lawrence's parents, whose lives and lessons he cites frequently.
He had bear hugs for former presidents Jehuda Reinharz Ph.D. '72 and Samuel Thier, and for many other friends and dignitaries who participated in the program.  Reinharz and Lawrence embraced a second time after the incoming president praised his predecessor and friend of 20 years for his dedication to Brandeis and "his leadership and grace in passing the baton to me."

Brandeis' generations came to the celebration

Generations of supporters came to celebrate President Fred Lawrence's inauguration, sharing stories, ideas and chocolate éclairs.
Among the sea of peer institution presidents, faculty, staff and students who came to witness the festivities was Rich Kalish, '80, medical director for Boston Medical Center's Healthnet community health centers. He said today's celebration was everything that he was looking for.
"President Lawrence really caught the essence of Brandeis, what I like to look back at as some of my best times," Kalish said. "The social justice ideas that he pulled to are something that I've tried to keep close to my heart in my life and in my career."
Marian Levin, 91, hails from Chicago where her community ran the largest book sale in the country to support Brandeis during its early years. She was chairman of the Brandeis Women's Committee, rose to national chairman then became the national vice president.
Levin said she would travel cross-country with a slide projector teaching various library chapters how to run book sales. She did it, she said, because she felt drawn to the university and its values.
"Brandeis was so different for its time," said Levin. "I felt that I wanted to do something for the university and what better than to support the library."
Student union president Daniel Acheampong '11, a speaker during the inauguration, said he immediately connected with Lawrence the first time that they met and wasn't at all nervous speaking about him up on the podium.
"It's an honor for me to be part of the celebration," said Acheampong. "As both the student union president and a friend of Fred's."

The bulk of the inaugural address was an expression of commitment to the liberal arts rooted in Lawrence's personal history and in the stories of Brandeis graduates whose lives were changed by their years here. He asserted that commitments to the liberal arts and sciences, to diversity and to social justice together comprise the rock upon which Brandeis stands.
"The challenge we face is literally to justify the liberal arts commitment on which we are founded," Lawrence said. "Let us, at every opportunity reject the false dichotomy between so-called practical or trade-directed education on the one hand and liberal arts on the other, because I believe with all my heart that a true liberal arts education is the most practical education there is."
"We cannot know, we can in fact hardly imagine, the workplace of decades hence," he said. "But I can assure you that the following skills will be required then: The ability to turn information into knowledge, the ability to analyze closely, the ability to solve problems, the ability to communicate."
On a personal level, Lawrence recalled his grandfather and his mother, who was the first in her family to go to a fulltime college.
"The fact that his daughter could read and understand French poetry meant everything to him," Lawrence said of his grandfather. The man understood not a word of the poetry, Lawrence said, but "he understood the value of the liberal arts."
Turning to his intention to lay out a strategic vision and concrete plans for the university, he said this means, in part, that the university must establish new partnerships in locations around the globe; he noted this has begun already in some places, such as Latin America, Israel and East Asia.
"We must preserve the essence of liberal arts teaching and adapt it to the 21st century, and think of ways to take advantage of technology to enhance our teaching," he said. "What takes place one-on-one will never be replaced, but let us not be afraid" of new technologies and new opportunities to build upon the university's strengths and to expand its base.
Unsurprisingly, Lawrence said he had spent much time thinking about the example of Justice Louis Brandeis in the weeks leading up to his investiture. He concluded his remarks with two challenges to his audience — one based on a quote from Brandeis, the other on a quote from Henry David Thoreau that was brought to his attention years ago by his wife, Kathy, a scholar of 19th Century American literature and art.
"Justice Brandeis reminds us all — students and faculty alike — that we come here not merely to understand the world but to help repair it," Lawrence said. "We enter to learn; we leave to serve."
He reminded listeners of Thoreau's idea that, because people inevitably only hit what they aim for, they should aim high.
"Let us right now pledge to each other to keep our aim high indeed," Lawrence said. "There is literally no limit to what we can achieve. We are only limited by our imagination...."
Lawrence, a native of Long Island, received a bachelor's degree in 1977 from Williams College and a law degree in 1980 from Yale Law School. He began his legal career in 1980 as clerk to Judge Amalya L. Kearse of the U.S. Court of Appeals for the Second Circuit. He was an assistant U.S. Attorney for the Southern District of New York, where he was chief of the Civil Rights Unit.
In 1988, he joined the faculty of the Boston University School of Law and taught courses on civil rights enforcement and civil rights crimes, criminal law, and civil procedure. He also served as the school's associate dean for academic affairs from 1996 to 1999. He was dean of George Washington University Law School before coming to Brandeis.
Lawrence has written, lectured and testified widely on civil rights crimes and is the author of "Punishing Hate: Bias Crimes Under American Law," which examines bias-motivated violence and how such crimes are dealt with in the United States.
Return to the BrandeisNOW homepage