Lydian concerts celebrate 30 years of music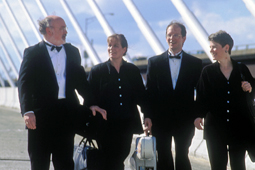 After 25 CDs and several line-up changes, the
Lydian String Quartet
will mark its 30th anniversary this week with two on-campus concerts.
Former Lydian cellist Rhonda Rider will join the quartet, first for a free show at noon on Wednesday, March 23, in the Mandel Center for the Humanities, which will also be simulcast, and then at the 30th anniversary gala and reception at 8 p.m. Saturday, March 26, in the Slosberg Music Center. Violinist Daniel Stepner will give a lecture prior to Saturday's show, and the evening will serve as the kick-off for Brandeis President Fred Lawrence's inaugural week. Tickets for that performance are $20; $10 for Brandeis community; $5 for students. Buy tickets in advance and save $5 on the $20 and $10 tickets. 
The world has changed quite a bit since Brandeis' young resident musicians began performing in 1980. That year, Ronald Reagan was elected the nation's 40th president, John Lennon was assassinated, CNN was born, and Brandeis itself was barely 30 years old. The quartet's identity has changed too. Judith Eissenberg (violin) and Mary Ruth Ray (viola) were joined first by violinist Daniel Stepner (replacing Wilma Smith in 1987) and later by cellist Joshua Gordon (replacing Rhonda Rider in 2002).
As faculty members in the Department of Music, the quartet's members teach and perform works by student and faculty composers, coach student chamber music ensembles and instruct string players.
"The birth and life of the quartet has been here at Brandeis," Eissenberg says. "It's our home."

What to expect?

Saturday's program will include:
Haydn's Quartet in E flat major ("The Joke"), Op. 33, No. 2
Fine's String Quartet (1953)
Martin's Pavane Couleur du Temps
Schubert's String Quintet in C Major, Op. 163, D. 956

Eissenberg teaches world music and serves as director of MusicUnitesUS, a program she founded in 2003 to further understanding of diverse cultures through music. Ray has been chair of the music department since 2005.
"Mary Ruth and I have known each other since we were 10 years old and performing in Miss Rhodes' grade school orchestra in Knoxville, Tenn.," Eissenberg recalled in a Brandeis State of the Arts article. "By the time we arrived at Brandeis, we were brazen, innocent and ready to try anything. We made our mark by performing with clarity and precision. Dan and Josh brought fresh perspectives and challenged the quartet to keep growing. Dan brings a passion and clarity; Josh brings a poetic eloquence and humor."
Essential to the spirit of the Lydians is the commissioning and recording of new works. Their five-year project, "American Originals," celebrated the rich repertoire of the 20th-century American string quartet. During that time they performed or recorded more than 60 works of American composers. With education as an integral part of the quartet's mission, the Lydians have conducted mini-residencies in communities and universities throughout the United States.
Pulitzer Prize-winning classical music critic for the Boston Phoenix has called them "a resident string quartet of the highest quality and deepest integrity," and Alan Rich in the Los Angeles Daily News called them "one of the country's superior chamber groups." For 30 years, the Lydian String Quartet has graced Brandeis with its distinguished artistry and teaching. Founded as a professional apprentice ensemble by the late faculty member Robert Koff, the Lydians have inspired worldwide critical acclaim and developed a devoted New England audience.
Return to the BrandeisNOW homepage