Brandeis, Peace Corps to celebrate 50 years of growing together
Heller School will mark anniversary with March 7 event featuring faculty, students and alumni who are returned volunteers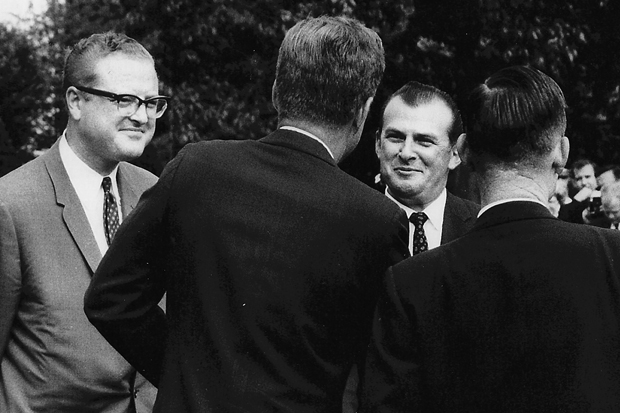 The basis of the
Peace Corps
is as simple as "sharing."
At least that's how Adam Rosenberg, MA '11, who spent 27 months living in a mountaintop hut in the Kingdom of Lesotho, sees it. For him, joining the Peace Corps was a calling.
Since then, he's viewed himself as an ambassador, not just for his country, but for all the groups and institutions with which he's associated. As Brandeis celebrates the Peace Corps' 50th anniversary and its long, if informal, association with the organization, Rosenberg will step into that role yet again as he moderates a panel discussion with faculty, staff and alumni – all fellow Returned Peace Corps Volunteers – on March 7.

"A Celebration of the 50th Anniversary of the Peace Corps"
March 7
Reception at 5:30 p.m. Program at 6:30 p.m.
Events will include:
• Welcome from Brandeis President Fred Lawrence
• Keynote Speaker Peter Redmond, Peace Corps deputy associate director for global operations
• Panel discussion with faculty, staff, students and alumni who are Returned Peace Corps Volunteers
• Dedication to the memory of RPCV James Sabourin, former Heller School dean of admissions.
For more information, visit the Heller School website.

The Peace Corp was born of then-presidential candidate John F. Kennedy's challenge to students at the University of Michigan in 1960 to promote peace by working in developing countries. Shortly after its founding, JFK visited Brandeis several times, where he discussed the new government agency with Eleanor Roosevelt on her television show, "Prospects of Mankind." Lawrence Fuchs, then dean of faculty, who co-taught a course with Roosevelt, became the first Peace Corps director for the Philippines.
"Sargent Shriver allowed me, encouraged me, to bring my own staff," says Fuchs, who also founded the American Studies department and went on to advise the Peace Corps on relations with universities. "That made the connection between Brandeis and the Peace Corps in the Philippines that much closer."
It was as an 11-year-old in Connecticut that Rosenberg first heard of the Peace Corps, when he learned that, after winning the lottery, his Sunday School teacher planned to join.
"At the time, I thought it was a luxury, that joining the Peace Corp was something really rich people did," Rosenberg says with a smile.
Years later, as a college student with an internship in Israel, Rosenberg stumbled on Mitch Albom's collection of "lessons in how to live" from his dying Brandeis sociology professor, "Tuesdays With Morrie," the only English language book at his fingertips. He quickly became enthralled with what Brandeis offered and called the school from Israel to inquire about applying to a graduate program at the Heller School. He was told Heller students were generally a bit older, with more global experience. Had he considered joining the Peace Corps first, a Heller admissions officer asked.
A few years later after finishing his degree and trying his hand at politics, he boarded a plane for the more than 20-hour flight to Lesotho, Africa, to work as an HIV advisor.
"You can't talk about paving a road without talking about HIV/AIDS," Rosenberg says of Lesotho, which has the third-highest infection rate in the world. Teachers and elected officials die of the disease faster than they can be replaced, he says, but it was also a "beautiful place with phenomenal people."
There he helped a government agency set up a new office, while visiting schools and prisons, and became fluent in the "click" language Sesotho.
"When I look back I can say I heeded a call, with so many others, to manage a problem," Rosenberg says. "I have a great sense of accomplishment."
Fast forward to 2007. Rosenberg, now with long hair and a full beard, sat in his hut reading a magazine, and came across an advertisement for Brandeis' Sustainable International Development program. He recalled that conversation from years before, and resolved to call again from Africa. This time, the results were different.
Just two weeks after his return from Lesotho, he was on campus, beginning a new journey toward master's degrees in sustainable international development and coexistence and conflict.
The distance between the two wasn't as far as he'd imagined. Rosenberg quickly learned of another alum who had worked with the Peace Corps in Lesotho and, in class, met a woman who spoke Sesotho.
No two people have the same Peace Corps experience, but many volunteers feel a similar calling. French and Comparative Literature Professor Jane Hale was barely a teenager when she watched President Kennedy's speech announcing the Peace Corps' creation, and she told her mother right then: "I'm going to do that."  
About a decade later, just out of college, she left for Chad, where she spent two years teaching English in a French and Arabic lycee.
"Every day of my life, I use something from there," Hale says. "I was less of an effective person in saving the world, and more of a learner."
At Brandeis she teaches a lot about African literature, and is the founder of Family Literacy Lesotho, an experiential learning program through which students help her put books in Sesotho into the hands of African children. She attributes her continued work as a teacher, and to improve education in Africa, to her Peace Corps experience.
Hale says Brandeis' current generation of students has a tremendous sense of altruism, generating a greater connection to the Peace Corps than in years past. The new Peace Corps Fellows/USA program guarantees returned Peace Corps volunteers who are accepted into one of four Heller School programs $10,000 toward tuition for each year of study. Brandeis is the second school in Massachusetts to form this partnership.
"Brandeis and the Peace Corps were growing up at the same time," says Margaret Haley, assistant director of graduate admissions and recruitment at the Heller School. "The commitment the Peace Corps was making to world services, Brandeis was making, too."
Return to the BrandeisNOW homepage