'Winter's Bone' director: Be a respectful observer
Debra Granik '85 returns to Brandeis for screening, Q&A
Not confined to the age, gender or circumstances he or she was born into, a filmmaker can lead more than one life.
To Debra Granik '85, co-writer and director of the Oscar-nominated film "Winter's Bone," that's one of her craft's greatest joys.
"Winter's Bone" took Granik into the stark world of the rural, poverty-stricken Ozark region of Southern Missouri. The protagonist is Ree Dolly, a 17-year-old girl, whose mother is disabled by depression and whose drug-addicted father is missing. While she tries to care for her younger siblings, she searches for her dad, knowing the family will lose their home if she doesn't find him.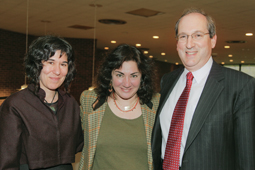 From left: Debra Granik '85, Film Studies Program Chair Alice Kelikian, Brandeis President Fred Lawrence
"I want to make people understand and have an interest and some compassion and some attraction to a person they thought they never would or could or should," said Granik, who returned to Brandeis for a screening and Q&A on May 2. "And I feel like, gosh, so many times there really is a reason for it. The pulse in someone else's life and what they care about and what they need is just inherently interesting to each of us."
But inhabiting and portraying others' lives comes with great responsibility. Unfamiliar with environment and culture of the Ozarks, Granik -- a college educated woman living in New York City -- knew every decision she made in her portrayal of the community had meaning.
"As an outsider, I have these choices, but I don't have the lived experience to tell me sometimes which way to go, what to feature, what's important," she said. "All I knew, really, is what I admired, and I was very aware of what I didn't know."
Granik recalls reading a comment on a blog that took her to task because the only scenes in which Ree and her siblings are able to scrounge up food are when they hunt squirrel. That is, in fact, still done in the Ozarks, but it's not an exclusive source of sustenance.
"This blog must have been a couple weeks after I had taken out a scene where Ree and her best friend actually buy food in a grocery store, and that was very sobering because I realized in that one instant, by this woman's very astute comment, that everything you put in a portrait or take out of a portrait has such weight," she said. "That's kind of a weird, uncomfortable power, because omission or exaggeration or canting anything – it's a very delicate balance of what people feel they are going to learn about a region."
Granik suggested that since college affords students the privilege of having designated space and time to think and communicate with others about whatever subjects they are interested in or passionate about, they should use the time to "be a curious and respectful observer of everything."
"No one can make you do that, you can't buy that, but you can cultivate that," she said. "Don't feel that you know best. [Be] very porous to other people who are thinking as hard as you are."
Return to the BrandeisNOW homepage