Brandeis captures UAA honors for outdoor track
Asante named outdoor track rookie of the year, Capano and Selig named athletes of the week.
Three members of the Brandeis University outdoor track and field teams have been recognized by the University Athletic Association (UAA) for their recent performances. Rookie Vincent Asante  was named the UAA outdoor track rookie of the year, while Lucia Capano and Grayce Selig were named UAA outdoor track and field athletes of the week for May 2 after posting NCAA Division III qualifying times.
Asante, who was also the UAA indoor track and field rookie of the year, earned the same award at the outdoor championships — held April 15-16 at Emory University in Atlanta — with a similarly strong performance. He won the 100-meter dash for his second career title with a time of 10.93 seconds, his first sub-11 second performance of the season. Asante blew away the championship field by 0.12 seconds after also winning his preliminary heat with a time of 11.09 seconds. He also won his preliminary heat in the 200-meter dash with a time of 22.45 seconds. Asante just missed out on a second All-UAA honor outdoors and fourth overall by finishing in fourth place in the finals with a time of 22.61 seconds, four-hundredths of a second out of third place.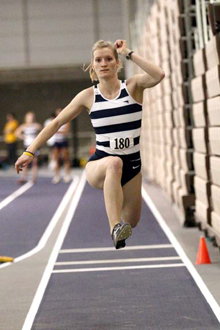 Lucia Capano '11

Capano, a senior, was named UAA athlete of the week for the third time in 2010-2011 for her first NCAA qualifying performance of the season. Competing at the Brown University springtime 0pen on April 30, Capano had a triple jump of 11.64 meters (38 feet, 2 ¼ inches) that was good for second place at the meet among a field of primarily Division I competitors. She is currently ranked 14th in Division III in the event. Capano has provisionally qualified for the NCAA championships in the triple jump twice before but is looking for her first selection to the meet.
Selig, a senior, was selected as the UAA athlete of the week for the seventh time in 2010-2011 after qualifying for the NCAAs for the fifth time in her career and second in 2011. Competing against Division I competition at the 177th Penn Relays on April 28, Selig finished 20th in the 5,000-meter run with a time of of 17:13.11, 20th out of 24 runners. Hers is the ninth-fastest time in Division III so far this season. Selig has earned three prior All-America honors.
The 2011 NCAA Division III outdoor track and field championships will be held May 26-28 at Ohio Wesleyan University in Delaware, Ohio.
Asante, a native of Ghana, is a 2010 graduate of the High School for the Arts Imagination and Inquiry, New York, N.Y. He is the son of Jonn Asante and Justina Aseidu, Bronx, N.Y.
Capano is a 2007 graduate of Manchester Central High School. She is the daughter of Peter and Susan Capano, Manchester, N.H.
Selig is a 2007 graduate of Springside School. She is the daughter of William and Deborah Selig, Narberth, Pa.
Return to the BrandeisNOW homepage