Volunteerism one of strongest components of life on campus
Students build community, challenge themselves. Recruitment night is Sept. 14.
To Leah Silver '12, it seems as if "it's in every Brandeis student's blood to volunteer."
Silver, a senior, began volunteering with the
English Language Learning
program in her freshman year and became a coordinator after just a semester with the group.The program pairs student volunteers with university staff who are not native English-speakers. Its curriculum is tailored specifically to the learner's goals: to read his or her child's report card, to fill out forms at the doctor's office, to become citizens. 
Beyond the educational component, and equally as important, Silver says, the program helps create a bridge between students and staff.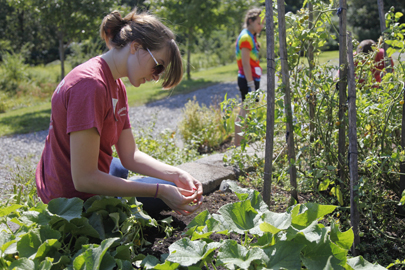 During recent Volunteer Fest, students work on the garden at the Stanley School, located across the street from campus.
"It's an attempt to make the Brandeis community stronger – for everybody on campus to have another face to know," Silver says. 
English Language Learning is one of many independent organizations that operate on campus. Spectrum, which was founded last year, was another; it runs a playgroup on campus for children with disabilities and works on disability awareness.
This year, Spectrum joined the Waltham Group, an umbrella organization under which 18 student volunteer programs work toward giving back to Brandeis' home city. By joining the Waltham Group, Spectrum gains access to greater funding from the Student Union as well as a variety of grants. The Waltham Group will receive $27,000 from the SU this year, as well as $30,000 in grants.

Dates to remember:

Waltham Group Volunteer Recruitment Night
Sept. 14, 7 to 8 p.m.,
Shapiro Campus Center Atrium
Community Service Fair
Oct. 5, 11:30 a.m. to 1:30 p.m.,
Shapiro Campus Center Atrium
Waltham Group Blood Drive
Oct. 4 to Oct. 6,
11 a.m. to 5 p.m.,
Sherman Function Hall
Reflections on Service Lunch
Oct. 20 and Nov. 29, Shapiro Campus Center
Kindness Week Volunteer Projects
Nov. 10, 5 to 7 p.m.,
More Than Words
Nov. 11, 12:15 to 3:30 p.m.,
Cradles to Crayons
For more information on events, visit the Waltham Group.

​"The Waltham Group was turning people away because they had so many volunteers," says Danielle Carrus '11, a Spectrum coordinator. 
Carrus hopes the Waltham Group's recruitment night, among other annual events and meetings, will help the fledgling group expand its membership.
According to Carrus, there was no other local volunteer organization that serves children with disabilities.
"We're all about reaching out" Carrus says of Brandeis, "and look at this whole community we weren't serving."
Carrus, who hopes to become an educator, says her volunteer work not only helps the community but is also good career preparation and a means of stretching her own limits.
"I think it brings so much creativity out of me," Carrus says. "You have to think 'This child can't see – how am I going to get them to understand without showing them a book?'"
Approximately 60 student leaders help coordinate more than 600 Waltham Group volunteers, according to Lucas Malo, the university's director of community service. Volunteers must undergo an application process to ensure commitment, necessary skills and in some cases logistics like transportation. More than 1,000 students applied last year.
Despite the high volume of participants, the Waltham Group does have its concerns. The number of male volunteers is dangerously low. Programs that are predicated on gender, like Big Siblings, cannot continue without the help of male students, as they only make same-sex sibling matches. 
Scott Mishan, a coordinator for Big Siblings, says he was drawn to the program because he felt there's a strong need for male role models in Waltham.
"Sometimes we will get a referral for a child who is male, but he will have to wait some time to be matched because we may not have any male volunteers," Mishan says. 
Mishan says seeing a direct impact he can make on another person's life is also a great motivator.
Matthew Eames, a coordinator for the Language and Cultural Enrichment program, agrees and says he doesn't know why so few of his male peers volunteer.
"My viewpoint on this issue has always been simple: dudes can love community service too!" says Eames, a junior. "The Waltham Group was the first club 
I joined at Brandeis my first semester and it immediately became an
 essential aspect to my college experience."

Return to the BrandeisNOW homepage