Alain Lempereur teaches students to wage peace
Author and negotatior says its important for students experience corporate environments and NGOs
Even as a student, Alain Lempereur knew that his path to life was through bridge-building – connecting what he was learning as he earned law and philosophy degrees.
"Sometimes philosophy is too abstract and sometimes lawyering is too divisive," he says. "So you could try to make them converge. The field of coexistence is the field of building bridges."
Lempereur, the Alan B. Slifka Professor of Coexistence and Conflict Resolution, arrived at Brandeis from Europe in 2011 to direct the master's program in the subjects for which his chair is named.
Raised in Brussels, Lempereur, the author of "The First Move: A Negotiator's Companion," first uprooted himself to attend Harvard Law School, after earning law and philosophy degrees at the Universite Libre de Bruxelles. All along he had somewhat atypical plans for how he'd use his education.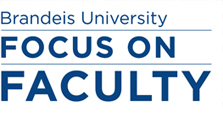 "How can we live better together? How do we promote diversity rather than divisions?" were the questions he was asking himself. "Not just at family level, it could be bridge within organizations, NGOs, companies, even at the international level."
The field of conflict resolution called to him. He returned to Europe, where he taught and for 15 years developed and ran an academic institute in Paris called Irene, which means peace in Greek.
"I was intrigued by the name of [the Brandeis] program before I got here. Why not call it conflict resolution like everywhere else," Lempereur says. "It's really giving us the proper beacon of where we have to go" in not just solving a problem but also learning to live together.
The field of coexistence has given him a seat at the negotiating table with the European Commission, NATO, OECD, UNDP, UNITAR, and WHO; taken him to Burundi and the Congo where he helped facilitate reconciliation with the Wilson International Center for Scholars; and given him an invitation to corporate boardrooms like that of the Boston Consulting Group and McKinsey.
Being able to operate both in corporate and political environments has taught him a lot, and it's a lesson he tries to pass on to his students, who come to Brandeis as mid-career professionals.
Working with NGOs has shown Lempereur the need for corporate social responsibility in corporations; working in corporations has reminded him of the need for management methods in NGOs.
"Let's say you have the end of a war and you have to integrate in the new army many components of the former belligerent groups," Lempereur says. "It is exactly like a merger of a big company with a startup; when you put together people of two companies, one big and one small, people in the small one wonder what will happen to them and so do the people of the big one."
The key is remembering that individuals are the building blocks of every organization, he says, and learning about the people you're negotiating with, acknowledging their distinct identities, is always the first step.
"It took us years to realize that the time we spent at lunches, at dinners, around beer, was as important" as any work on the precipitating issue, he says.
The Coexistence and Conflict program educates students to become peace professionals, and equips them with the proper tools and strategies so that they go out into the world with more than good intentions.
"We need to wage peace just as war has been waged," Lempereur says. "People think you need to be trained to be at war. They would not even question that you need to train warriors. The same is true for peace professionals."
Because combining theory and practice is so important, students work in practicums where they "test their tools, approaches, strategies, skills, and hopefully go back into the real world with stronger theories."
"We realize there are conflicts that are really poisoning the lives of too many people, whether it's in the Middle East or Africa or even in their cities [in the U.S.]. You don't need to go to the end of the world to observe that," Lempereur says. "And we know there are better ways of managing that. A hundred years ago we really didn't know but now people come to Brandeis to learn these methods because they strive for social justice."
With the degree comes certain advantages, and not just for the students, Lempereur says.
"You have a degree now, you can take a risk," Lempereur says. "That's something I often say to bright young graduates. We need to have this capacity to move around. Develop an expertise, but at the same time try something new. If you don't take a risk, who will?"
Return to the BrandeisNOW homepage