Wendy Cadge on spirituality, religion and medicine
Her new book explores handling of issues of faith behind the scenes in hospitals
Wendy Cadge does not count rosary beads, daven or meditate, though she has gone to great lengths to research them all, including living in Sri Lanka where she immersed herself in Buddhism.

As a sociologist of contemporary religion, Cadge often teaches courses such as "Order and Change in Society" and "Methods of Social Inquiry." But, she admits, the classes that she most enjoys engage more-specific subjects, like "Living and Dying in America: The Sociology of Birth and Death."

"My classes are designed to help students understand something about topics," Cadge says, "but they're also aimed at getting them out into the world and helping them understand how and why they're living their lives the way that they are."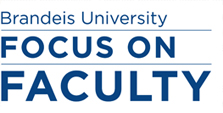 In "Living and Dying in America" for example, students write their own birth story, interviewing their families and incorporating class research such as how birth has changed in the United States through C-section rates and midwifery. The second half of the class challenges conventional wisdom about how people die.

"Students interview a friend or relative about their experience of death and write that person's story in the context of class readings," says Cadge. "People frequently die in hospitals, but when asked in surveys how they'd chose to die, most say they want to die at home, surrounded by loved ones."

Cadge says she wants students to learn about the ethical decisions that people have to make and practice having the hard conversations that precede such decisions before they're in the middle of a personal situation, when things can get extremely difficult.

"I try to think of my classes as helping students to learn about how to live, based on what is important to them, and what they care about," says Cadge.

Cadge's first book "Heartwood: The First Generation of Theravada Buddhism in America" examined how immigrant Buddhists from Thailand, and predominantly white converts to Buddhism, understand and practice Buddhism in the United States.

"I was interested in how these two very different sets of people pull from the same kinds of ideas and history of a particular religious tradition and use it to make sense of their very day-to-day lives," says Cadge.
| | |
| --- | --- |
| | |
| Associate professor Wendy Cadge | |

During her research for the book she witnessed the head of the Thai Buddhist temple in Philadelphia dying in a hospital; the image of the Buddhist monk in his bright orange religious robes, laying on the stark white sheets of his hospital gurney, jumped out at Cadge. She soon became interested in understanding the forces of religion and spirituality in health and healthcare.

"Visiting him in the hospital got me thinking about how health care organizations [address] religious and spiritual issues," says Cadge. "I became very aware that most of us don't wear our bright religious or spiritual ideas on our bodies when we're in hospitals."

Cadge then spent a year shadowing doctors, and nurses to learn behind the scenes issues in healthcare. The findings will be in her second book, "Paging God: Religion in the Halls of Medicine," which will be published in October.

The book takes readers inside major academic medical institutions to explore how today's doctors and hospitals address prayer, religion and spirituality. From chapels to intensive care units to the morgue, hospital caregivers speak about how religion is part of their daily work in visible and invisible ways. Cadge shifts attention away from the ongoing controversy about whether or not faith and spirituality should play a role in health care and focuses on the many ways that these powerful forces function in healthcare today. She then asks: Are healthcare organizations supporting people whose spiritual and religious backgrounds are helping them deal with illness?
Although she grew up in a Protestant congregation, Cadge says she more or less left religion when she was in college. She currently plays handbells at Old South Church in Boston, a United Church of Christ congregation.  She has spent a lot of time with Buddhists, but does not belong to a religious organization.

"The process of learning about how religion functions as part of people's lives has not really been a personal quest," says Cadge. "It's been one method to understand the ways that many people make or find meaning in their lives. It's been a lens for me to better understand what makes people tick."
Return to the BrandeisNOW homepage