David Fischer reflects on roots, history, Brandeis
Pulitzer-winning University Professor is in his 50th year of teaching
In the introduction to one of his books, David Hackett Fischer asserts that liberty and freedom are ideas of surprising complexity. They are not constants, he writes, but folkways that derive their meaning from their history. The way to study them, the Pulitzer Prize-winning historian writes, is simple enough -- the way any ethnographer would study any folkway – from the inside and the outside.
It turns out that Fischer, who is a University Professor and the Earl Warren Professor of History, has applied that approach to much of his highly acclaimed work. For example, the questions that led him to research and write "Albion's Seed," a landmark study of American folkways, arose around the family table in his native Maryland.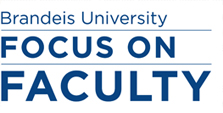 "I grew up in a large, very diverse Maryland family," Fischer says, traces of a soft Southern accent faintly audible as he relaxes and recollects. "My uncles sat around the table in 1946 talking about THE war. They were just back from the armed services but THE war for them was not World War II, it was the Civil War. They took both sides in the Civil War, both sides of the New Deal and later of the civil rights movement.
"My uncles and aunts spoke many different dialects of English, which meet in border states," he says. "I saw that they also had different ways of thinking and doing. At that point, I was hunting and gathering without motive."
He slips in the quick reference to early man as hunter-gatherer without ado; the quick, subtle humor is not allowed to interfere with the narrative of how "Albion's Seed" developed from early days in Maryland to teaching days in England, where he began to put together pieces that would allow him to trace regional variations in America culture to the places of origin of early British settlers.
Questions and narratives are essential tools for Fischer, who won the Pulitzer Prize for History in 2005 for his book "Washington's Crossing.".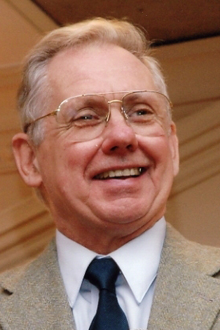 "The most important thing is to start with a question," he says, taking issue with scholars "who begin with an answer. I try to persuade my students to start with a question, usually a very simple question, and then it grows and gets more complicated.
"The best way to answer most historical questions is to tell a story," he continues. "It took me a while to learn how useful and powerful a story can be, how effective a narrative can become as a tool of explanation."
Notwithstanding the broad variety of topics on which Fischer has written, there is a connectedness to his work. For example, "Albion's Seed," published in 1989, led to his latest book, "Fairness and Freedom," a comparative history of New Zealand and the United States, and to his present project tracing variations in African American culture to the countries of origin of black Americans' ancestors.
His study in New Zealand began with invitations to lecture there following publication of "Albion's Seed," which resonated with New Zealanders because, like many Americans, they had ancestors from Albion, which is the earliest known name for the island of Great Britain.
One visit to New Zealand, in 1994, coincided with an election campaign near the city of Christchurch.  "It looked like an American election, but it didn't sound like one," Fischer says. "They weren't talking about liberty and freedom, but talking urgently and at great length about fairness."
Thus the vital starting question:  Why are these two societies with so much in common so different?
The question grew into a book that was 17 years in the making, which Fischer says is not unusual. Other projects, such as Oxford Press' Pivotal Moments in American History series, which Fischer helped develop and still helps edit, proceeded in parallel. His book "Paul Revere's Ride" became a model for the series, which now comprises 18 books by numerous authors and includes  Fischer's "Washington's Crossing."
Fischer, who is in his 50th year teaching at Brandeis, has a wealth of stories to tell about the university's history and early leaders. How many others know, for example, that Puritan leader John Winthrop visited the land the campus now occupies and may have climbed the big rock that juts up behind the Lemberg and Brown buildings to contemplate the layout of the greater Boston area.
From the beginning Fischer formed close bonds with his students. Among the first were Eli Segal '64, future founder and leader of AmeriCorps, the corporation for national and community service, and Myra Hiatt Kraft '64, the renowned philanthropist and humanist.
"They all came out to our house," he recalls. "It was [Brandeis' founding President] Abe Sachar's idea.  He wanted to encourage it.  So, somebody in the administration promised the faculty 50 cents for every student they invited to their houses and fed.  Fifty cents could make a difference in those days, but we also all thought it was a very good idea."
Fischer's praise of Brandeis faculty and students is abundant. He feels the quality of small-unit teaching is a major strength of Brandeis but that this is not widely enough appreciated.  He would like to see the university create "some sort of an institutional frame for small-unit teaching that would be distinctive of Brandeis" in the way that Princeton did with "preceptor,"as Oxford did with its "four sides" system in which students write four pages on each week's readings and read them aloud at the outset of a one-on-one session with a professor.    
"We should be able to do something that would be as distinctive of Brandeis as those other systems are of those other institutions," Fischer says. Small-unit teaching "is something that happens here, but the word has not got out.  People don't know how good it is, and devices of that sort could help to spread the word."
While he advocates for the idea, he eschews any thought of diverting energy from his research and writing. His course was unalterably set on teaching and writing in just his third year at Brandeis, when Sachar asked him to become dean of students.
Fischer's father had been superintendent of the Baltimore school system and was serving as president of Teachers College at Columbia University when Sachar asked, so Fischer gave it some thought before declining.
"I don't have the temperament for academic administration," he says. "Universities border on the ungovernable, and I can more or less control what happens on the pages of my books."
Return to the BrandeisNOW homepage