Awards support student summer advocacy work
Lessons from innovative Legal Studies course put into practice
Four Brandeis students have been awarded $1,000 each to work on advocacy projects over the summer. The winners and their summer advocacy topics are Rebecca Miller '13, domestic violence issues, and reproductive choice; Victoria Negus '12, immigrant rights; Haley Orlofsky '14, clean water; and Rachel Usnik '13, food security.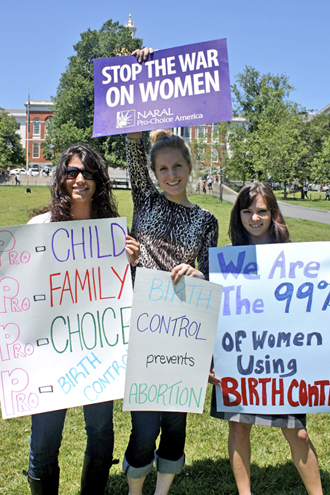 Rebecca Miller ( left) at the
Massachusetts State House
Photo/Ruth Weld
The Advocacy Awards are a component of Advocacy for Policy Change, an initiative launched by the International Center for Ethics, Justice and Public Life in 2009. The initiative is designed to encourage citizens to bring moral and ethical insights to the process of making and revising laws.
Advocacy for Policy Change focuses on undergraduates, through a Legal Studies Program course – also called "Advocacy for Policy Change" – taught by Professor Melissa Stimell. The course combines an investigation of the ethical dilemmas that arise in the process of law making with hands-on advocacy work with entities seeking to reform laws or to propose new ones [read the report of the spring 2011 class].

Every year, students in the course may apply for an advocacy award to continue working on a project over the summer, or to undertake a proposed new advocacy project.

The Advocacy for Policy Change initiative is supported by multi-year commitments from board member Norbert Weissberg and his wife, former board member Judith Schneider.
Rebecca Miller '13
This summer Miller is continuing work she began in the "Advocacy Policy Change" course on a Massachusetts bill to guarantee 15 non-paid days of leave to victims of domestic violence and sexual assault (Domestic Violence Bill S918). In addition to continuing this work with the advocacy organizations Jane Doe, Inc. and REACH Beyond Domestic Violence, Miller is interning with NARAL Pro-Choice Massachusetts.
"The 'Advocacy for Policy Change' course allowed me to bridge the gap between a social justice education and a social justice career," says Miller. "I feel extremely prepared for my internship this summer because I've learned the pragmatic and practical steps of actually running an advocacy campaign.
  
Victoria Negus
Photos/David Weinstein
Victoria Negus '12
Negus is working with the Student Immigrant Movement (SIM) and advocating for increased rights for undocumented students and immigrants in general, in Boston. She is also collaborating with the student leaders of the Brandeis Immigration Education Initiative to plan for next year. In addition, Negus is working on efforts in both Massachusetts and Maine to improve access to hunger relief programs through education, research and direct advocacy.

"Through ['Advocacy for Policy Change'] class assignments, speakers and trips to the State House I realized the value of direct advocacy and communicating with elected officials about an issue that I am passionate about," says Negus. "And my specific work in the class with the in-state tuition bill introduced me to SIM and a dynamic and inspiring group of students working for change."
Haley Orlofsky '14
Orlofsky is in Washington, DC this summer, participating in the Machon Kaplan Summer Internship Program, a social action internship program organized by the Religious Action Center of Reform Judaism. She is interning at the Clean Water Network, a coalition dedicated to strengthening and implementing federal clean water and wetlands policy.
| | |
| --- | --- |
| Haley Orlofsky | |
| | |
| --- | --- |
| Rachel Usnik | |
"Overall, 'Advocacy for Policy Change' has taught me that even students can play a valuable role in the legislative process," says Orlofsky. "Not only was I exposed to the complex technicalities of policy, but I also learned a new component of the legislative process: implementation."

Rachel Usnik  '13
Usnik is interning with the Coalition On the Environment and Jewish Life, which seeks to expand the Jewish community's interest in environmental protection through outreach and activism, and is focused on issues such as energy and climate change. Among the campaigns Usnik is working on is a petition for the Environmental Protection Agency's proposed carbon pollution standard, and an effort related to the 2012 Farm Bill.

"I find the advocacy process to be both rewarding and empowering," says Usnik. "Now that I know more about it, I cannot imagine not doing advocacy work in the future."
Return to the BrandeisNOW homepage