Shikaki: Gaza becoming state, West Bank hurting
Crown Center fellow is a leading analyst of Palestinian opinion and politics
Very few subjects generate so much talk on the basis of so little real information as the question of what the world looks like from a Palestinian perspective – particularly a realistic, deeply informed, dispassionate Palestinian perspective.
So it's a real occasion when Khalil Shikaki, a senior fellow at the Crown Center for Middle East Studies shows up at Brandeis for his annual team-teaching stint with center director Shai Feldman and the center's other senior fellow, the Egyptian scholar Abdel Monem Said Aly.
Shikaki is a leading authority on Palestinian public opinion and politics, and this year, as usual, the brown-bag lunch and briefing held on his arrival drew a full house.
Predictably enough, there was not much reason for optimism this time around. Value lay in the crispness and clarity of Shikaki's analysis, which gave listeners a sense of how the pieces of the Israel-Palestine puzzle relate to one another.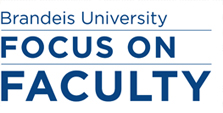 Driving the current situation are the effects of the Arab Spring, the U.S. role in the region and internal developments among Israelis and Palestinians, Shikaki said. The interactions of these forces are pushing and pulling toward three potential outcomes: The building of a state in Gaza by Hamas, the weakening and eventual collapse of the Palestinian Authority and the growth of a one-state reality – of Israel and the occupied territories becoming a state in fact whether they are a state in law or not.
In Gaza, Hamas already has had its own government, by-laws and public institutions for some time. Now, Shikaki said, the territory Hamas is becoming steadily less dependent on Israel, as more and more of its goods come through its border with Egypt.
"Hamas has zero interest in goods coming from Israel to Gaza," he explained, because "customs duties collected by Israel on those goods go to the PA in Ramallah, while every liter of fuel that comes through the tunnels from Egypt is two shekels to Hamas. Every transaction with Israel benefits the PA. Every transaction with Egypt benefits Hamas."
Not so long ago, most supplies of all kinds came to Gaza through Israel. Today that's down to 50 percent. According to Shikaki, 90 percent of Gaza's construction needs last year were supplied from Egypt.
Add to this the recent visit of the Emir of Qatar, who pledged $400 million in development assistance and unlimited free diesel to meet Gaza's power generation needs. Add to that the potential of Turkey's prime minister visiting. Gaza looks more and more like an emergent state.
Meanwhile the Palestinian Authority is steadily losing credibility, Shikaki said. The PA is out of money and the state-building efforts of its politically moderate, avowedly non-violent President Salam Fayyad in the West Bank are deteriorating. Prices are rising.
Recent demonstrations have targeted not only Fayyad but PA police stations, where officers who are not getting paid on time and who are uncomfortable with the shift against them in the public mood are having second thoughts about the wisdom of their security coordination with Israel, coordination that has been a big factor in the long period of calm in Israel and the West Bank.
If there were to be a return to chaos and violence in the territory, more-direct Israeli security efforts would likely result – pushing the situation ever farther toward a one-state reality.
On the political level, said Shikaki, whose Ramallah-based Palestinian Center for Policy and Survey Research is the leading Palestinian opinion-polling organization, a majority of Palestinians now say the PA is not legitimate, and that agreements it might make with Israel would not be legitimate. A majority still favors a two-state solution, but three-quarters do not believe such a solution is any longer possible.
From the Palestinian's perspective, the ruling coalition in Israel, which is expected to continue in power after the upcoming elections, is continuously strengthening the movement toward one state encompassing Israel and the West Bank through its support of settlement building and its tough stance toward the PA.
"The ability of the PA to survive under these conditions is limited," Shikaki said. "The greater the one-state reality, the greater the state of Gaza and the weaker the Palestinian Authority."
Return to the BrandeisNOW homepage