A new beginning at The Rose Art Museum
Five exhibits to open Sept. 17 with reception, artist talk
The Rose Art Museum
will reopen Sept. 17 with five new exhibitions that explore a range of topics, including American celebrity, the profound cultural and social shifts of the 60s and 70s, and the psychology of contemporary drone warfare.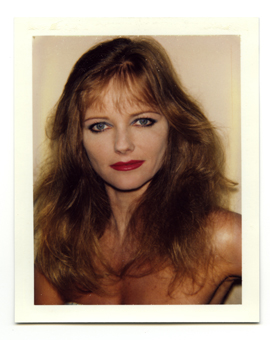 Cheryl Tiegs, Andy Warhol
An opening reception for the exhibitions  — "Image Machine: Andy Warhol and Photography;" "Light Years: Jack Whitten, 1971-1973;" "Omer Fast: 5000 Feet Is the Best;" "Collection in Focus: Al Loving;" and "Minimal and More: 60s and 70s Sculpture from the Collection" — will be held Sept. 17 from 5 to 8 p.m. Preceding the reception, Fast, whose video will be on view through Nov. 3, will give a talk at 4 p.m. All other exhibitions are open through Dec. 15.
"This suite of shows draws together a number of important programmatic threads that will drive the Rose's schedule of exhibitions in the coming years," says Christopher Bedford, the Henry and Lois Foster Director of the Rose. Drawing heavily from the Rose's own collection, "Imagine Machine" focuses on Warhol's use of photography as source material — featuring images of celebrities such as Elizabeth Taylor, Gianni Versace, Cheryl Tiegs and Jackie Kennedy. The exhibition examines the central role of photography in Warhol's art and its relationship to his portrait painting and documentation of the artist's social life.
Curated by former Rose director Joseph D. Ketner II, now curator at Emerson College in Boston, the exhibit was organized in collaboration with the Contemporary Arts Center in Cincinnati, Ohio.
"Light Years," Whitten's first solo exhibition in New England, features several never-before exhibited monumental canvases created by the pioneering abstract artist in the early 1970s. With recent shows at the Whitney Museum of American Art, Venice Biennale, and MoMA's PS1, Whitten's four-decade career is just beginning to attract greater attention.
For Whitten, 1970 marked what he calls a "time of reckoning" in his painting. Whitten began a course of experiments with paint that expanded the scale of painting on canvas, and, still more significantly, the possibilities of the medium.
"Light Years" is curated by the Rose's new curator-at-large Katy Siegel, professor of art history at Hunter College, CUNY. In addition to Whitten's monumental works, it includes experimental drawing studies and small works on canvas made with slices of dried acrylic paint, among the first collages ever made using paint.
"Katy Siegel's work on Jack Whitten demonstrates our commitment to scholarly rigor in exhibition-making, and to providing platforms for important histories of art to be written for the first time." Bedford says. "'Minimal and More,' 'Image Machine' and our focus on two works by Al Loving emphasize the depth and strength of the Rose's growing collection."
Fast's "5000 Feet Is the Best" is a 30-minute cinematic video that discusses one of today's most pressing issues — drone surveillance and warfare. The work's title refers to the 'optimal' firing position of the drone plane. The film stems from a series of conversations the artist had with a former U.S. Air Force Predator drone operator now working in Las Vegas as a casino security guard, who reflects on his daily duties and the psychological effects of live-fire missions in Pakistan and Afghanistan.
First shown at the 2011 Venice Biennale, the video melds fact and fiction together to explore the shifting divisions between reality and representation, and truth and memory. The film kicks off a new, multi-year series at the Rose called "Rose Video," which will feature recent work by Mark Boulos, Maria Lassing and Mary Reid Kelly, among others.
"'Rose Video' announces a focused commitment to the moving image, and introduces to the exhibition schedule a new rhythm of smaller, rapidly rotating shows," Bedford says. "While there is more on the horizon for the museum in the next 18 months, together these exhibitions send a strong signal of a new beginning for the Rose."
"Collection in Focus: Al Loving" features two works — "Self-Portrait #23" and "Untitled," a mixed-media collage — by the prominent abstract painter and collage artist whose work explores the ways color, space, line and form play out in vibrant counterpoint. Loving came to the public's attention in 1969 as the first African-American artist to have a one-person show at the Whitney Museum of American Art.
In the early 1970s, Loving, who had previously made hard-edged geometric paintings, embarked on new work. As he later explained, he wanted to discover "whether there is black art and what it looks like." Loving stained torn strips of canvas with paint and pieced them together with a sewing machine. The resulting works, two of which are on view in this spotlight exhibition, combine his keen sense of geometric abstraction with a range of vernacular traditions, including his mother's quilting, recycled materials and African ceremonial clothing.
"Minimal and More: 60s and 70s Sculpture from the Collection" explores a groundbreaking era of pioneering art whose cultural, social and political themes and concerns still influence art practice today. The 1960s and 1970s witnessed a revolution in the perception and production of art in America, reflecting a societal desire for widespread transformation. In a tribute to the 1996 exhibition at the Rose, "More Than Minimal: Feminism and Abstraction in the '70s," the Rose show brings together three works by female artists Jackie Ferrara, Mary Miss and Jackie Winsor, and presents them alongside sculptures from the collection by four male artists active in the 1960s: Carl Andre, Anthony Caro, Donald Judd and Robert Morris.
Return to the BrandeisNOW homepage