Proust's letters to his editor, publisher highlighted with Close Looking event
Professors Hollie Harder and Paul Jankowski speak about the letters Feb. 13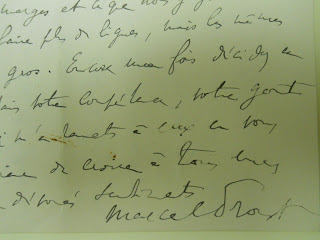 Letters penned by Marcel Proust, regarded as one of the greatest French novelists of the 20th century, are part of the Robert D. Farber University Archives & Special Collections.
On Feb. 13, Hollie Harder, director of language programs for romance studies, and Paul Jankowski, the Raymond Ginger Professor of History, will offer some perspective on the letters in a Close Looking event in Treasure Hall at the Goldfarb Library from 3:30 to 5:30 p.m.

The 23 letters held at Brandeis, written between 1913 and 1916, represent only a small fraction of his correspondences during that period, but are among the most important in the history of his 3,000-page tome.
The letters express his concerns about the editing process, and illuminate larger dimensions of Proust's literary aesthetics. They include key negotiations with his first editor and publisher, Bernard Grasset – to whom 22 of the letters are addressed – as well as Proust's preoccupation with the format of his novel, the reception he envisioned for the book and truths he hoped readers would discover.
The Close Looking series is a project of the Mandel Center for the Humanities in collaboration with the Rose Art Museum and the Robert D. Farber University Archives & Special Collections Department. This series is funded by Ann Tanenbaum '66.
For a detailed description of what's contained in the letters, visit the Brandeis Special Collections Spotlight.
Return to the BrandeisNOW homepage