Alumnus donates historical snapshots to university archives
Richard Borkow '63 donated images of Martin Luther King, Jr., Malcolm X, Eleanor Roosevelt and others to the university archives
The photo shows a woman in a flower covered hat and raincoat, her grinning face lit by the camera's flash. The woman is Eleanor Roosevelt and the young man who took the photo was Richard Borkow '63.  
"One day, I happened to be walking near the
Rose Art Museum
and there was Eleanor Roosevelt walking in the same direction as me," Borkow recalled. "I said, 'Mrs. Roosevelt would you pose for a picture?' And she turned around and gave me a big smile."  
The university has many images of the former first lady, who was one of the early members of the Board of Trustees at Brandeis and a member of the faculty, but University Archivist Maggie McNeely sees something special in Borkow's photo.  
"I think it's probably the best smile of her we've caught on campus," McNeely said. "It's really warm photo."  
The image is among of 25 photographs Borkow has donated to
the Robert D. Farber University Archives & Special Collections
. Borkow had a habit of toting his Brownie Hawkeye camera with him around campus and built a collection of photos that includes images of Roosevelt, Martin Luther King, Jr., Malcolm X, Edward R. Morrow and more.  
"A lot of photos you get of famous people or celebrities are very formal shots. There's something to be said for finding snapshots like these. They are rare gems," McNeely said. "It's really nice to catch someone in a moment that isn't prepared. For someone who studies visual culture, they could get a lot out of that."  
For Borkow, who is a pediatrician and also
a history author
, taking the photos was simply a hobby. If there was an interesting speaker around campus, he would go and bring his camera with him.  
"There wasn't really anything behind it," he said. "I thought maybe when I was older I could look back and reminisce of days long before."  
But Borkow ended up catching a moment that could have otherwise slipped through the cracks of history.  
The photos of Malcolm X include two taken during a speech organized by Brandeis students and one of the icon sitting at a cafeteria table, surrounded by students. The university already had photos of the speech, but not of the visit with students after.  
"The fact that he caught that moment of discussion, it gathered some information that might have otherwise been lost." McNeely said.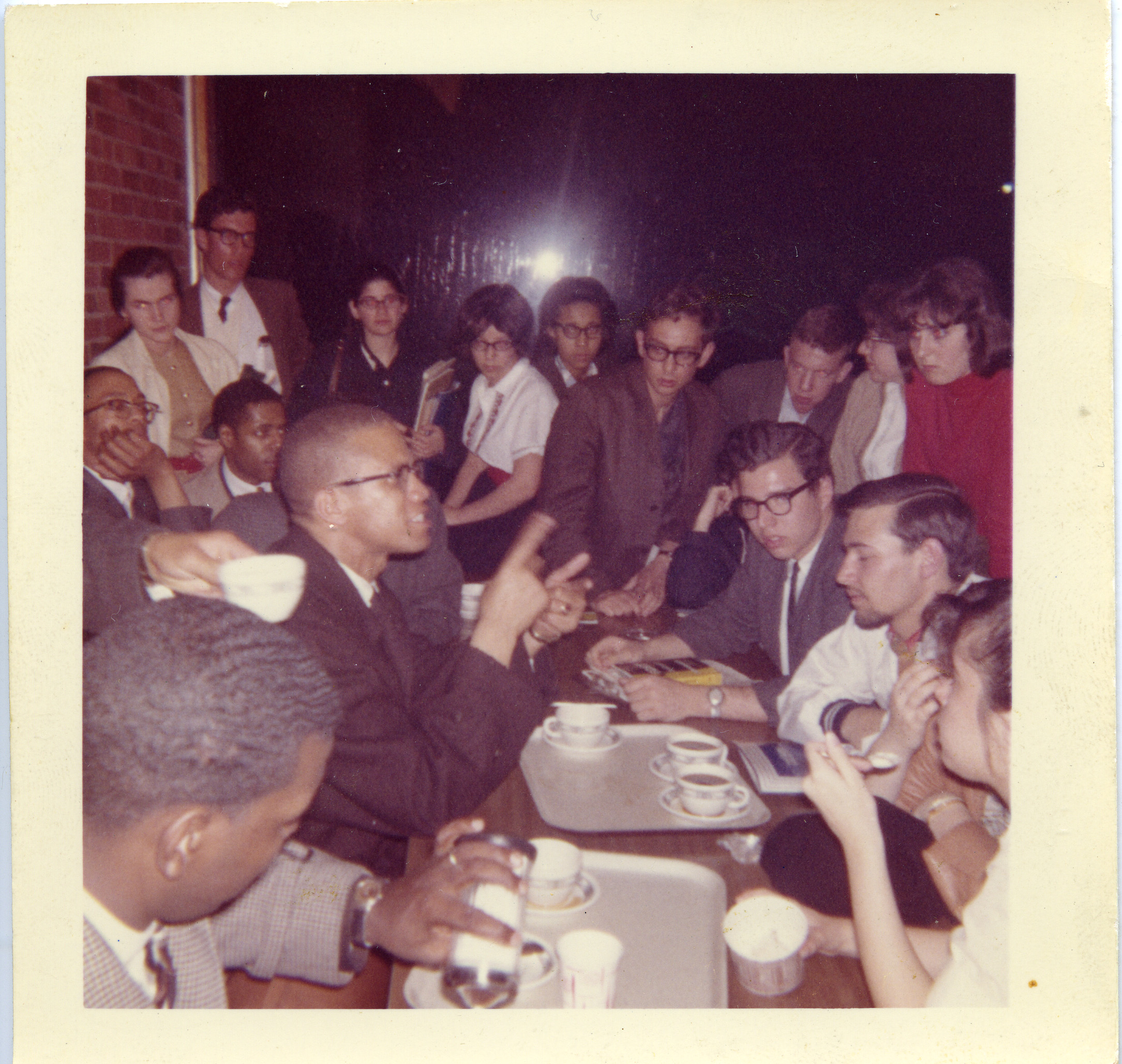 As Borkow recalls, the photo was taken in a dormitory's cafeteria after the speech at nearby Ford Hall. He took a seat at a table with students and was surrounded by many more. The photo was taken by a friend with Borkow's camera, and he is one of the students in the image.  
The photos are now part of the archive's alumni collections, which regularly looks to expand through donations from former students. Borkow also gave the copyright of the images to the university, allowing Brandeis to use them freely.  
"That's great for us, having a photograph without the copyright means someone could look at it here, but we couldn't do anything else with it," McNeely said. "It's very generous of him to do that for us."  
Borkow said he was inspired to donate the photos after seeing old images from around Brandeis posted on the
university's Facebook page
.  
"The archives will be a much safer place for them," he said. "This is an opportunity for me to let these photos continue on."
Return to the BrandeisNOW homepage