Orientation explores social justice, celebrates Brandeis
Mixing activities that are fun with those that are informative, new students learn what it means to be Brandeisian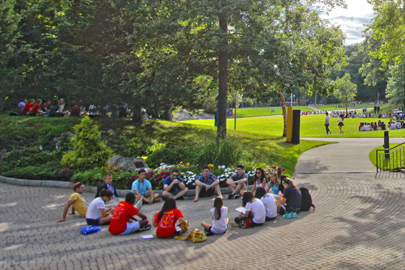 Photo/Mike Lovett
Brandeis' long-standing commitment to social justice and community was front and center during New Student Orientation this week.  
Guided by orientation leaders, students participated in a variety of events and activities that introduced them to one another, highlighted campus organizations and services, and explored how the Brandeis community approaches a range of contemporary social issues, including race relations, income inequality and sexual assault.  
Dean of Student Life Jamele Adams
welcomed the students to their "home away from home" during a festive This Is Our House event in the Spingold Theater. In a highly energetic celebration of all things Brandeisian, the students were challenged to become an active member of the Brandeis community and to encourage their fellow students to do the same.  
Students also came together throughout the week to discuss social justice. An event called A Call for Change gave students a look at injustices through performances, media installations and conversations. In one skit that focused on the Black Lives Matter movement, orientation leaders showed how two families might react to a news broadcast about a young African-American man's encounter with police brutality. Another performance, entitled "Complicated," featured three students who spoke about the limbo they were in with their friends because of their views on various social issues, including LGBT rights, women's rights and hurtful speech.
Student Union
President Nyah Macklin concluded the event by performing a song that urged people to turn the page on inequality and racism, and create a world where such brutalities do not exist.  
"This was a very powerful display," said Michael Chow '19, from New York City. "It was really well done, and it got everyone thinking about how we're here to make a difference in the face of a lot of injustices in the world."  
The year's New Student Forum featured a conversation with Booker Prize winner Michael Ondaatje, author of "Anil's Ghost," a novel about a forensic pathologist who investigates the supposed murder of an innocent man by the Sri Lankan government during a civil war. The students were asked to read the book this summer in preparation for discussing its themes with Ondaatje, members of the Brandeis faculty and fellow students.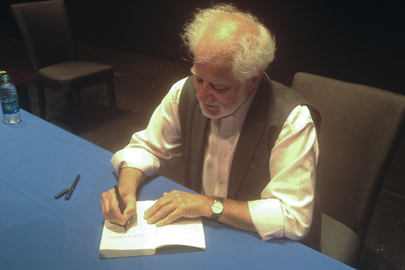 Michael Ondaatje
"We chose 'Anil's Ghost' in part because the social-justice mission of Brandeis resonated well with the story," said
John Plotz
, a professor of English and a member of the committee of faculty, staff and undergraduates who selected the book. "This is a story of wartime massacres and someone who can figure out what happened and why. The hero is a forensic archaeologist — someone put in a situation of bringing things to light. It's engaging. It asks you about the relationship between vocation and ethics — how duties intersect with the profession you've chosen."  
Harleen Singh
, associate professor of literature and women's, gender and sexuality studies, interviewed Ondaatje about the book and its themes. One student asked Ondaatje whether "Anil's Ghost" depicted a scientist's moral obligation to tell the truth, even in the face of danger and consequences.  
"That is a very good question," said Ondaatje. "Sometimes, the characters might feel it's dangerous to tell the truth. The book isn't one political stance. It's an argument, in a way. I would say of course you are responsible for the truth, and that is Anil's belief, too."  
With the start of classes on Thursday, Aug. 27, the students began the next phase of their Brandeis journey. Activities welcoming all students to campus will continue into early September. They include the Arts and Activities Fair on Sunday, Aug. 30; an outdoor screening of "Jurassic World" on Friday, Sept. 4; the annual 24-Hour Musical on Sunday, Sept. 6; and the Labor Day cookout on Sept 7. A full list of events is available on the
online campus calendar
.
Return to the BrandeisNOW homepage