Brandeis receives largest single gift in its history
A $50 million bequest from Chicago philanthropists Rosaline and Marcia Cohn will support student financial aid
Brandeis University today announced it has received a $50 million bequest from the estate of Chicago philanthropists Rosaline and Marcia Cohn. It is the largest single gift in Brandeis' 69-year history.  
In accordance with the Cohns' wishes, the Jacob and Rosaline Cohn Endowed Scholarship and Fellowship Fund will provide financial aid each year for hundreds of undergraduate and graduate students who, in the words of Mrs. Cohn, will help solve the "problems and conditions of today and tomorrow." 
"We are deeply moved that Mrs. Cohn was so inspired by Brandeis' values and mission that she chose our university to receive this remarkable gift," said Brandeis President Ron Liebowitz. "For current and future Brandeis students, this gift will be life-changing and will, as Mrs. Cohn envisioned, enable them to help make the world a better place."
Jacob and Rosaline Cohn's relationship with Brandeis began in 1951, when they gave $100 to the 3-year-old university. Fifteen years later, in response to a solicitation letter from Brandeis' founding president, Abram Sachar, Mrs. Cohn returned a pledge card on which she checked off "considering the establishment of" and, in perfect handwriting, added "something" to describe the nature of the gift.
"If Mrs. Cohn intended to accomplish 'something,' she has succeeded in an extraordinary way that will benefit students for generations to come," said Liebowitz.  
He noted that it is striking that no one in the Cohn family was a Brandeis alum or faculty member, or had any formal connection to the university. "Like many generous philanthropic families, the Cohns were inspired by the very idea of Brandeis, a university founded by the Jewish community to be open to all students of talent, reflecting the Jewish values of reverence for academic excellence and dedication to using one's talents to improve the world. For that, we are profoundly grateful," Liebowitz said.
In the mid-1970s, with a gift of $32,600, Mrs. Cohn established the Cohn Fund as a memorial to her husband, who died in 1968. She wrote to then-Brandeis President Marver Bernstein that she wanted the scholarships it created to support students in the social sciences and other academic disciplines that "hold promise for ameliorating the problems and conditions of today and tomorrow."
Throughout her life, Mrs. Cohn met and corresponded with many Brandeis leaders; attended university-organized events in Chicago; visited campus for Commencements and other special events; and built enduring relationships with senior administrators, faculty and staff. Her daughter, Marcia, often accompanied her to Brandeis events.
President emeritus Jehuda Reinharz, PhD'72, who led Brandeis from 1994-2010, played a central role in creating the bequest agreement with Mrs. Cohn in 2010 that ultimately led to the $50 million gift. Reinharz became friendly with Mrs. Cohn during his time as provost (1991-94), and the relationship grew when he became president.
"The more Mrs. Cohn learned about Brandeis, the more she fell in love with the university," said Nancy Winship, P'10, P'13, senior vice president for institutional advancement. "She loved the fact that Brandeis was a great liberal-arts and research university that was informed by Jewish values. She was so proud of what Brandeis had become."
One of the first recipients of the Cohn Scholarship, Daphne Greenberg '84, was thrilled to learn that the family's additional gift will support subsequent generations of Brandeis students. "I will always be grateful for the scholarship support I received from the Cohn Scholarship. Without it, I would not have been able to attend Brandeis," says Greenberg, now Distinguished University Professor and head of the Center for the Study of Adult Literacy at Georgia State University. "I used to worry that 18-year-olds today would not be as fortunate as I was. But with this gift from the Cohn family, students like me will continue to be given an opportunity."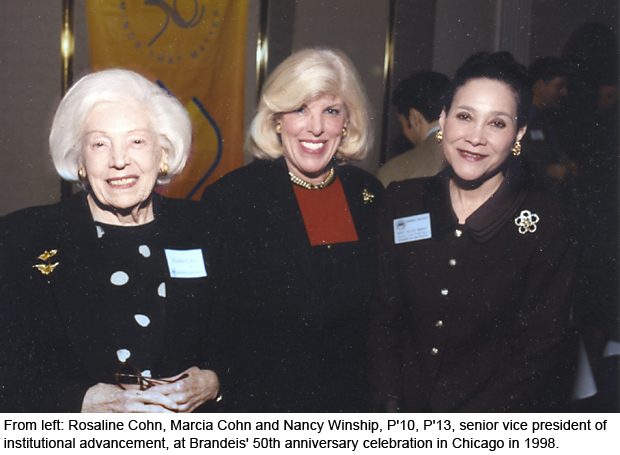 Jacob Cohn was a 19-year-old immigrant from Lithuania when he established the Continental Coffee Co. in Chicago in 1915. He sold coffee, tea and cocoa by horse and wagon to local restaurants and cafeterias, eventually building the company into a national distributor of beverages and food. In 1988, the company was sold to Sysco Corp.
When Mrs. Cohn died in 2010 at age 97, she left her daughter her entire estate. The estate of Marcia Cohn, who died in 2015, maintained the same beneficiaries as her mother's.
Return to the BrandeisNOW homepage