Biochemist Greg Petsko elected to American Philosophical Society
APS is America's first learned society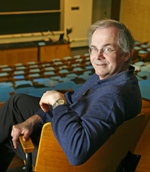 This week leading scientist Gregory Petsko joined the ranks of such august figures as George Washington, Marie Curie and Robert Frost. The biochemist was elected to the American Philosophical Society (APS), founded in Philadelphia in 1743 by Benjamin Franklin, who reasoned, "The first drudgery of settling new colonies is now pretty well over, and there are many in every province in circumstances that set them at ease, and afford leisure to cultivate the finer arts, and improve the common stock of knowledge."
A veteran scientist who has done pioneering work in protein crystallography, protein dynamics, and yeast genetics, Dr. Petsko has a deep research interest in the prevention and treatment of neurodegenerative diseases, especially Parkinson's and Alzheimer's. The Gyula and Katica Tauber Professor of Biochemistry and Chemistry and chair of the department of biochemistry, Dr. Petsko is also an adjunct professor in the Department of Neurology and Center for Neurologic Diseases at Harvard Medical School and Brigham & Women's Hospital in Boston. He is a Fellow of the American Academy of Arts and Sciences, and a member of its Institute on Medicine.
"Election to the APS honors extraordinary accomplishments in all fields. The APS is unusual among learned societies because its membership is comprised of top scholars from a wide variety of academic disciplines," according to its website. Every April, APS members elect new members from five classes: mathematics and physical sciences; biological sciences; social sciences; humanities; the arts, professions and leaders in public and private affairs. Other newly elected members include filmmaker Woody Allen, Harvard Law professor Lawrence Tribe and New Yorker cartoonist Roz Chast.
The Society promotes useful knowledge in the sciences and humanities through excellence in scholarly research, professional meetings, publications, library resources, and community outreach. 
Return to the BrandeisNOW homepage