Wrapping up a summer of science: SciFest 2023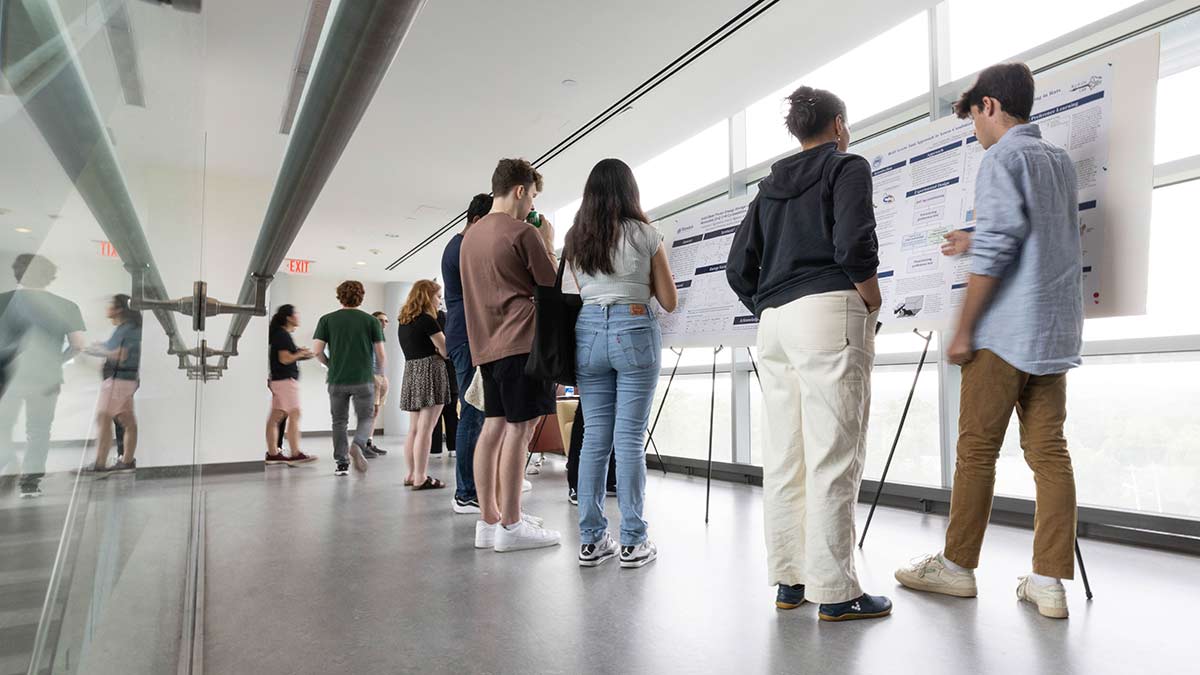 Photo Credit: Dan Holmes
By Kennedy Ryan, Photography by Dan Holmes and Gaelen Morse
August 15, 2023
Each summer, undergraduate students majoring in biology, chemistry, physics, mathematics, computer science, psychology and neuroscience conduct research with faculty, graduate mentors, and fellow students.
After countless hours dedicated to their work, they get to share their findings at SciFest.
Since 2011, the event has been the high point of the summer in the Division of Science. This year, 104 students displayed poster board presentations throughout all four floors of the Shapiro Science Center.
The building was buzzing with excitement and curiosity as students presented their research to festival visitors, answered questions, and formed connections with members of the science community. 
104 students who displayed poster board presentations at SciFest 2023
Samra Khalid '25, a neuroscience and biology major, spent her summer observing changes in the cellular levels of yeast actin-binding protein. It was her second summer working in professor Bruce Goode's lab. Last summer she served as a lab technician, and she progressed to a research assistant this summer.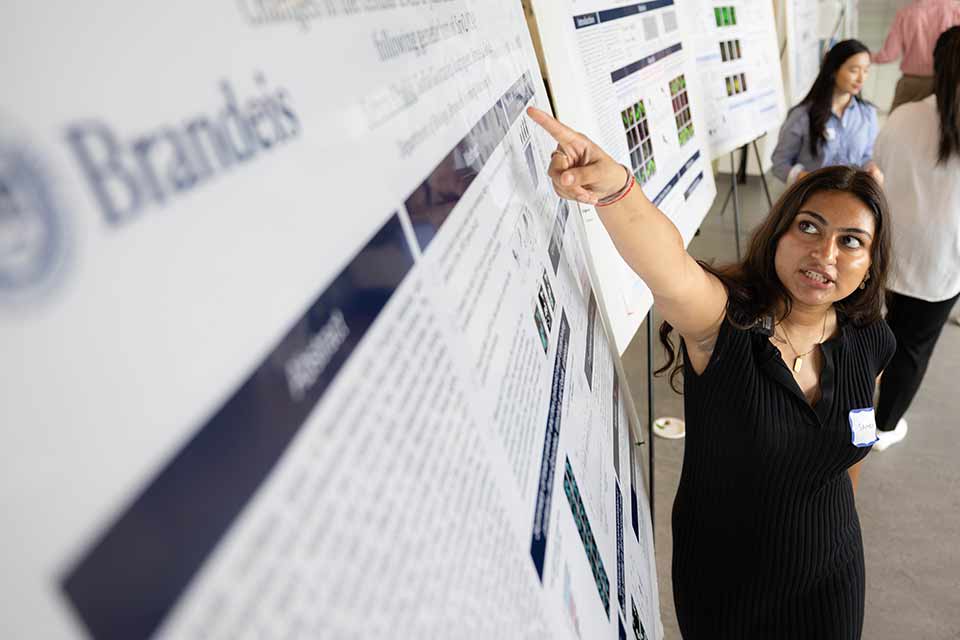 "I discovered that you're going to fail a lot along the way, but it's more about what you learn in the process," said Khalid. "There were things that didn't work out as planned and I had times where I had to do the same thing over and over again to get results. You feel so proud of yourself when you finally get it right."
Zahra Sadeq '25, a biology major, explored the influence of RNA binding proteins on circadian rhythms in drosophila - the common fruit fly. She spent an average of 40 to 50 hours a week in professor Michael Roshbash's lab, working long days to get closer to results. Spending her time alongside her peers in the lab, she found herself constantly inspired.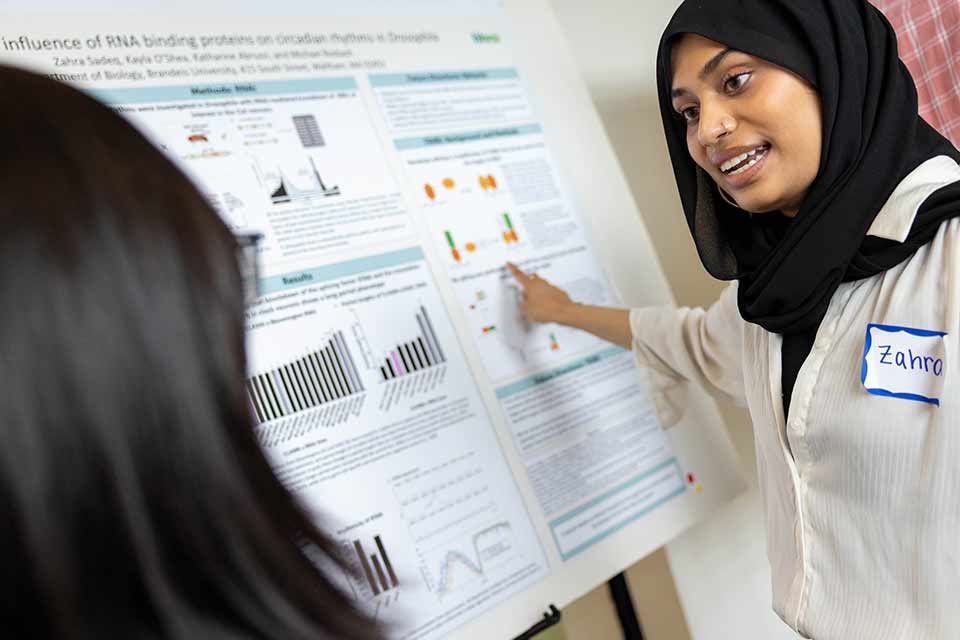 "Being in a lab environment where everyone is so enthusiastic about what they are working on makes me want to do better," said Sadeq. "Seeing everyone striving for their best while creating such a friendly space — it makes me want to be a part of it."
Gustavo G. Sigelmann '25, a chemistry major from Brazil, noticed that despite his country's sunny climate, there seemed to be limited solar energy resources. He decided to pursue opportunities in solar research at Brandeis with the hopes of one day continuing his efforts in Brazil.
"You learn a lot in lectures, but you learn the most in the lab,"
Gustavo Sigelmann '25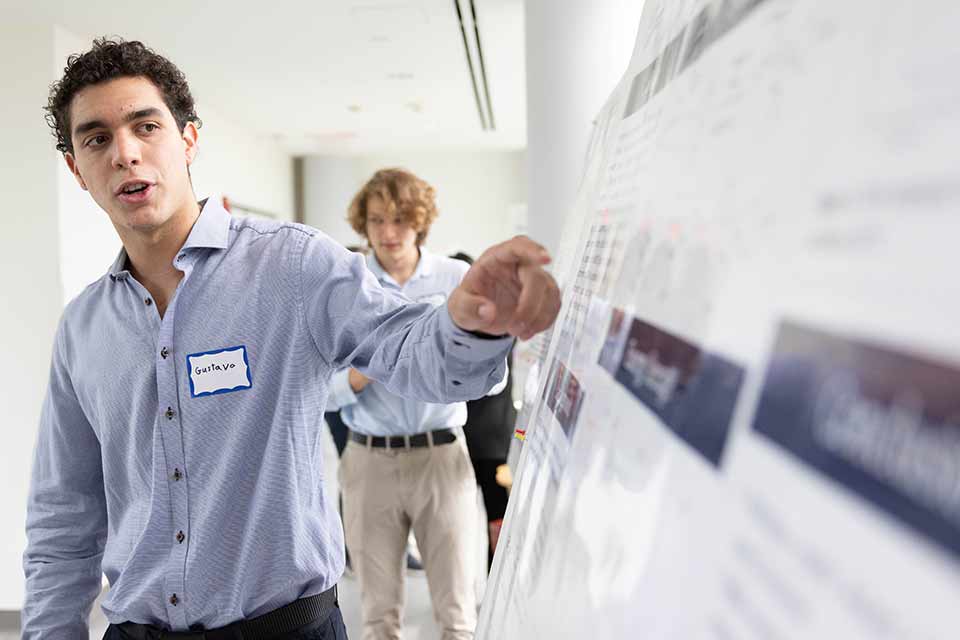 Through his research exploring molecular solar thermal energy storage systems, he also discovered the importance of mentorship. Working alongside professor Han Q. Nguyen and professor Grace D. Han, his skills advanced beyond the classroom.
"Professor (Grace) Han has taught me most of the lab skills I know. You learn a lot in lectures, but you learn the most in the lab," he said. "She was really patient in taking the time to help me learn."
In addition to Brandeis students, the event hosted a visiting student researcher from Tsinghua University in China and eight research undergraduate students from Hampton University and North Carolina Agricultural and Technical State.