From South Street to Wall Street: Ephraim Zimmerman's journey in quantitative finance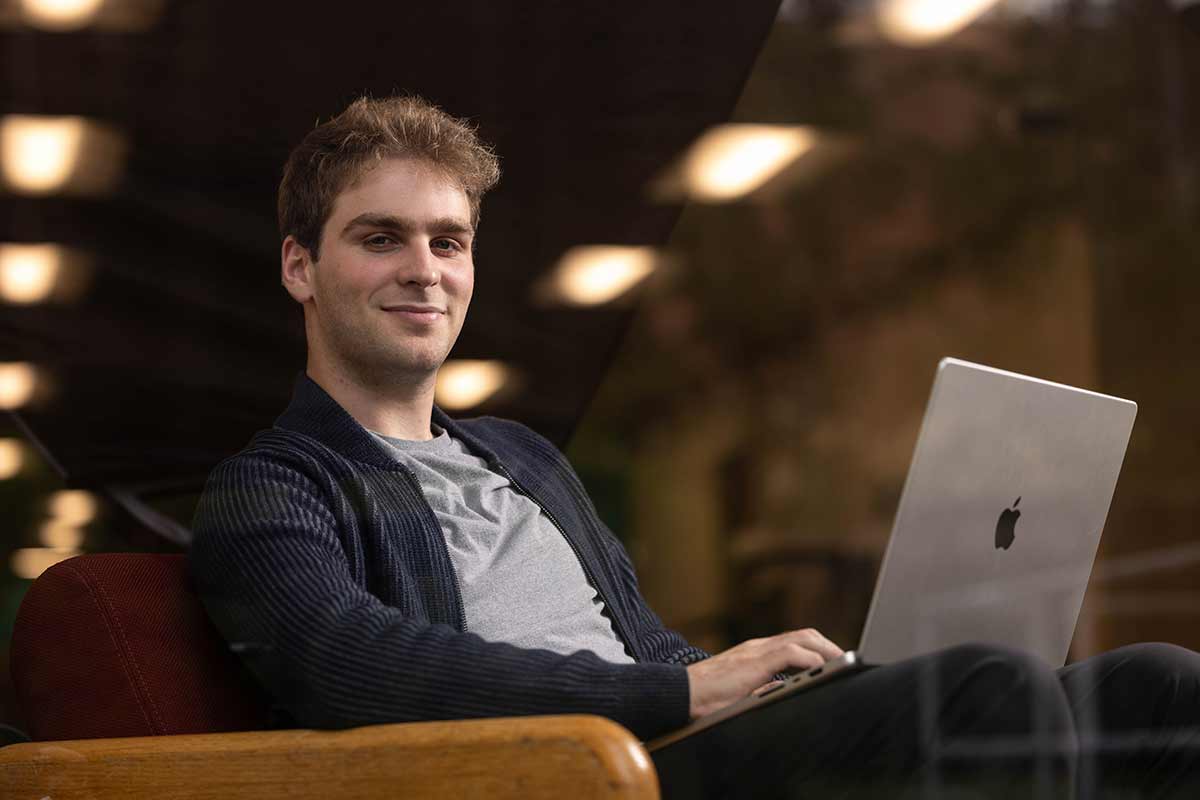 Ephraim Zimmerman '25 came to Brandeis with a vision: to learn the tools he would need for a future in quantitative finance and software engineering.
"Quantitative investment management is different from traditional, fundamentally-focused approaches because they tend to rely significantly less on subjective judgment and more on autonomous infrastructure. Statistical analysis is used to determine the best place and timing for client investments," said Zimmerman. "This all happens through high-level theory and programming."
Through his Brandeis coursework he discovered the importance of math in the world of quantitative finance, and added mathematics as a minor.
"I never enjoyed math until coming to Brandeis. I have actually been told I was unintuitive in the subject, but I've learned to appreciate it through the intense rigor of the Brandeis math classes," said Zimmerman. "A large amount of machine learning requires the understanding of high level mathematics. It has applied to a lot more of the work than I was expecting."
Zimmerman is involved with student organizations across campus, having served as the co-founder and president of the Quant Club since his first year, as well as the co-president of the Global Markets Investment Club, the graduate investment group that helps students gain first-hand investment and market research knowledge.
"I was skeptical about getting it started this early in my career due to the inherent technical difficulties of such a project, but I've received so much encouragement from friends, professors and faculty."
Ephraim Zimmerman '25
It was there that he learned about summer internship opportunities at Artisan Partners, a global investment management firm. The portfolio manager of the multi-billion dollar, New York City-based fund he applied to turned out to be Rezo Kanovich '98, MS'99, a Brandeis alum. The two quickly hit it off.
"I wasn't planning on participating in an internship this summer, but it was the perfect fit," said Zimmerman. "I prefer working in a small team environment. The position offered the opportunity to work with a team of 15 people among a very large portfolio that was directed at investment services different from that I had previously studied — more focused on a bottom-up, fundamental approach to choosing investments."
Working under Kanovich, he also learned the value of client relationships.
"I hope Ephraim left this experience with a sense of what goes into investment decision making," said Kanovich. "There's a sophisticated process that investors are looking for."
Entering his junior year at Brandeis, Zimmerman is ready to continue a course load of computer science and math classes alongside new projects and independent research. This summer, he launched his next big thing: a quantitative hedge fund that he's been developing since his first year at Brandeis.
The company employs a range of quantitative algorithms trained by evolutionary computational tools, with a focus on genetic algorithms — machine learning that simulates how biological entities evolve through time to find an optimal solution to a problem. He looks forward to seeing how his company grows during his time at Brandeis.
"I was skeptical about getting it started this early in my career due to the inherent technical difficulties of such a project, but I've received so much encouragement from friends, professors and faculty," he said. "I wouldn't have continued if not for that support."