Nobel winner launched his life in research from a Brandeis lab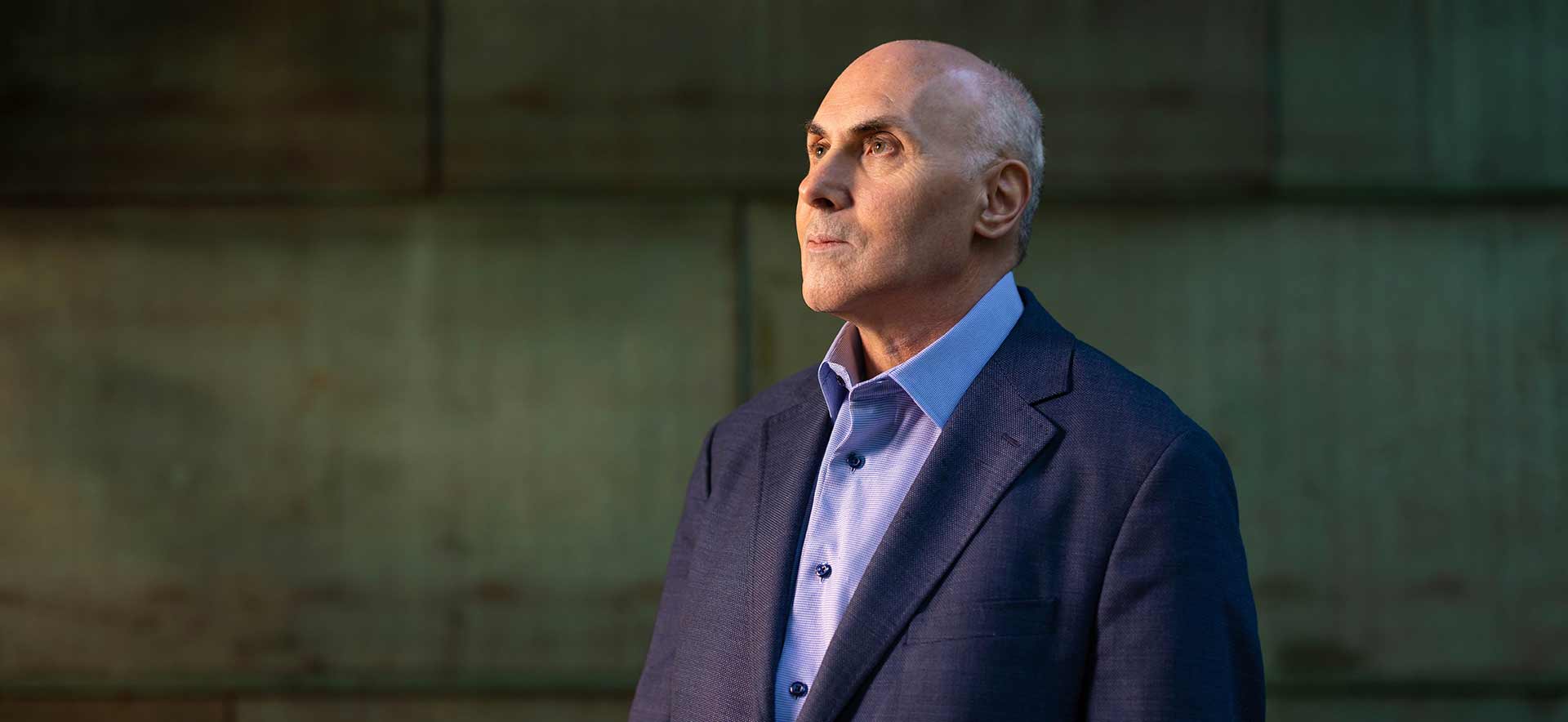 Photo Credit: Dan Holmes
Drew Weissman '81, GSAS MA'81, P'15, H'23, whose pioneering work in messenger RNA led to the lifesaving vaccinations that altered the course of the COVID-19 pandemic, has won the Nobel Prize in Physiology or Medicine, along with collaborator Katalin Karikó, H'23, senior vice president at BioNTech RNA Pharmaceuticals.
Weissman and Karikó both received an Honorary Doctorate of Science from Brandeis at this year's Commencement.
"It is here that I honed my critical thinking skills, starting as a freshman in Shapiro Hall, and nurtured my passion for scientific exploration in Professor Gerry Fasman's biochemistry lab," Weissman said during his remarks. "I learned the value of collaboration and open-mindedness while being an active student, campus member, and part-time activist."
Brandeis and the Rosenstiel Foundation awarded Weissman and Karikó the 50th Annual Lewis S. Rosenstiel Award in Basic Medical Research in February 2021. Both were also awarded the prestigious Lasker award in clinical medical research.
"Drew's pioneering research in messenger RNA is a true breakthrough for science. Through his visionary work, he has not only altered the course of a pandemic, but has advanced human knowledge and understanding in ways that will shape vaccine research for generations to come. His remarkable achievement is one of the great scientific accomplishments of our time," said Brandeis President Ron Liebowitz.
A Lexington, Massachusetts native, Weissman followed his youthful passion for science to Brandeis. He studied biochemistry and enzymology, fulfilled pre-med requirements, and embarked on a lifetime of research, getting his start in professor Gerald Fasman's lab. Outside the classroom and lab, he engaged with other students in environmental and racial justice, and voting rights activism.
"Coming to Brandeis expanded my learning. I learned about politics, I learned about psychology, I learned about sociology, I learned about music, theater and opera. All of those things have continued to expand over my years after graduating. So, I think it really broadened me as a person," he said in his remarks when he received the Brandeis Alumni Achievement Award in 2021. "But my main focus was in the lab doing research, and that's where I was happiest."
Weissman graduated from Brandeis with bachelor's and master's degrees and went on to earn his PhD and MD from the Boston University. After graduate school, Weissman completed a residency at Beth Israel Deaconess Medical Center and a fellowship at the National Institutes of Health (NIH), where he worked on HIV research under the supervision of Dr. Anthony Fauci, director of the National Institute of Allergy and Infectious Diseases and chief medical adviser to President Joe Biden. Since 1997, he has been a professor of medicine at the Perelman School of Medicine at the University of Pennsylvania.
"I'm still a basic scientist, I always will be," he said during an April 2021 Brandeis event, Virus Wars: The Battle Against COVID-19 and Other Viral Threats. "Basic science is being able to take an idea, and test it and see if it works. And if it doesn't work, you do something else. And a career in basic science to me is incredibly satisfying."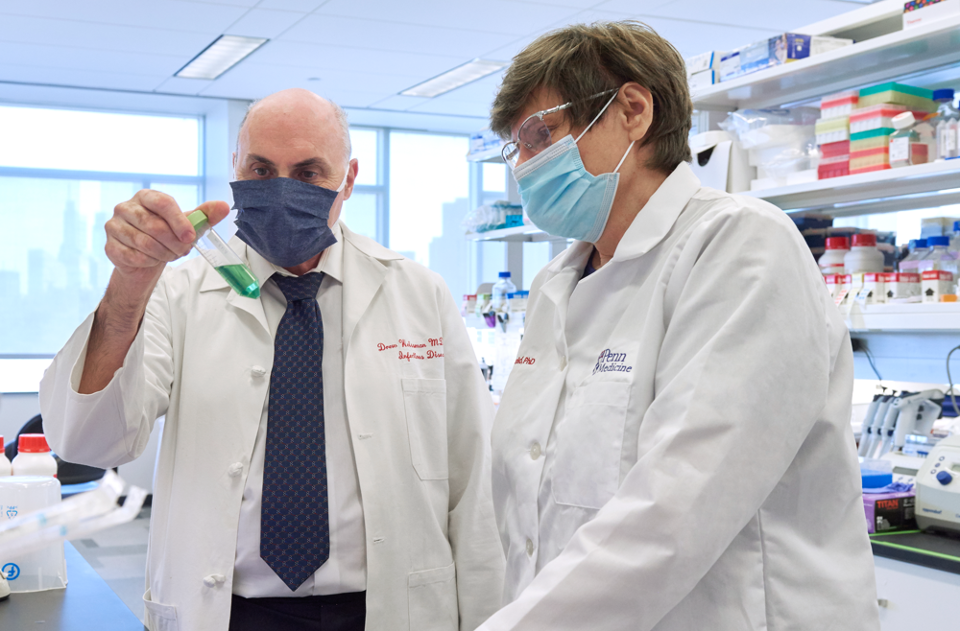 Photo Credit: Courtesy, UPenn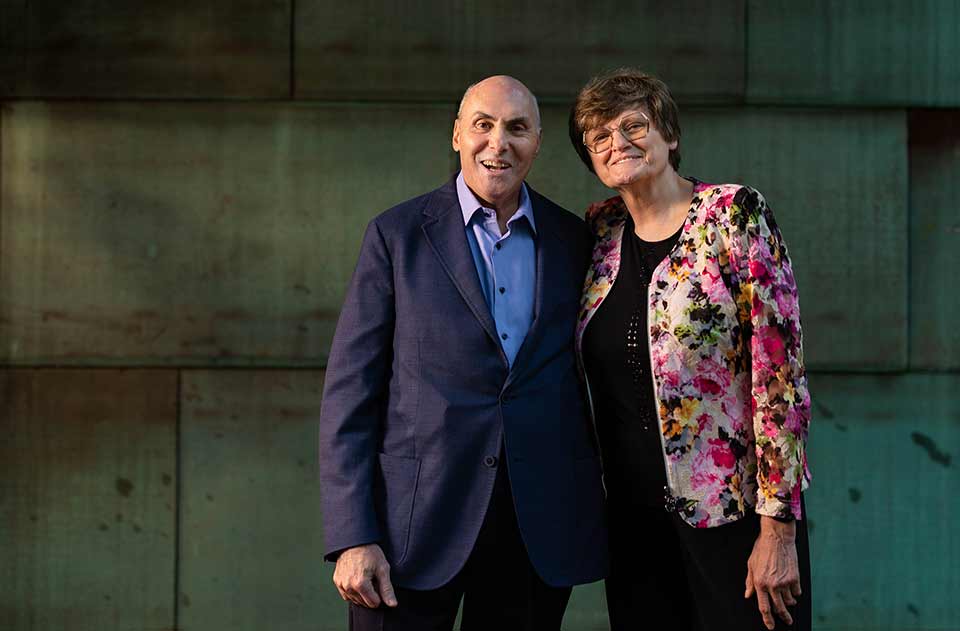 Photo Credit: Dan Holmes
Through painstaking research, and persistence despite setbacks, Weissman and Karikó found that by engineering a modified version of mRNA — which transports instructions to cells regarding the production of proteins — and then developing a system to deliver it, they could trick the immune system into thinking the body is infected with a virus and produce antibodies to create at least partial immunity. Their work laid the groundwork for the BioNTech/Pfizer and Moderna COVID-19 vaccines.
"Among the few positive consequences of the current pandemic are the successful efforts made worldwide to generate effective vaccines," said Michael Rosbash, the Peter Gruber Endowed Chair in Neuroscience and 2017 winner of the Nobel Prize in Physiology or Medicine. "The most creative of these rely on the new messenger RNA technology pioneered by Kariko and Weissman. This is a great story where individual initiative in basic science has ended up having a remarkable real-world impact."
In traditional vaccines, such as those for chickenpox, polio, flu or rabies, a weakened or killed version of the virus is injected, fooling the immune system into fighting the disease. That approach is more expensive than synthesizing mRNA, which can be reprogrammed to fight different illnesses.
"The COVID-19 vaccine breakthrough is a great example of how basic science innovations, such as the RNA technology pioneered by Weissman and Karikó, can have an enormous impact on advances in the biomedical sciences," said biochemist Carol Fierke, Brandeis provost and executive vice president for academic affairs.
Weissman said his time as biochemistry major at Brandeis gave him "insights on how to develop hypotheses — how to think about them, how to develop new lines of research." Rather than graduating in three years, he chose to stay a fourth and earn a master's degree. He wrote his master's thesis on acetylation of DNA, part of the process of gene regulation.
"Drew's pioneering research in messenger RNA is a true breakthrough for science. His remarkable achievement is one of the great scientific accomplishments of our time."
Brandeis President Ron Liebowitz
Brandeis, he says, also taught him the value of a supportive community. Being pre-med, he says, was "an incredibly stressful time … but I had the support of not only the students, my friends, but the teachers as well."
"They wanted us to succeed, and I think that's what shaped my future. Where right now I have a lot of students in my lab and I work with them to help them succeed, and that's what Brandeis taught me," he said. "I think what really sticks out in my mind is the collegiality, the collaborative nature, and the friendships that I developed at Brandeis. It was an incredibly warm and supportive community."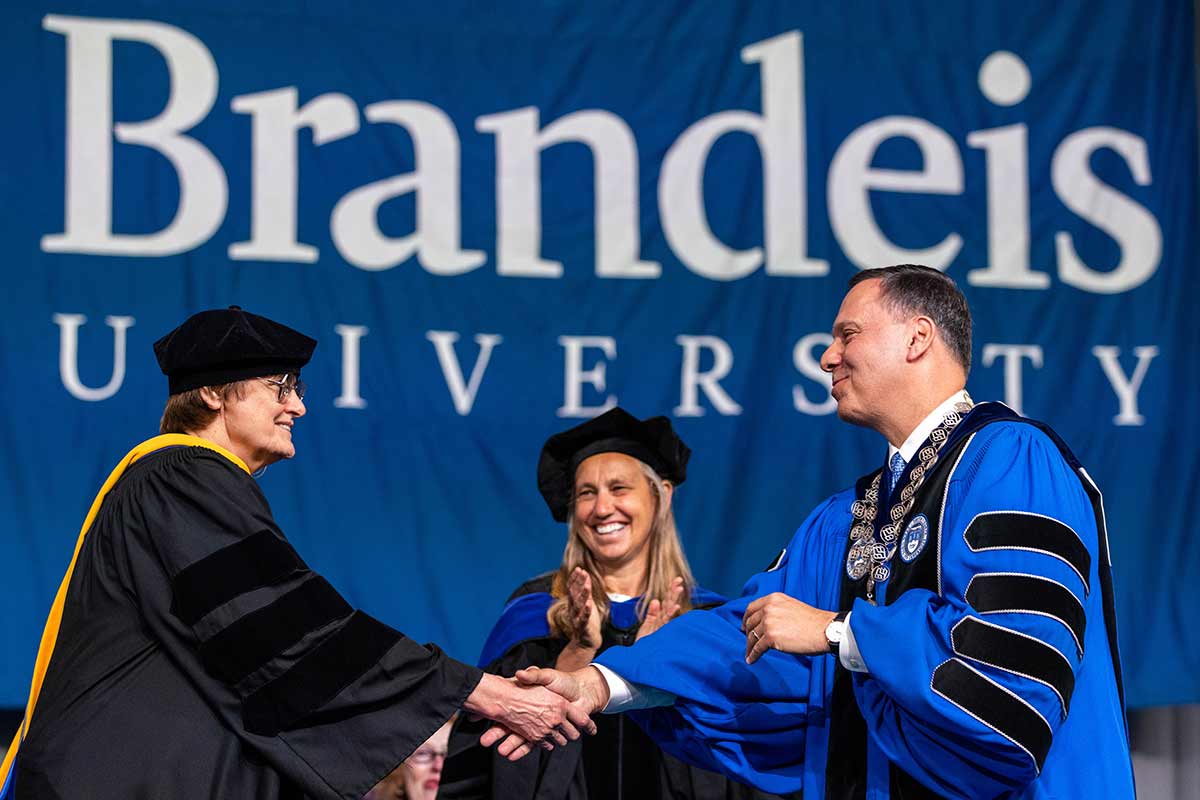 Brandeis University President Ron Liebowitz bestows an Honorary Degree upon Katalin Karikó at Commencement 2023.
Photo Credit: Gaelen Morse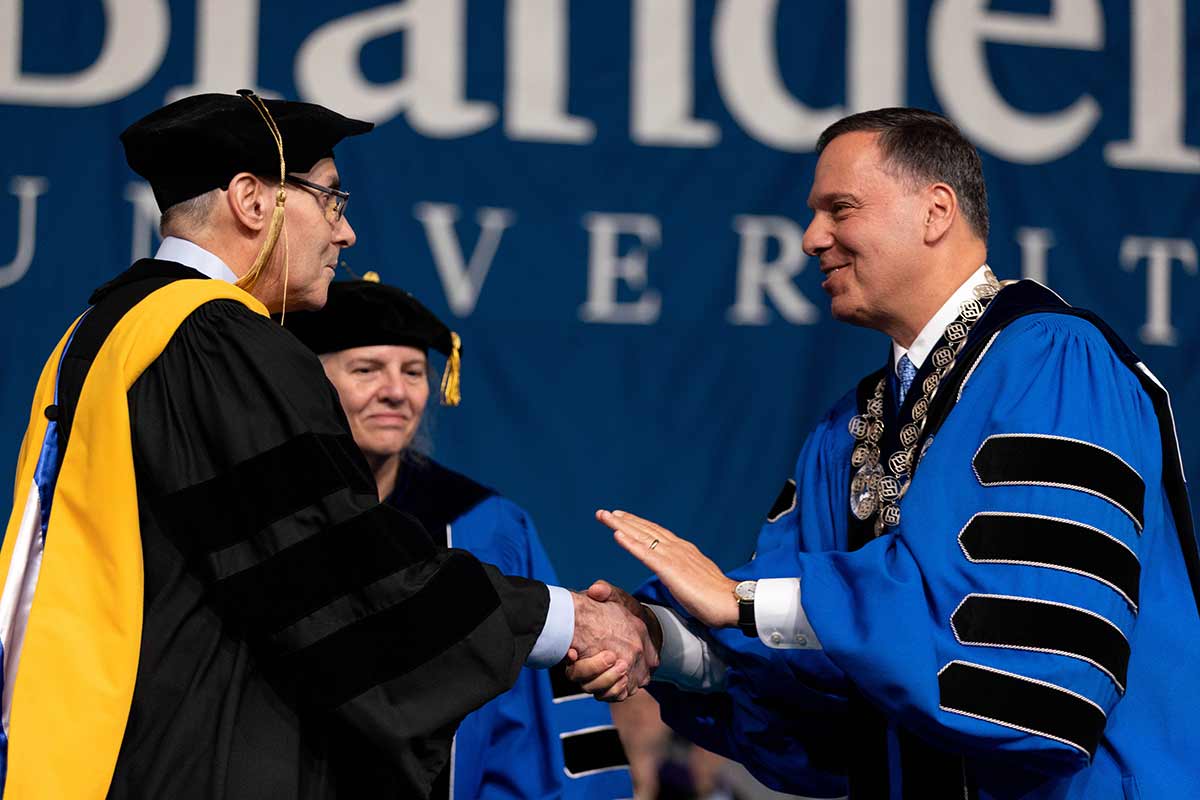 Drew Weissman is presented with an honorary degree from Brandeis University President Ron Liebowitz during the 2023 undergraduate Commencement ceremony. Weissman also delivered the keynote speech during Brandeis' 72nd Commencement.
Photo Credit: Gaelen Morse
Read more about Drew Weissman