Undergraduate Commencement Address by Drew Weissman '81, GSAS MA'81, P'15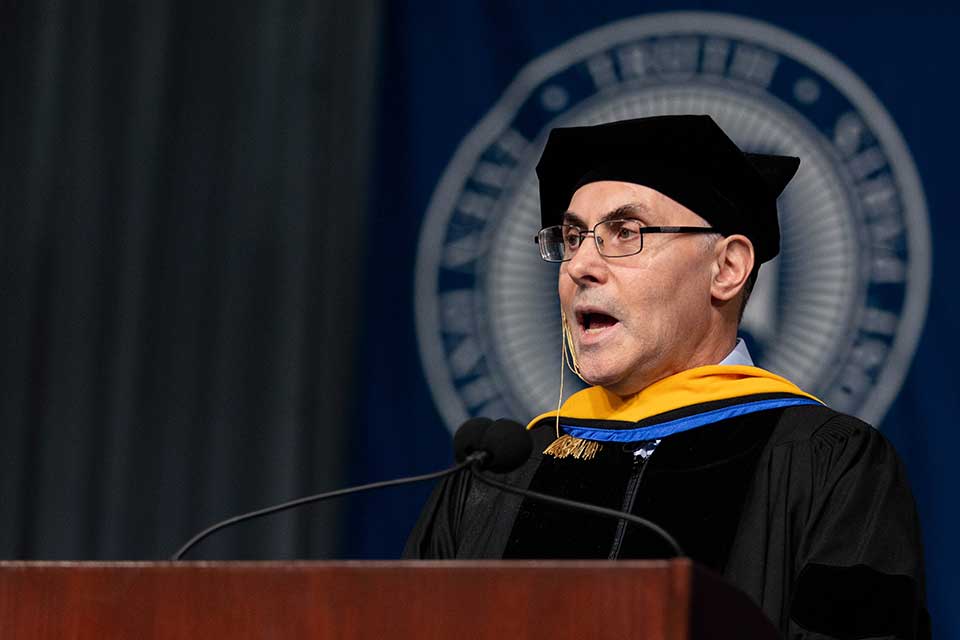 Transcript
Esteemed guests, distinguished faculty, parents and family members, and the brilliant graduating university class of 2023, it's an absolute privilege to be here with you today on this momentous occasion.
Graduates, today we come together to celebrate your remarkable achievements at this great institution. Brandeis University has long been a beacon of intellectual rigor and academic elegance. It is a place where the pursuit of truth and the thirst for knowledge are cherished. In this vibrant community, you have had the opportunity to engage with the ideas that challenge your perspectives, to question the world around you, to embrace the beauty of inquiry, scientific or otherwise. Just as I did from 1977 to 1981, well before any of you were born.
Brandeis University has played a significant role in shaping the scientist and, more importantly, the person I am today. It is here that I honed my critical thinking skills, starting as a freshman in Shapiro Hall, and nurtured my passion for scientific exploration in Professor Gerry Fasman's biochemistry lab. I learned the value of collaboration and open-mindedness while being an active student's campus member and part-time activist. It is here where I met my wife, now a gifted child psychologist, while tutoring her in calculus, although I'll admit the only thing she seems to remember from those sessions is that I explained the concept of infinity by comparing it to her boundless desire for shoes. And based on the number of Nordstrom's packages received at our house on a weekly basis, this is a concept she's still extensively exploring to this day. (audience laughs)
It is here where I met people who remain my friends and colleagues to this day, including Laura, Stewart, Liz, Jeff, Mark, and Fran. It is here where I first watched my oldest daughter graduate like a true Brandeisian, with an unnecessary number of majors and minors. 'Cause how could you ever be successful in healthcare policy without also having a minor in sculpture?
It is also at Brandeis where I learned the importance of social justice and developed the values that guide me to this day. When I, along with my scientific partner, Katalin Karikó, discovered (applause) - discovered a way to harness mRNA for therapeutic purposes, we never imagined its proof of concept would be a vaccine to one day address a century global pandemic. We did, however, immediately grasp the enormous potential of this technology over 25 years ago to develop new treatments and cures for many different diseases. This is why we never gave up developing mRNA even though we hit every possible roadblock, including lack of funding and dismissal by scientific publications.
While it took over two decades for the rest of the world to realize and catch up with our vision, today we find ourselves at the dawn of a new era in medicine, which will be fueled by the astonishing capabilities of mRNA technology. This groundbreaking innovation has the power to combat infectious diseases, treat genetic disorders, and even personalize medicine. Looking ahead, this technology helps millions of people around the world. mRNA-based therapies or technology are currently in hundreds of clinical trials, including those for vaccines and treatments including heart attacks, strokes, autoimmune diseases, and sickle cell anemia. In one trial, an experimental mRNA-based therapy has already cured patients with a deadly form of amyloidosis with just a single treatment, and this is just the beginning.
The clinical applications of mRNA are virtually endless, but these innovations are only valuable if people have access to them. As of January 2022, two thirds of the world's population received at least one dose of the COVID-19 vaccine, but that included less than 10 percent of people living in low-income countries. According to the World Health Organization, health equity is achieved when everyone can attain their full potential for health and wellbeing. Today we are faced with systemic, economic, social, and institutional barriers that prevent us from reaching this goal. And as citizens of the world, it is our responsibility to do everything we can to address these disparities.
That is why I spend much of my time pursuing programs that help low- and middle-income countries build facilities and research infrastructure for local development and production of mRNA vaccines and treatments. By working closely with fellow scientists, governments, pharmaceutical and biotech companies, and philanthropists, we have opened, or [are] in the process of opening, 18 mRNA research and manufacturing facilities around the world, including ones in Thailand, South Africa, the Ukraine, Brazil, and India.
The goal of this initiative (applause) - The goal of this initiative is to have local researchers, ones that understand their community's unique needs and challenges, lead these sites and produce vaccines and treatments for local populations. This initiative builds badly needed local pharmaceutical manufacturing capacity, meaning if and when the next pandemic strikes, these countries will be able to produce and distribute treatments and vaccines at the same speed as higher-income countries.(applause) Through these projects, we can begin to close the vaccine and therapeutics equity gap and move closer towards the ultimate goal of achieving worldwide access to basic public health. (applause)
Scientific research is critical to understanding some of the most complex challenges we face, from cancer to global warming, but science does not occur in a vacuum. Progress does not happen in isolation. Scientific discovery and human progress is a shared endeavor that thrives on the exchange of ideas, diverse perspectives, and interdisciplinary collaboration. Embrace the power of collaboration and diversity, for it's through these connections we spark innovation and drive transformative changes.
It is critical as scientists and citizens to ensure we are a force for good. Indeed, science and technology have connected the world. The freedom and ease of worldwide communication means we can get a fully-sequenced spike protein from across the globe and develop a vaccine just 10 months later. It is a great equalizer, allowing people across the world to get the most up-to-date information from public health officials to keep them and their families safe.
But with this freedom comes those that abuse and misuse it. I have had my fair share of attacks and threats from people who trust the wrong things they read on the internet. Even worse, policymakers and community leaders are not immune to this era of misinformation. We see this play out every day in the news, as close-minded individuals police what is taught in schools, ban evidence-based gender-affirming care, and insert themselves into choice that should only be made between a woman and her doctors.(applause) This is why it is so critical to ensure those in positions of power have basic science literacy so they can understand the importance of evidence and know the difference between facts and frauds. While everyone is entitled to their own opinion, as Neil deGrasse Tyson says, "The good thing about science is that it's true whether or not you believe in it." (applause)
As discouraging and frustrating as it is to face people who are afraid of progress and turn away from science, you cannot stop engaging. You must persevere. Throughout my career journey and my journey with Kati, I have encountered countless challenges and setbacks. There were moments when the path seemed uncertain, when our ideas faced skepticism, and when progress appeared elusive, but it was through perseverance and the unwavering belief in the transformative potential of mRNA that we pushed forward. And look, we are here today receiving honorary degrees from Brandeis. We have received awards alongside people who have changed the world, such as Gloria Steinem, a nationally recognized leader of second wave feminism, Philip Glass, one of the most influential composers of the late 20th century, and Allyson Felix, the most decorated female track and field athlete in Olympic history.
Graduates, as you embark on your own unique paths, I encourage you to embrace the spirit of perseverance and never lose sight of the values this institution has instilled in you. The people sitting next to you today will be the next leaders in their fields, but they will also remain your friends and colleagues as mine have. It is all your responsibilities to lead with compassion and hold those that don't accountable.
As leaders, I invite you to embrace the remarkable potential of science. And whatever you choose to do, science is not merely a collection of facts and figures, it is a dynamic, ever-evolving process of discovery. It is a reflection of our collective curiosity, our innate desire to understand the world around us in our relentless pursuit of knowledge. I have so much hope for you and your generation. I have no doubt that this group will go on to accomplish extraordinary things. As we celebrate this momentous occasion and you all bid farewell to Brandeis University, let us carry with us the spirit of perseverance, the hunger for knowledge, the desire to create a more just and sustainable society. Each one of you has the potential to make a profound impact, shape the future, and leave an indelible mark on the world. Congratulations, class of 2023. Thank you.