Grateful GSAS Alumnus Gives Back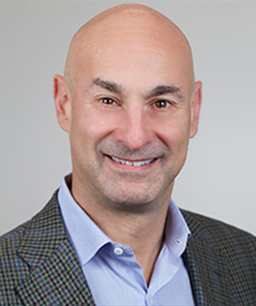 December 17, 2015
By David E. Nathan | Alumni Relations
Reflecting on his experience as a Brandeis student, Eric Furfine, PhD'88, laughed as he settled on the simple phrase that came to characterize the six years he spent pursuing his doctorate in biochemistry at the Graduate School of Arts and Sciences: "So, how's it going?"
Nearly every day, esteemed biochemist Robert Abeles, Furfine's PhD adviser, would stop by to check in with the students working in his mechanistic enzymology laboratory.
"The first time it happened, I answered him and said, 'It's going pretty well. I just had lunch,' " Furfine recalled. "Then I realized he wasn't there to chat; he was so engaged with the work of his students because it was his work, too."
The daily query from Abeles – and the need for Furfine to answer it intelligently – underscores the deep investment that Brandeis faculty make in the success of their students. In speaking to his peers who attended other prestigious graduate schools, Furfine found that the close relationships that students build with professors at Brandeis are indeed unusual.
"At GSAS, there was an open-door policy with faculty – you could speak to anybody at any time," remembered Furfine, now the chief scientific officer at Eleven Biotherapeutics in Cambridge. "Professors didn't just give a lecture and send you off on your own. They were always there for you."
Abeles also helped Furfine develop a method of thinking about science that has served him well throughout his distinguished post-Brandeis career.
"He taught me a way to view the world of science so that I could decide what's important and what's not," Furfine says. "It's been imperative for me to think critically and logically about science, and to be able to look at information objectively."
To this day, when Furfine reviews a paper, he rarely reads the text. He skips right to the data so that he can draw his own conclusions about the meaning of the research. "I can usually look at the information and figure out the implications on my own," he said.
Furfine began his career as a scientist at Burroughs Wellcome Fund and GlaxoSmithKline before moving into senior research positions. He also served in executive roles with Regeneron Pharmaceuticals and Adnexus/Bristol Myers Squibb before joining Eleven Biotherapeutics in 2010.
"Early on, I wanted to be an enzymologist, but it didn't take long for me to discover that enzymology wasn't all that I wanted to do," he said. "Basically, I want to discover and develop and bring to market drugs that make a difference in people's lives."
In recognition of the important role that Brandeis has played in his life, Furfine has generously supported a number of initiatives at Brandeis. Furfine served on the Science Advisory Council and helped launch the SPROUT Program, which is coordinated by the Brandeis Office of Technology Licensing. SPROUT encourages and supports entrepreneurial activity within the Brandeis community as undergraduate and graduate students, postdoctoral fellows/candidates, faculty and staff compete for funding to commercialize their scientific discoveries. Furfine recruits industry colleagues to serve on the review panel that decides which ideas receive funding through the program.
"My involvement with SPROUT is a vehicle for me to continue to share my knowledge and experience with other people," Furfine said. "My feeling is that advances in medical and agricultural science will come from what people learn at universities and then apply."
For Furfine, science was a family affair. He fondly remembers he and his brother accompanying their father, a biochemist, to his labs at Einstein Medical College and Georgetown University. The brothers would help their father and his graduate students by washing the beakers and test tubes.
By the time Furfine reached high school, he excelled in biology and chemistry, and was certain that he wanted to pursue science as a career. As an undergraduate at Washington University in St. Louis, he further refined his interest to biochemistry.
"What I learned at Brandeis has served me well in my professional career," he said. "Now I enjoy helping the next generation of emerging scientists. I think scientific innovation has the potential to change people's lives in a positive way and I enjoy promoting this effort at Brandeis."