Helpful Links



Stories from the Physics Department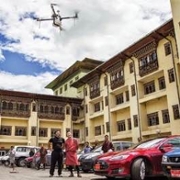 ---

We Are Brandeis Science: Hannah Herde
Physics Research
Read about research in Physics on the Sciences Blog. 
Physics Careers
Learn more about careers in Physics
Graduate Programs in Physics
About the Program
The Martin A. Fisher School of Physics at Brandeis University has an international reputation for excellence in research and is one of the highest-ranked of its size in the country. Physics graduate students enjoy maximum curricular flexibility and the opportunity to make a well-informed choice of research field. Graduate students work closely with faculty in a wide variety of research, ranging from biophysics to particle physics, from microfluidics to radio astronomy to string theory. Two members of our faculty have been elected to the National Academy of Sciences, and three are fellows of the American Academy of Arts and Sciences. The department was awarded a major grant from the National Science Foundation to establish a Materials Research Science and Engineering Center.
Brandeis, as a leader of research in the sciences, offers the rare combination of an internationally recognized research university in a small college setting. This atmosphere promotes close interactions with prestigious faculty; collaboration among postdoctoral research associates, faculty, and graduate students; and, given our location just 20 minutes from the bustling academic and research centers of Boston and Cambridge, lends itself to involvement in daily colloquia and specialized seminars at area universities, including Boston University, Harvard, MIT, Northeastern, and Tufts.
Students in the Ph.D. program are eligible to participate in the interdepartmental graduate program in Quantitative Biology, which provides training in new research fields that cross the traditional boundaries between the life sciences and the physical sciences. Graduate students can engage with BioMaterials research by taking courses within the Quantitative Biology Training Program and then joining research laboratories funded by the Materials Research Science and Engineering Center (MRSEC) as explained in our Biomaterials website.
Brandeis also offers a Master of Arts in Teaching in secondary education in physics.
Faculty
We encourage you to explore one of the department's greatest assets through our faculty pages.
Courses and Degree Requirements
For the most updated course listing, course descriptions, and degree requirements, please visit the Registrar.
How to Apply
Application Deadlines:
Ph.D.: January 15
M.S.: Rolling through May 1, beginning January 15th. Please note that the application may be closed earlier if the desired cohort size is reached prior to May 1; questions can be emailed to scigradoffice@brandeis.edu. 
To apply for the program, you need to submit:
An application fee (please click here for more information);
Transcripts from all universities and colleges attended must be uploaded to your application; do not mail official transcripts to our office. For more information, visit Frequently Asked Questions;
Two letters of recommendation, submitted online;
A statement of purpose indicating your reasons for undertaking graduate study. In addition, please describe your qualifications for the physics program and your objectives in undertaking this program. Applicants to the doctoral program should clearly outline their research interests and how they would complement those of the faculty. Applicants to the master's program should discuss their academic and professional career plans and how the Graduate School could help them attain their goals.
Standardized tests: Graduate Record Exam (GRE) general test is required. The GRE subject test is recommended, but not required. Our GRE institution code is 3092 (please note: this institution code only applies to GRE scores).
International applicants:  For additional requirements for international applicants (non-U.S. citizens or non-permanent residents), minimum TOEFL, IELTS, or PTE scores, and important information regarding visas, please click here. If you are submitting TOEFL scores, please note that our TOEFL institution code is 3261.
For a more comprehensive description of application requirements, please visit Frequently Asked Questions.
Financial Aid and Scholarships
Scholarships and financial aid are available; for more information please visit Financial Aid.
Careers and Alumni
Students and alumni can work closely with Career Services for an array of resources, including CV/resume help, job search, and networking. Learn more about careers in Physics.