Conference Information
About
Schedule
Presenters
Videos
Co-sponsors
Transportation
Places to Stay
Disrupting the Script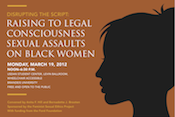 Monday, March 19, 2012
12:00 PM to 6:30 PM
Levin Ballroom
Wheelchair accessible
Brandeis University
About the Conference
In Speaking Truth to Power, Anita Hill highlighted the particular hurdles Black rape survivors face in U.S. criminal justice system. Together, Anita Hill and Bernadette Brooten seek to enhance public discussion of this problem in order to promote both social and legal change. The conference will draw upon theater, religion, law, history, and public policy to help participants become agents for change.
We will begin with award-winning actor Vanessa Adams-Harris's "Who Will Sing for Lena?" a dramatic representation of a woman's response to a rape. Panelists will then offer insights from their respective disciplines.
The Brandeis Feminist Sexual Ethics Project commissioned two meta-analyses of legal and social-scientific research confirming that Black rape survivors face greater hurdles than do those of European origin. 

The research found that societal myths about race and sexuality combine to play a significant role in responses to sexual assault—from the victim's reaction to an assault, to a prosecutor or judge's confidence in the validity of her story, to the credibility members of the jury give to her testimony and their willingness to accept the act described as a sexual violation.
Because these responses are societal and cultural, we recognize that any effort to address them must go beyond the legal system itself, to the larger society. Please join us in this interdisciplinary conversation.