New Hadassah-Brandeis Institute calendar celebrates "cutting edge" craft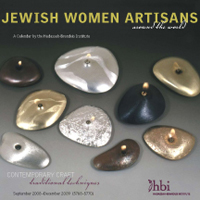 WALTHAM, Mass. – "History has been recorded by men and about men, and yet without women, the whole enterprise collapses," said Jane Trigère, an artisan and self-proclaimed "collector of stories" whose work, "Women of the Balcony (I)," is featured in the latest wall calendar produced by the
Hadassah-Brandeis Institute
(HBI) at Brandeis University.
"Jewish Women Artisans around the World" features 16 international artisans who are using traditional techniques to elevate their craft to the highest level. The result is contemporary works that transform, reenvision, and reclaim Jewish objects, rituals, and life.  Each artisan's Jewishness informs her work in unique ways and the sixteen-month calendar (September 2008-December 2009) highlights creations in clay, glass, wood, fibers, and metals.
"Whether delicate or sturdy, large or small, provocative or contemplative, every piece in the calendar is cutting-edge, and every artisan a master," says Shulamit Reinharz, founding director of the HBI. "We also hope that 'Jewish Women Artisans around the World' will provoke dialogue by presenting fresh ways of thinking about Jews and gender. This calendar, like others before it, inspires and delights the viewer."  Past HBI calendars featured the achievements and contributions of Jewish women scientists, writers, athletes, rabbis, and activist artists.
Beautiful, full-color images grace the pages of the calendar and are accompanied by inspiring biographies about each woman's art and life. Groundbreaking artisans include Torah scribes Rabbi Linda Motzkin and Rachel Reichhardt, while metalsmith Cynthia Eid, whose piece "Lithic Lights II" illuminates the calendar cover, utilizes her talents to meld botanical forms and Jewish traditions. Ede Horton, an Australian kiln caster, uses a lost wax method to explore her identity as an "artist, a daughter, a mother, a Jew," and the traditional Jewish art form of paper-cutting is revolutionized in the designs of Aliza Freedman and Gilat Yarden Omer. 
An inspirational tribute to their accomplishments, "Jewish Women Artisans around the World" is available for purchase for $13.95 plus shipping. Bulk discounts are available. Please visit the Hadassah-Brandeis Institute website at http://www.brandeis.edu/hbi for ordering information, or contact the HBI at hbi@brandeis.edu or 781-736-8114.
High-resolution images are available upon request.
About the Hadassah-Brandeis Institute (HBI)
The Hadassah-Brandeis Institute (HBI) develops fresh ways of thinking about Jews and gender worldwide by producing and promoting scholarly research and artistic projects.
Return to the BrandeisNOW homepage