The Hadassah-Brandeis Institute (HBI) develops fresh ways of thinking about Jews and gender worldwide by producing and promoting scholarly research, artistic projects and public engagement.
One of the world's only academic centers of its kind, HBI provides research resources and programs for scholars, students and the public. The Institute publishes books and a journal, convenes international conferences and local programming, and offers competitive grant and internship programs. 
Join the team of a research center that has defined the field of Jewish women's and gender studies. HBI is seeking a Senior Department Coordinator to become a key component of our administrative team.
The application for the HBI Scholars in Residence Program for the 2023/2024 academic year is open. The deadline is February 17, 2023. 
Upcoming Events
Visit our events page to see a full roster of our upcoming virtual events and watch past events.
Fresh Ideas from HBI: The HBI Blog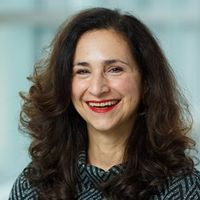 By Lisa Fishbayn Joffe This past summer, HBI held a workshop in conjunction with the art exhibition, Seven Species, Three Generations. As we experimented with weaving and collage under the tutelage of Mia Schon and Charlie Dov Guterman Schön, the conversation flowed amongst the women around the table. Ronnie Levin, BA '73, MA '78, and […]
"HBI is providing an important model of women supporting other women, by saying, 'We think your work and creativity is really valuable and we think it should be heard around the world and we will help you with that.' Who else is going to do that?"
Elana Sztokman, HBI Author, recipient of two Jewish Book Awards