See 'Numbers, Color and Text' at The Rose through Sept. 25
WALTHAM, Mass. – This summer, the Rose Art Museum is showcasing modern and contemporary paintings that explore the intersection of words and figures with complex color theories. Large-scale works by Jasper Johns, Josef Albers, Bridget Riley, and Robert Indiana will be featured throughout the main Rose building. The inspiration and centerpiece of the exhibition is a stunning series of paintings by artist Alfred Jensen.

The works on view in "Numbers, Color and Text" demonstrate Jensen's wide range of interests that informed his work. He was fascinated by the diagrammatic and the mathematical: The color theories of Goethe, the counting systems of ancient cultures, Pythagorean geometry, calligraphy and hieroglyphics.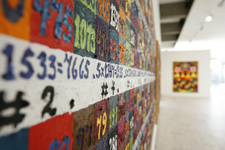 As art scholar Michael Leja writes, this confluence of sources may make Jensen's paintings initially "frustrating, if not impossible, for a viewer to sort and analyze." But, he adds, "These paintings do not require that type of reading." Jensen wanted his paintings to be seen as "aesthetic objects not scientific notations; they are intended to have a direct, visceral impact." As the artist himself once said, "Art . . . is something that penetrates into the interior of the viewer."

Accompanying the show will be Leja's essay on Jensen and his theories written for the artist's first show at the Rose in 1980. Leja is a professor of American art at the University of Pennsylvania. His books include,  "Looking Askance:  Skepticism and American Art from Eakins to Duchamp" and  "Reframing Abstract Expressionism:  Subjectivity and Painting in the 1940s."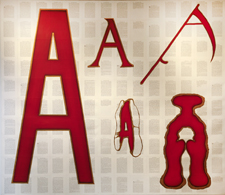 "Numbers, Color and Text" was curated by Roy Dawes, director of museum operations, whose own work is currently on exhibition at the Whitney Art Works in Portland, Maine.
Admission to The Rose Art Museum is free and open to the public. Summer hours are Wednesday-Friday and Sunday, noon to 5 p.m.

Images:
(Middle image, foreground)
Alfred Jensen
Opposites are Complementary: Per I - V, 1978
Oil on linen
Various dimensions
Gift of the artist

(Bottom image)
Tim Rollins and K.O.S.
The Interior of the Heart, 1987-1988
Acrylic, watercolor and charcoal on book pages on linen
90 x 102 inches
Gift of Sandra and Gerald Fineberg, Boston
Image courtesy of the artists
Return to the BrandeisNOW homepage