HBI will look at the legacy of Gaby Brimmer on Wednesday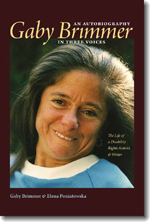 WALTHAM, Mass. – On Nov. 4, the Hadassah-Brandeis Institute will host an evening of discussion, learning and celebration inspired by the novel "Gaby Brimmer: An Autobiography in Three Voices." The program will include a discussion of the history of disability activism, Gaby's role in the disability rights movement, and what the Jewish community is doing today in terms of disability programming.
 
"Gaby Brimmer" is the story of Gaby, a Jewish Mexican woman with physical disabilities who was also a disability activist. Gabriela Brimmer was born with cerebral palsy, communicated largely by typing with her foot on an "alphabet board" at the base of her wheelchair. Raised by her mother, Sari, and Mexican caregiver Florencia Morales Sánchez, Gaby gained admission to Mexico City public schools, attended the prestigious National Autonomous University of Mexico, and became a key figure in launching Mexico's disability rights movement.
 
"Gaby" author Elena Poniatowska structured the text to alternate Gaby's voice with those of her mother and her caregiver. The book, which was originally published in Spanish in 1979, serves as both the memoir of an extraordinary woman and a unique and imaginative form of autobiographical writing.
 
The program will include an introduction by Provost and Senior Vice President for Academic Affairs and John Stein Professor of Disability Research at Brandeis University Marty Krauss. Trudy Balch, the translator of the original volume from Spanish to English, will discuss Gaby and her role as an activist. Mary Mason, Ph.D. Professor of English, emerita, Emmanuel College, and author of "Working Against Odds: Stories of Disabled Women's Work Lives," will speak about mothering with disabilities. Lastly, Nancy Belsky and her daughter Julie Belsky will speak about disability activism and what the Jewish community is doing today.
 
The lecture will take place on Wednesday, Nov. 4 at 5:30 p.m. at Brandeis University, Liberman-Miller Lecture Hall, Women's Studies Research Center, Waltham, Mass. Following the discussion, there will be a book signing and dessert reception. Books will be available for sale. Admission is free. Seating is limited and RSVPs are strongly encouraged: please email hbi@brandeis.edu with names and number of guests. For more information, visit the HBI Web site.
 
About the HBI (Hadassah-Brandeis Institute)

The (HBI) Hadassah-Brandeis Institute develops fresh ways of thinking about Jews and gender worldwide by producing and promoting scholarly research and artistic projects.
Return to the BrandeisNOW homepage