Obbini Tumbao will bring its Afro-Cuban rhythms to campus Oct. 21-24
MusicUnitesUS residency is highlighted by Saturday's World Music Concert
MusicUnitesUS fall semester residency: Obbini Tumbao
Oct. 21-24, 2009
World Music Series Concert: Oct. 24, 8 p.m., Slosberg Recital Hall
Tickets: $20/$10 in advance, $25/$15 at the door
For tickets, visit the Brandeis Tickets Web site or call 781-736-3400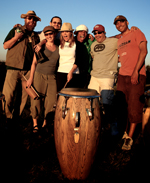 Obbini Tumbao
WALTHAM, Mass. — From Oct. 21 – 24, local audiences will have the chance to experience the Afro-Cuban rhythms of Obbini Tumbao in a variety of settings- including the unique opportunity to jam with the band.

During the group's MusicUnitesUS residency at Brandeis University, Obbini Tumbao members will deliver their distinct sound to Waltham Public School students in a special performance on Oct. 22, and on Oct. 24, the public is invited to campus to hear the beat live in a World Music Concert at Slosberg Recital Hall. The residency will also offer a series of open classes, music and dance workshops, and film screenings that all focus on the music, history, and culture of Cuba and the Afro-Cuban diasporas.

With musical roots in Spain and West Africa, Cuban music has claimed its place on the world stage- and Obbini Tumbao, featuring the punctuated grooves of congas, timbales, and claves mixed with brass, piano, bass and vocals, will take listeners on an aural cruise to the Caribbean. You can listen to some of the group's music here.

"Obbini Tumbao's Afro-Cuban jazz/dance music is part of the larger catch-all (and increasingly glib) genre of World Music," explains Judith Eissenberg, director of the MusicUnitesUS program. "It is also Latin music, shaped by history and politics, which has a hugely popular following across the globe. Obbini Tumbao is bright, edgy, exhilarating- and impossible to sit still to!"

MusicUnitesUS furthers the understanding and appreciation of diverse cultures through music. It is a three-tiered program of Brandeis that encompasses an Intercultural Residency Series, a Public School Education Program and a World Music Series. Taking its cue from the diverse cultures on the Brandeis campus, the series has as its goal a deeper appreciation of the many worldviews that coexist today.

Residency Events (All are open to the public)

Wednesday, Oct. 21
5 - 6:30 p.m.
Spingold Theater, Gould Rehearsal Room # 206
Open Dance Workshop: Instruction by Salsa y Control Dance Company
Join THA 9A Movement for the Stage and learn the basics so you can salsa and more - to Obbini Tumbao's sets on Thursday and Saturday!
Cosponsored by ¡AHORA! and Brandeis Pluralism Alliance (BPA)

Thursday, Oct. 22
9 a.m. to noon
Slosberg Music Center
Education performances for Waltham Middle Schools
Cosponsored by Music, Waltham Public Schools, and Brandeis Pluralism Alliance (BPA)

1 -2 p.m.
Slosberg Music Center
Open class with visiting artists. Conducted in Spanish.
Join HISP 104B and HISP 34A exploring Cuban culture and musical traditions. Discussion with music.
Cosponsored by Brandeis Pluralism Alliance (BPA)

4 – 5 p.m.
Shapiro Campus Center Atrium
Performance: dance set at the atrium
Come hear Obbini Tumbao for a sizzling preview of their final concert on Saturday night. Try out your rumba, cha-cha-chá, conga, mambo, and salsa!
Cosponsored by Music Department and Brandeis Pluralism Alliance (BPA)

Friday, Oct. 23
10:30 a.m. - noon
Slosberg Music Center
Open class with visiting artists.
Join HISP 192B Latin American Global Film in a class that explores circulation of Latin American culture globally through film and music.
Cosponsored by Brandeis Pluralism Alliance (BPA)

1:30 -3 p.m.
Slosberg Music Center
Open class with visiting artists
Join MUS 35A Freedom and Convention in a class that explores the musical traditions of Cuban jazz and dance music.
Cosponsored by Brandeis Pluralism Alliance (BPA)

3 - 4:30 p.m.
Slosberg Music Center open class with visiting artists
Join ANTH 184B Cross -Cultural Art and Aesthetics in a class that explores Afro-Cuban music.
Cosponsored by Brandeis Pluralism Alliance (BPA)

4:30 - 6 p.m.
Slosberg Music Center
Afro -Cuban rhythms workshop
Join bandleaders Rebecca Cline and Anita Quinto in a workshop on complex Afro-Cuban rhythms, from Cuba to you! Drum circle format: bring your own, or borrow something from the band.
Sign up for free workshop: eissenbe@brandeis.edu
Cosponsored by Music and Brandeis Pluralism Alliance (BPA)

7 p.m.
Slosberg Music Center
Film: Buena Vista Social Club, Directed by Wim Wenders
Introduced by Fernando Rosenberg
Cosponsored by Brandeis Pluralism Alliance (BPA)

Saturday, Oct. 24
7 p.m.
Concert and preconcert talk
Slosberg Music Center
Preconcert Talk by T.M. Scruggs

8 p.m.
Slosberg Music Center
Concert: Obbini Tumbao
"If Mambo Kings Poncho Sanchez and Tito Puente got together to jam with Herb Alpert and Ry Cooder of the Buena Vista Social Club, it might sound something like Obbini Tumbao." - Liza Weisstuch, Boston Globe

Post concert reception compliments of ¡AHORA!

Cosponsored by ¡AHORA!, Music, and Brandeis Pluralism Alliance (BPA)
Return to the BrandeisNOW homepage