Students to take on staff Thursday in 'Hoops for Haiti' game
Proceeds will benefit the Brandeis Haiti Relief Effort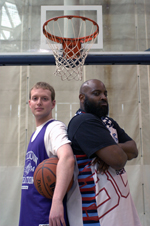 The Brandeis Haiti Relief Effort heads to the hardwood on Thursday, April 15, when students will tip off against staff in a "Hoops for Haiti" exhibition game. The contest will take place in the main arena at Gosman Athletic Center at 5:30 p.m.
Tickets are now on sale at the Shapiro Campus Center box office for $5. They will be $7 at the door. So far, the student-organized Haiti Relief Effort has raised nearly $15,000 through a variety of programs and performances. Its goal is to raise $25,000 by the end of the academic year.

The teams will play two 20-minute halves. There will be free food, raffles and more. Voices of Praise will sing the national anthem, and the halftime show will feature student dance group Adagio. 

Members of the student team are: Andy Hogan '11, Theresa Sheehan '11, Jason Gray '10, Daniel Acheampong '11, Shirel Guez '12, Lauren Rashford '10, Kasey Geischen '10, Terrell Hollins '10, Shakara Scott '13 and Mia DePalo '11.

Staff team members are: Jamele Adams, Kat Keyes, Mike Vella, Jean Eddy, Rick Sawyer, Don Katz, PJ Dickson, Lucas Malo, Ellen Wright, Sheryl Sousa '90, and Monique Gnanaratnam.

Staff coaches are Jerry Cohen and Joe Du Pont. The student coach is Christian Yegma '11.

The event is sponsored by the Brandeis Haiti Relief Effort, The Waltham Group, the Global Haiti Initiative, the Department of Public Safety, the Hiatt Career Center, the Meehan Social Justice in Action Grant, Margaritas, Waltham Pizza, the Brandeis Cheerleaders, Adagio and Voices of Praise.

Coming up soon on the Haiti relief fundraising calendar is "A Night for Haiti," to be held at 7:30 p.m. May 1 in Levin Ballroom, Usdan Student Center. The evening will feature musical entertainment, hor d'oeuvres, desserts, and a silent auction. Tickets are $25 at the door, $10 in advance to Brandeis students and $15 in advance to non-Brandeis students.

All funds raised by Brandeis Haiti Relief Effort are donated to three charities: Partners in Health, Hope for Haiti, and Empowering Through Education (ETE) Camp, a summer program for Haitian children started by Shaina Gilbert '10.

For more information about 'A Night For Haiti' please contact Jon Ostrowsky. Purchase tickets at the Shapiro Campus Center Box Office or online through Brandeis Tickets.
Return to the BrandeisNOW homepage