April 21 Tauber Institute workshop to explore religious and ethnic identity issues in Europe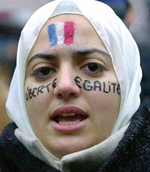 The relationship between secularity and religious and ethnic identity in Europe is fraught with tension and high emotions for Jews, Muslims and Christians.

Why this is so is the subject of a workshop on Wednesday, April 21, cosponsored by the Tauber Institute for the Study of European Jewry, and Facing History and Ourselves. The program, to be held in the Lown Building, room 315, will explore the origins of secularism in Europe and its social and political legacy.

The program will focus on France, which claims to embrace norms that are ethnically and religiously neutral, but in fact has a secularized Christian foundation. Questions of antisemitism, orientalism, and xenophobia will guide a discussion of how to approach issues of belonging, exclusion and identity among various religious and ethnic groups in Europe.

Tauber Institute associate director Eugene Sheppard, associate professor of modern Jewish history and thought at Brandeis, will address the foundations and current resurgence of secularism in Europe.

Dan Eshet of Facing History and Ourselves will examine the Muslim headscarf issue in France; Penelope Khait will speak on coming of age as a Muslim in France; and Jonathan Judaken, associate professor of modern European cultural and intellectual history at the University of Memphis, will discuss French intellectuals, Muslims and Jews. The program will conclude with a discussion led by Adam Strom of Facing History.

Tauber Institute Executive Director Sylvia Fuks Fried said presentations would be kept brief to allow ample time for discussion and to foster a workshop atmosphere for trying out ideas.

The workshop is free but, because attendance is limited, those wishing to attend should RSVP to tauber@brandeis.edu or by calling 781 736-2125.
Return to the BrandeisNOW homepage