Experience '(EL)2' March 16-18
Symposium will showcase the experiential learning work of more than 80 students, faculty and staff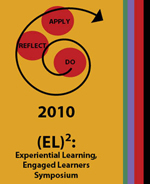 WALTHAM, Mass. — In March 2010, the Office of the Dean of Arts and Sciences at Brandeis University, with support from the Hiatt Career Center, Academic Services, Department of Community Service, and the Office of the Arts, will host the second annual "(EL)2: Experiential Learning, Engaged Learners Symposium" to highlight Brandeis undergraduates' exemplary work.
 
The Experiential Learning program supports the university's efforts to prepare students for full participation in a changing society. Brandeis offers students a wide range of opportunities to develop these skills and values, including independent research, experiential learning courses, lab work, internships, community-engagement, studio and creative art work, and study abroad programs.
 
Beginning at noon on Tuesday, March 16 and culminating with a 5 p.m. closing celebration on Thursday, March 18, the (EL)2 symposium will highlight undergraduate students' exploration, discovery, and innovation in experiential learning and will include the work of more than 80 Brandeis students, faculty and staff.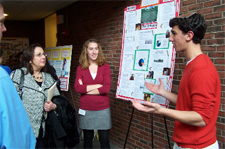 "This year's event is sure to spark your intellectual curiosity," said Audra Grady, program administrator for experiential learning. "With posters, panels, workshops, and multimedia presentations, we will showcase work areas including global medical relations, immigrant maternity issues, youth wellness and education, mitigating the world's resource problems, and species identification. I hope the community will join us in celebrating the work of exceptional Brandeis students!"
 
The symposium is open to all members of the campus community, as well as the public. For more information and a full schedule of symposium events visit the (EL)2 Web site.
Return to the BrandeisNOW homepage