Hiatt to host a 'Meeting of the Minds' Tuesday
Conference will bring together campus career center professionals from throughout New England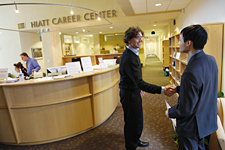 WALTHAM, Mass.— On Tuesday, June 22, the "Meeting of the Minds" comes to Brandeis. The conference, which focuses on best practices for career center staff, will connect representatives from more than 20 local colleges and universities.

During the daylong event, which is being hosted by the Hiatt Career Center at Brandeis, participants will learn how to maximize creativity in a variety of areas, from marketing and branding, to employer engagement, to websites and social media.

"College students and alumni are facing the most difficult employment market in modern times. Meeting of the Minds is about synergy, bringing experts in the field together to discover creative success strategies for our students and alumni in this challenging economy," said conference chair and Hiatt Associate Director Andrea Dine.

The Department of Psychology's Irene Pepperberg, who is best known for her research into animal intelligence- highlighted by her groundbreaking work with Alex, the Grey parrot- will deliver the keynote address on creativity.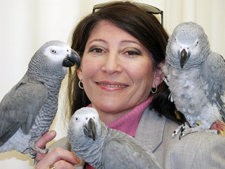 "Hopefully, people will come away from my talk realizing that creativity is something we can all potentially express, but for that to happen we have to be in both the right mindset and a nurturing situation," Pepperberg said.
Career center professionals from the following collages and universities will participate in the Meeting of the Minds 2010: Babson College, Boston College, Boston University, Boston University College of Engineering, Brandeis University, Bunker Hill Community College, Clark University, Emmanuel College, F.W. Olin College of Engineering, Harvard University, Lesley University, Massachusetts College of Art and Design, MIT, Newbury College, Nichols College, Northeastern University, Roger Williams University, School of the Museum of Fine Arts, Boston, Suffolk University, Tufts University, University of Rhode Island, and Wentworth Institute of Technology.
About the Hiatt Career Center
The Hiatt Career Center at Brandeis University prepares students and alumni to develop the skills to transform their unique backgrounds, liberal arts education and experiential learning into meaningful professional futures and relationships. For more information, visit
Hiatt's website
.
Return to the BrandeisNOW homepage