Art is the source at April's Festival of the Creative Arts
Michael Dowling is building a large-scale public art installation outside of the Rose
WALTHAM, Mass.—On April 28, Boston-based artist
Michael Dowling
will unveil "Source/ReSource," a large-scale public artwork outside of the
Rose Art Museum
. The project, which will be a temporary installation of copper, stone and water, was commissioned for the
Leonard Bernstein Festival of the Creative Arts
, an annual five-day event at the university.
Dowling, the 2010 Ruth Ann and Nathan Perlmutter Artist in Residence, developed the work in response to the Brandeis community, which he got to know by attending classes (including: War and Possibilities of Peace; and Cross-Cultural Arts and Aesthetics), researching the university archives, and talking with everyone from the chaplaincy to the International Center for Ethics, Justice, and Public Life.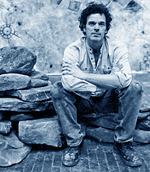 Michael Dowling
"My inspiration is the continuing cycle of generations who come to Brandeis– the source– and return to the world as a resource for vision, justice, creativity, and social change," says Dowling. Structurally, the piece relates to the architecture of the Rose, and the campus' proximity to the Charles River. Like all of Dowling's work, viewer interaction brings out the deepest layers of meaning.
Michael Dowling has been called "one of America's most innovative and courageous artists." He is best known in Boston for
Medicine Wheel
, an annual 24-hour vigil in commemoration of World AIDS Day. Another ongoing project, "
The Tonnes: A Meeting of the Waters
," in the troubled boundary area between the Republic of Ireland and Northern Ireland, has major funding from the European Union Peace III Program. His organization
Medicine Wheel Productions
has been honored by the Harvard Youth Violence Prevention Center and by Boston's Safe Neighborhoods Youth Fund for its art programs for inner city and at-risk youth.
"We invite arts patrons from across Greater Boston to experience Source/ReSource," says
Scott Edmiston
, director of the
Office of the Arts
, which sponsors the festival. "This work captures something powerful yet intangible about the idealism of Brandeis. And I'm delighted that Michael chose to site the work at the entrance to the Rose, a sign that the museum is open and flowing with creative energy and remains a resource for great art."
As part of his semester-long residency, Dowling also teaches a sculpture class in the
Department of Fine Arts
, in which students have contributed to Source/ReSource and designed their own public artworks, which will be on view campus-wide during the Festival of the Arts.
The opening events and unveiling will take place on Wednesday, April 28, at 5:10 p.m. The Festival of the Creative Arts runs from April 28 - May 2. For a complete schedule, visit the
Festival of the Creative Arts Web site
. Most events are handicapped accessible and free and open to the public. Source/ReSource will be on view through June 30, 2010.
Source/ReSource is made possible by The Ruth Ann and Nathan Perlmutter Artist-in-Residence Annual Award, the Aaron Foundation, Eric Green P'07, Danny Lehrman '64, Ann Tanenbaum '66, and Fern Lowenfels '59.
Return to the BrandeisNOW homepage