Simon Schreier '10 wins 'My Favorite Critter' photo contest
Schreier's picture of a katydid in Bali earns him a shadow-day with Globe photographer
This slideshow requires Flash 8 or later
Simon Schreier '10, a
biology
major who is headed for graduate school in plant and environmental sciences at Clemson University, is the winner of the "My Favorite Critter" contest run by the Brandeis Forum in Environmental Crisis.
The prize for winning the contest is a day spent shadowing/shooting with prize-winning Boston Globe photographer
Essdras M. Suarez
.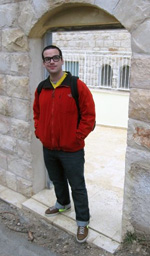 Simon Schreier '10
Schreier took the photograph of a katydid on an organic coffee plantation during a family vacation to Bali, Indonesia, last winter.
I developed an interest in insects last summer, when I worked in the entomology department of the California Academy of Science studying beetles," Schreier said. "We were at the plantation shooting family photos and stuff, when I saw this little bugger on a leaf."
Schreier was at the academy of science museum on an internship sponsored by the
National Science Foundation's Research Experience for Undergraduates
program. "These are great internships," he said. "You get paid, you get to see another part of the country, and you make connections in the fields you are interested in."
Students interested in the NSF grants for undergraduate research internships may get information and assistance for applying by contacting the
Hiatt Career Center
.
The Brandeis Forum on Environmental Crisis is a public group of students, faculty and staff that was formed in the spring of 2009 as an effort to help educate and activate the campus community about the issues surrounding climate change and other threats to the global environment.
Return to the BrandeisNOW homepage