Brandeis Magazine has new name, design and website
The Fall 2010 issue is on campus and in alumni mailboxes, so check it out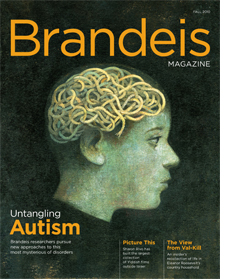 The Fall 2010 issue of Brandeis Magazine is on campus and in alumni mailboxes. This issue launches a new design, a
companion website
and a new name. Browse inside to find in-depth coverage of faculty and their scholarship, alums and their exploits, students and campus news.  
Two new sections, "
Inquiry
" and "
Arts and Culture
," provide more regular coverage of Brandeis research and creative endeavors. "
Turning Points
" invites alumni authors to share their pivotal experiences and "aha" moments. In this issue, NPR weekend host Guy Raz '96 tells a coming-of-age tale from his Brandeis days.  Sociologist Peter Conrad introduces "
Perspective
," a two-page column for faculty opinion pieces that draw on their research interests. Conrad's is a cautionary tale about the medicalization of height in both girls and boys.
The
cover story
, written by science writer Deborah Halber '80, profiles Liane Carter '76 as she reflects on life with her autistic son, Mickey, now a 17-year-old facing an uncertain adulthood. Weaving into the story the research of neuroscientists Don Katz, Susan Birren and Sacha Nelson, along with Heller experts Marji Erickson Warfield and Susan Parish, Halber offers a vivid glimpse into this excruciatingly complex spectrum of disorders. And don't forget to read the
sidebar
by Jake Crosby '11.
In her own coming-of-age
story
, Heller professor Susan Curnan offers an insider's account of her childhood at Val-Kill, Eleanor Roosevelt's country home in New York. It was a destination for leaders from Nikita Khrushchev, who unforgivably skipped the borscht made in his honor, to JFK, who sought counsel from ER on civil rights issues. Curnan writes that her early adventure at Val-Kill led her both ineluctably and unexpectedly to Brandeis, walking again in the footsteps of the woman she calls ER.
The lifework of Brandeis faculty member Sharon Pucker Rivo '61 becomes cinematic in a
feature
about the Brandeis-based National Center for Jewish Film. Rivaling the unlikely plot of a Molly Picon film, the story recounts how the largest collection of Jewish moving images outside of Israel grew from a basement cache of fragments from 30 old Yiddish films.
The website also allows you to share articles, find additional books by faculty and alumni and submit a class note. Please send comments and story ideas to
Laura Gardner
.
Return to the BrandeisNOW homepage