Dean Jaffe announces faculty teaching awards
Gaskins, Fair, Willrich and McNamara honored for classroom work and mentoring
Dean of Arts and Sciences Adam Jaffe announced the four 2011 winners of major teaching and mentoring awards in the School of Arts and Sciences at the April 14 faculty meeting.
Richard Gaskins, the Proskauer Chair in Law and Social Welfare and Professor of American Studies was awarded the Lerman-Neubauer '69 Prize for Excellence in Teaching and Mentoring.
Assistant professor of sculpture Tory Fair won the Michael L. Walzer '56 Award for Teaching.
Associate professor of history Michael Willrich received the Dean's Mentoring Award for Outstanding Mentoring of Students in the Graduate School of Arts and Sciences.
Eileen McNamara, professor of the practice of journalism, won the Louis Dembitz Brandeis Prize for Excellence in Teaching.
Richard Gaskins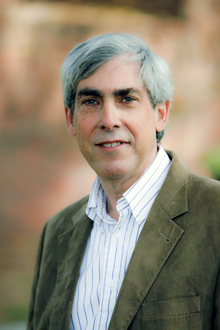 Gaskins began teaching at Brandeis in 1994, after appointments at Bryn Mawr, the University of Chicago and the New School for Social Research. He now directs the Legal Studies program, has chaired the Committee on Faculty Rights and Responsibilities and has been a member of the Faculty Senate and committees overseeing environmental studies, history of ideas,  and business.
The prize which he won was established by Trustee Jeanette Lerman at the time of her marriage to Joseph Neubauer. The winner must be both an exceptional teacher and one who has had a significant impact on students' lives as a mentor, adviser and friend.
One of the students who nominated him for this award said: "Professor Gaskins is a Renaissance man. Though he is listed in the American Studies Department, I have taken classes with him in American studies, philosophy and legal studies. His knowledge spans many disciplines and centuries of legal, economic and philosophical history. Yet he is always willing to learn from his students.
"Every class that I have taken with Professor Gaskins... is filled with deep, insightful conversation that he catalyzes, contributes to and takes away from. Moreover, Professor Gaskins has been an incredible mentor outside of the classroom. I have talked to him about life, culture and various and sundry issues as much as I have assignments and readings."
The honor comes with a $5,000 stipend.
Tory Fair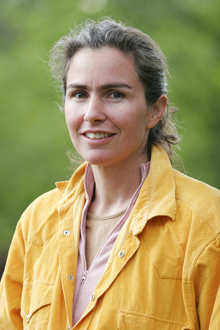 Fair is the 29th recipient of the Michael L. Walzer '56 Award for Teaching, which is given to a tenure track faculty member who combines superlative scholarship with inspired teaching.
Fair joined the faculty in 1997 as an artist-in-residence and coordinator of the post-baccalaureate studio art program, and accepted a tenure track position in 2006.
She has served on the Provost's Advisory Committee for the Creative Arts, the Leonard Bernstein Festival of the Arts Committee, the Interdisciplinary Arts Council and as undergraduate advising head for the studio arts program, as well as advising first-year and post-baccalaureate students.
Her sculptures have been featured in solo and group exhibitions at galleries in Boston, Cambridge, New York, Miami, Chicago, London and throughout New England. Students in her classes call her an amazing mentor, helpful, encouraging, open, knowledgeable, highly involved and highly motivated.
One of her student nominators said:
"I have never experienced a teacher as friendly and approachable as Professor Fair. Not only has Professor Fair guided my project ideas but she is the best at getting creativity out of students. Professor Fair's smart and funny approach to this class made it a pleasure to put in the time and effort."
The award carries a $1,000 stipend.

Eileen McNamara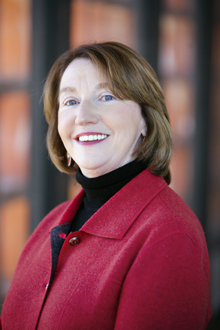 McNamara is the 25th recipient of the Louis Dembitz Brandeis Prize for Excellence in Teaching, for which both tenured and contract faculty are eligible. 
During 27 years as a reporter and columnist at the Boston Globe, McNamara covered Congress, the State House and such topics as domestic violence and juvenile crime. A widely heralded journalist, she earned a Pulitzer Prize for Commentary and the Yankee Quill Award, the highest individual honor given by the Academy of New England Journalists.
McNamara joined the Brandeis faculty in 1995 and began teaching full time in 2007, offering courses in "Race and Gender in the News," "Political Packaging in America," "Media and Public Policy," "Ethics in Journalism," "The Contemporary World in Print," "Opinion Writing," and "Contemporary Media: Internship and Analysis."
She serves on the Undergraduate Curriculum Committee, and lectures for Brandeis in the Berkshires, the Brandeis National Committee and Faculty in the Field visits to Brandeis alumni organizations.
"What separates Professor McNamara from the rest of the faculty is that she forces you to learn the lessons of great writing and journalism ethics through your own experiences," said one student nominator. "She will not tell you your article is well-written and creative when it is not. But she will continue providing constructive criticism until you really understand the point behind her advice. When you do, it makes the feeling of success and achievement that much more gratifying. At a university where many students obsess over grades and some professors feel the pressure to accommodate that obsession, Professor McNamara simply focuses on creating a challenging and insightful learning environment."
Her award carries a $1,000 stipend.
Michael Willrich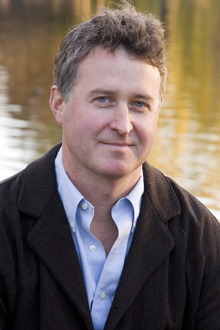 Willrich, the recipient of the Dean's Award for Outstanding Mentoring of Students in the Graduate School of Arts and Sciences, came to Brandeis in 1999. His expertise lies in United States social and political history, with special interests in legal history, urban history and the Progressive Era, 1890-1920. His current research centers on the many ways that ordinary Americans used the law - legal ideas, institutions, and litigation - to challenge the expanding scale and scope of government social intervention during the late 19th and early 20th centuries.
His new book, "Pox: An American History," was published in March.
According to one of his student nominators, "Professor Willrich is a living advertisement for Brandeis's graduate school...I probably wouldn't be in graduate school anymore if it were not for him."
Said another: "Michael was my fiercest critic and my greatest champion. He read countless drafts of chapters and proposals, improving each one by asking difficult questions and expecting substantive answers. His high standards inspired me to become a better scholar, while his confidence in me made me believe I could."
The award comes with a $1,000 stipend.
Return to the BrandeisNOW homepage