Nafiz Ahmed '13 works to support education of Bengali kids
Proceeds from T-shirt sales buy books for school in Dhaka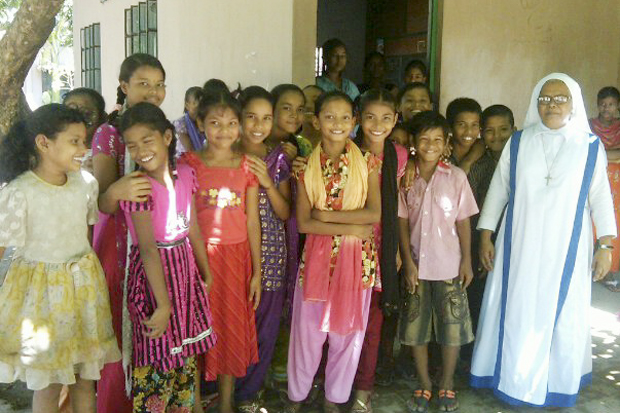 Nafiz Ahmed holds up crisp white T-shirts printed with a tree bearing books instead of fruit and explains that he is selling them to help kids in his native Bangladesh. The image, he says, represents giving to those who cannot afford an education.
The lanky 19-year-old sophomore grew up appreciating that education is a luxury that is unattainable for many people.
 "Many kids have parents who are beggars, factory workers or are orphans," says Ahmed, who goes by Fizz (short for Nafiz). "They really are an ignored part of society."
This past summer Fizz visited the Notre Dame Literacy School in Dhaka, which educates between 300 and 400 children at any given time. Every morning, he says, kids are picked up off the streets, taken to a tiny classroom, given books and taught lessons. He learned of the school, which is affiliated with the Notre Dame College chapter in Dhaka, from his cousin Meahrab-ul Alam Rishit, who attends the college.

Upcoming Events


"The entire thing runs on donations," says Fizz. "I really wanted to get involved." Proceeds from the T-shirts are sent to the Literacy School and used to purchase books.
The impetus to do something came when he was photographing a Brandeis event on human trafficking for The Hoot. One of the speakers had started her own NGO, which led Fizz to think about his own resources and talents.
Students working to raise money and awareness for a myriad of causes is standard fare at Brandeis; examples range from large national organizations like Unite For Sight, a non-profit that empowers communities worldwide to improve eye health, to student-founded clubs such as the Mitzvah Corps, which participates in Jewish and secular community fundraising, and the Student Philanthropic Front, a group devoted to humanitarian causes. Lectures and classes abound on issues of inequality, poverty and discrimination.
A current series, "Career Paths in International Justice and Human Rights," focuses on the experiences of Brandeis alumni in this area. Marci McPhee, associate director of the International Center for Ethics, Justice, and Public Life, recently attended the opening session, where one of the original Sorensen Fellows, Brahmy Poologasingham '00, spoke about what attracted her to Brandeis.
Sorensen Fellowships provide undergraduates funding to work on issues of their choice with organizations pursuing social justice missions. While Brandeis has a fine reputation and a high U.S. News & World Report, Poologasingham said it was the social justice mission that brought her here.
Coming from Sri Lanka in the midst of a decades-long civil war, Poologasingham grew up facing many challenges. She said that she knew Brandeis was a place where she could pursue solutions.

"This social justice mission carries on with the current Sorensen Fellows," says McPhee. "They will be summer interns working with migrant workers, prisoners, children with disabilities, and others in Costa Rica, Ghana, Egypt—circumstances permitting—Israel, East Timor, and Thailand."

Like Poologasingham, Fizz grew up in the thick of social injustice.

"Coming from Bangladesh, I've been exposed to the true face of poverty when witnessing children begging in the streets," says Fizz.

The Fizz Foundation, which includes the marketing tagline "Give Me a Book. Give Me a Future," gained momentum after finalizing the tree design (which Fizz drew) and ordering 200 T-shirts, which he purchased from a manufacturer in Bangladesh to help support their struggling economy.
Next came the Fizz Foundation Facebook group and a table in the Shapiro Campus Center. Posters of Brandeis student models, friends of Fizz's who wanted to help, surround the table.
Fizz says that all children deserve the right to learn, regardless of their wealth or social status. This, he explains, was not the case even in his own home.
 "When living in Bangladesh I was very close with a boy that my parents hired to be my playmate and clean the house," says Fizz. "Despite the fact that he was technically a servant, he was one of my best friends."Along with playing together, Fizz would teach him lessons that he learned in school.
Marie Zazueta '10, one of the foundation's T-shirt models, says she admires not only Fizz's ambition but also the genuine passion he has for anything he sets his mind to.
 "I've also been influenced by the amount of effort that Brandeis students put in for different causes," says Zazueta. "The number of clubs on campus is a testament to the strong focus the Brandeis student body has on reaching out, whether it's volunteering in Waltham, the greater Boston area, elsewhere in the U.S., or abroad."
 Zazueta, an International and Global Studies major, met Fizz, who is about to declare the same major, in a South Asia Studies class. When the weather is not too cold, she wears her Fizz Foundation T-shirt around campus.
 "I definitely feel a sense of pride when I wear the shirt," says Zazueta. "I know that my money is going toward a good cause and that I am helping out in a small but meaningful way."
Fizz will be selling T-shirts and discussing his project at the Shapiro Campus Center on Tuesday, Feb. 15 from 4:30-8 p.m. For more information check out the Fizz Foundation Facebook group or e-mail Fizz directly.
Return to the BrandeisNOW homepage