Brandeis Magazine features new president and more
Authors, artists, scientists, athletes and students help tell the Brandeis story in the spring issue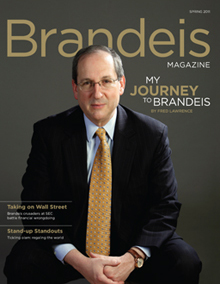 Featuring the university's eighth president on its cover, the spring issue of Brandeis Magazine highlights Fred Lawrence's path to the top job here. In a word, he describes the job as a calling. When you read the article, you'll see why.
The 96-page magazine includes stories covering a range of topics that may tickle your funny bone, get you rooting for the Brandeis team (at the SEC), tug on your emotions, or bring you up to speed on some of the latest scientific endeavors on campus.
In "Taking on Wall Street," Wall Street Journal special writer Gregg Zuckerman '88 relates how Lorin Reisner '83 and Kenneth Lench '84 masterminded the SEC's legal case against financial colossus Goldman Sachs at the flashpoint of the mortgage meltdown. More recent alums make a stand in a story about contemporary comedy (and the influence of Brandeisians on it), and in the remarkable tale of Tessa Venell '08, a determined young woman who built a new life from the ruins of a traumatic brain injury. 
In "Perspective," Professor Jill Greenlee argues that Sarah Palin's "Mama Grizzlies" campaign represents just the most recent attempt of the last few centuries to channel political participation through motherhood — a dicey proposition in an era when women have shown that they don't all rise up in unison for the same issues. In a bookending "Turning Points" essay by Penelope Trunk '90, the author discovers that she does want to be part of the Brandeis community — two decades after graduating with undiagnosed Asperger's and a "severe inability to understand social situations." In between, you'll find alumni and faculty authors, artists, scientists and other Brandeisians engaged in ideas and pursuits that range from the ridiculous ("King of the Stooges") to the sublime ("The Lydians Turn 30").
If you visit www.brandeis.edu/magazine, you'll find a web-only backstage account of last fall's production of "Sunday in the Park with George." Photographer Mike Lovett has beautifully illustrated Theresa Pease's story with a stunning slide show depicting moments from early rehearsals through the production's performance in late November.
Read, enjoy and send your comments to letters@brandeis.edu.
Return to the BrandeisNOW homepage