The 2012 Sorensen Fellows report from the field
Students to process experiences in fall 'Internship in Peace, Conflict and Coexistence Studies' seminar
The 2012 Sorensen Fellows are spending eight weeks "in the field" this summer, grappling with political conflict, religious tolerance, the arts and coexistence, the legacy of genocide, and environmental and economic development. They return to Brandeis in the fall to process their experiences in the seminar "Internship in Peace, Conflict and Coexistence Studies."
Jesse Hart '14, from Worthington, Ohio, is majoring in sociology. He is interning in Derry/Londonderry, Northern Ireland, at
The Playhouse
, a community theater that focuses on giving a voice to the marginalized sectors of society, connecting his interests in the arts and social justice.
"Due to the fact that open fighting is over [in Northern Ireland] for right now, most of the tension is beneath the surface," Hart writes. "However, I am learning more by the day. There were a few bomb scares today (and real bombs), but it's normal around here – the people I talked to seemed to take it in stride. With so many atrocities in the recent past, I suppose that shouldn't surprise me, but it is strange."
Rachael Koehler '13, from Pennsauken, N.J., majoring in psychology and minoring in religious studies, is working with
Beyond Skin
in Belfast, Northern Ireland, which works to promote racial and religious coexistence through multicultural arts and media. Koehler has been working with coexistence festivals as well as bringing people of different religions together in dialogue by producing a religious understanding radio show "The Koehler Report," highlighting minority religions and their coexistence in Northern Ireland. (
Listen to a podcast of her show
, featuring an interview with a member of the Pagan community in Northern Ireland.)
"I'm working a lot with minorities in Northern Ireland," Koehler writes. "Refugees, immigrants, religious minorities – all other people who are away from their homes. After speaking with these people I'm realizing that America is not the only place for refugees and immigrants and minorities. I've always known this; I'm just now realizing it."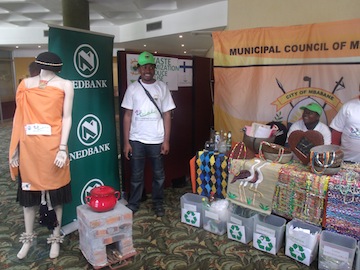 Mangaliso Mohammed, left, staffing a World Environmental Day exhibition at the Swaziland Royal Convention Centre.
Mangaliso Mohammed '13, from Mbabane, Swaziland, is majoring in environmental studies and economics with a minor in legal studies. For his internship, he returned to Swaziland to work with the
Municipal Council of Mbabane
on finding suitable renewable, energy sources for low-income households to alleviate poverty as well as reduce the impact of HIV/AIDS in the urban informal areas.
"I have been very blessed to be able to work with community groups in preparation for our world environmental day exhibition stall at the Swaziland Royal Convention Centre, showcasing green practices in Mbabane," Mohammed writes. "The groups make a variety of products such as food bowls, floor mats, earrings, necklaces, etc., using waste materials like newspapers, and plastic bags. At the exhibition they had the opportunity to market their products to the whole of Swaziland and to the minister for environment. We won a national gold award for our stall – and the reuse group was able to sell some of their products. These incentives go a long way towards poverty alleviation in the informal communities, especially in Msunduza."
Karia Sekumbo '14 is majoring in economics and international and global studies with a minor in legal studies. Originally from Dar-es-Salaam, Tanzania, he has lived in several countries including Botswana, Swaziland, Uganda, and now the United States. He is an intern with
Opportunity International
, a microfinance organization in Tanzania. He hopes to gain a more concrete understanding of the workings of microfinance and its important role in global poverty alleviation and the reduction of gender inequality in communities.
"I'm really able to put some of my class theories in context of what I see in everyday Tanzanian life and the workings of the Tanzanian economy," Sekumbo writes. "Taking 'Economics of Third World Hunger' last semester exposed me to some theories that are so relevant to what happens in developing countries. Having the opportunity of living it and seeing it firsthand is something else. I see, understand and almost know what needs to be done but I don't know where to start, have very few people to talk to etc. It's a really interesting experience. Education can be equally empowering as it is frustrating."
Robyn Spector '13, from New York City, is majoring in business and American studies, with a minor in journalism. Spector is photographing and reporting at
The New Times
, the central English-language newspaper in Kigali, Rwanda. Her photos have even
appeared in the paper
– including one that was
the only front page photo
for the June 15 issue. She was also recently
credited as a correspondent
for a story in the Boston Globe on Rwanda's fight against cancer.
Spector writes that she was in Rwanda this summer on the historic day the 10-year "gacaca" Rwandan tribunal process completed. "Held in the Kigali language, by Rwandans for Rwandans, the process was designed to hear the stories of victims and criminals [of the Rwandan genocide]," she writes. "Close to two million cases were heard. The point, while those found guilty did end up in prison, was not to further vindicate the criminals. But rather, it was to give people a chance to talk and listen and discuss solutions as a community for how to move forward."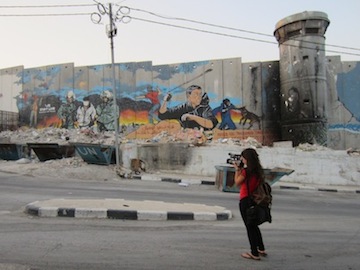 Andrea Verdeja filming in Aida refugee camp in Bethlehem
Andrea Verdeja '14 was born in Japan, and raised in the Dominican Republic. She is majoring in politics and international and global studies, with a minor in Peace, Conflict and Coexistence Studies. She is working with the
Al-Feniq Center (Phoenix Center)
, a self-sustained community center created and led by Palestinian refugees inside Deheisha Refugee Camp, to serve their community and advocate for their social and political rights.
Verdeja writes that the people she has met "have taught me something invaluable: human dignity is the one thing that is never given up and that no one can take away from you. No matter the amount of hardships that they have to endure and the oppression they live with each day, life goes on with a heartfelt smile and your head held up high. Living with joy, warmth and love is their everyday form of resistance – a beautiful and inspiring one, a powerful reminder of what is truly important in life."
To learn more about Sorensen fellowships, visit the
Ethics Center
.
Return to the BrandeisNOW homepage