Brandeis students tap their programming prowess to build apps in two months
Justice Brandeis Semester exposes students to new ways of learning and software industry leaders
Brandeis students are discovering their inner programmer during the Voice, Web and Mobile Applications program offered this summer through the Justice Brandeis Semester.
Working together and under the supervision of computer science professors Timothy Hickey and Marie Meteer with additional guidance by Director of Experiential Learning and Teaching Daniel Langenthal, the 24 undergraduates will construct fully operational mobile applications in just nine weeks.
Each student developed several ideas for a potential app during the first week of JBS. On Friday of week one, Langenthal facilitated a process of concept mapping to assist the students in forming their groups. The students shared their pitches with one another, then posted their ideas on a wall and collaboratively sorted them by categories – lifestyle, academics, sports, food, transit and on and on. Finally, the students formed six groups based on which app idea they liked best.
Next, the students participated in a series of activities that emphasized different aspects of effective group work.
"These activities not only encourage creativity, but serve as metaphors for the collaborative teamwork in which they will be immersed this summer," said Langenthal.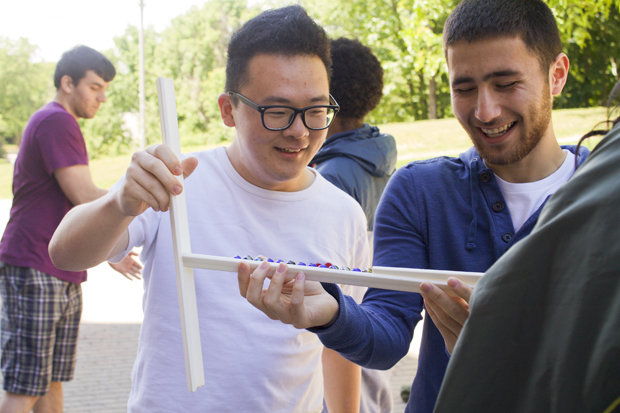 Photo/Miriam Hiersteiner
With only strategy and plastic pipe as their tools,  JBS students worked together in their groups to make a collection of marbles travel 180 degrees without touching the ground.
"These are fun activities that require communication while encouraging risk-taking," said Hickey. "There's an element of creativity in these exercises. But it's more about the process. We can see if there's a student that maybe has something to add, but isn't getting the chance."
Langenthal notes that the activities are designed to help students learn about how they engage with others. The groups see what each of their members does well and what they might want to modify either collectively or as individuals.
JBS participants earn 12 credit hours and fulfill three computer science elective requirements toward their graduation, which allows students to get a leg up on their course load.
Beyond that, they're getting real-world experience as they not only build apps, but also use state of the art software and equipment and learn from innovators in Boston-area software companies.
One of the program's days will be spent at Amazon's "Alexa" speech lab in Cambridge, where the students will learn how to build applications for the Amazon Echo speech device.
Return to the BrandeisNOW homepage