The Class of 2027 arrives at Brandeis
Photo Credit: Gaelen Morse
By Kennedy Ryan, Photography by Gaelen Morse
August 28, 2023
The Class of 2027 unpacked their belongings, greeted their new roommates, said goodbye to their families, and began their Brandeis journey on Sunday, August 27.
Payton Gunner '24, a community advisor, spent the day alongside the Community Living staff in the Theater Parking Lot. Team members worked diligently to keep the lines of packed cars moving smoothly to the residence halls.
It was her third year working as part of the move-in team, and the thrill of the day never tires, Gunner said.
"There's a special feeling of excitement in the air that comes with the first day of college. "
Payton Gunner '24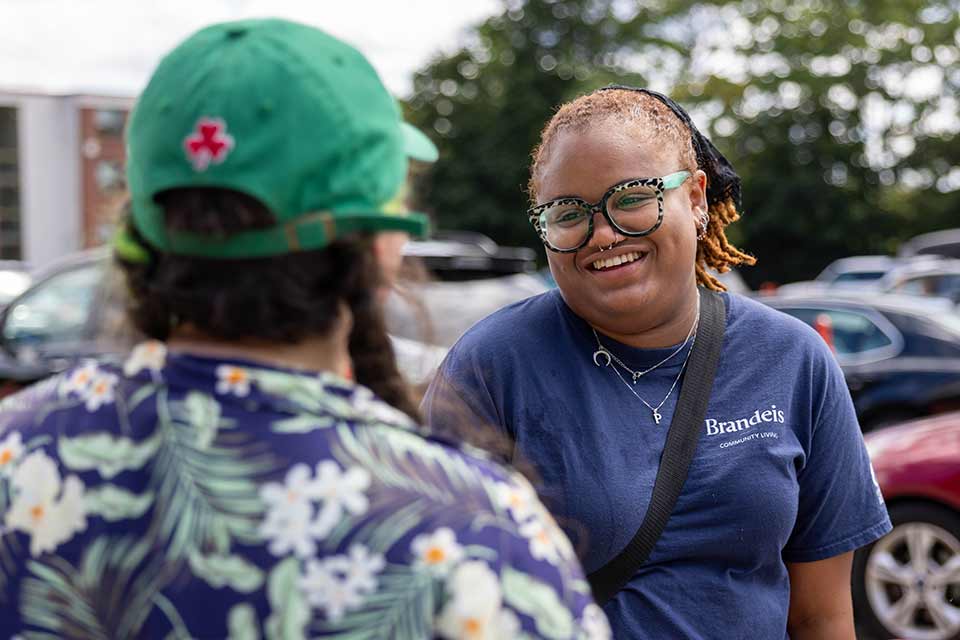 Community Advisor Payton Gunner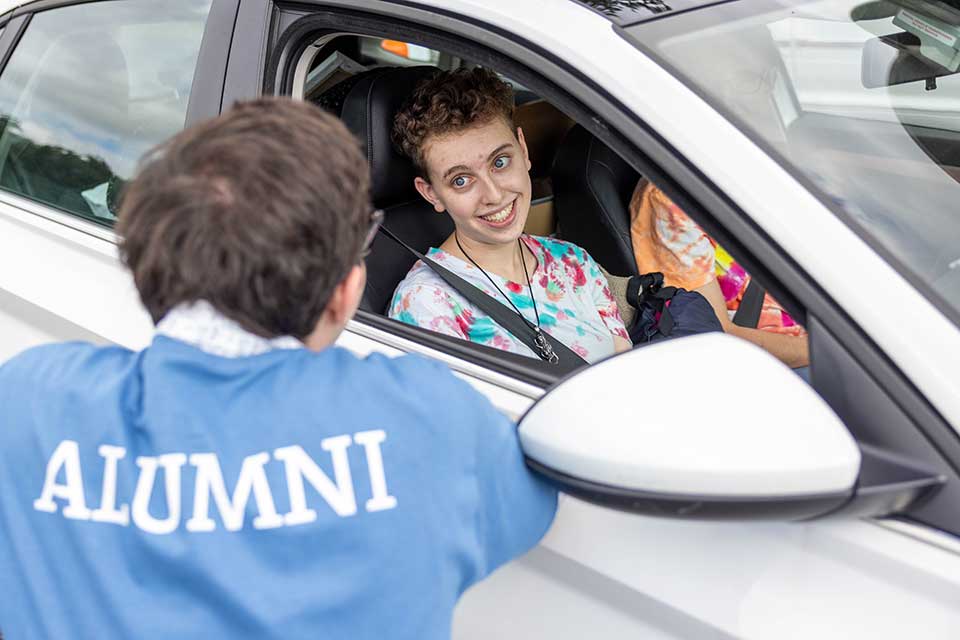 Sage Inman '27
Sage Inman arrived with family, ready to take on a new sense of freedom.
"Coming from Utah, I'm going to be 2,500 miles away from home, but I'm ready to be on my own," said Inman. "I am looking forward to being independent. Luckily, I won't have to cook."
"Alumni @ Move-In Day," a team of alumni, returned to campus for a second year. Among the crew was Lewis Brooks, past president of the Brandeis Alumni Association.
"These students may be starting their Brandeis experience 40 years later than me, but we still find things in common," said Brooks. "Some of them will be living in the same dorm as I did."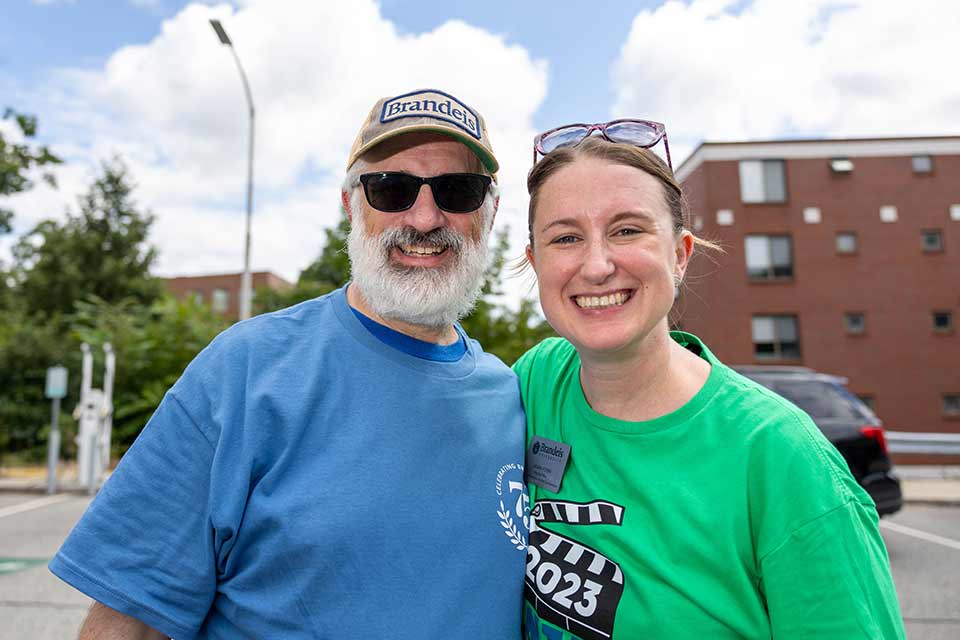 Lewis Brooks '80, P'16 and Laura Flynn, Director of Orientation and First Year Experience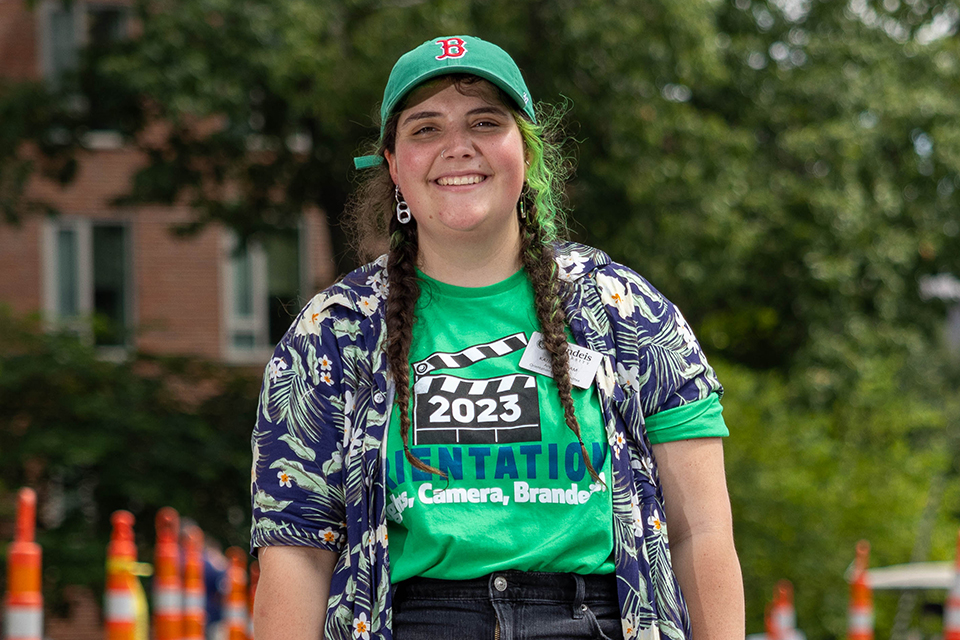 Kaija Grisham '25
Kaija Grisham '25 directed cars as they departed the Theater lot. She served as one of this year's core three, a group of students hired to plan orientation programming, assist the director of first year experience, and guide the orientation leaders throughout the big week.
"As someone who was a first-year student during 2020, I'm so glad that this incoming class gets to meet and build their community right away."
Kaija Grisham '25
Morning clouds gave away to a sunny, muggy afternoon. From the Theater Lot, new students flocked to the residence halls they'll call home. Hana Bean, joined by her parents, raced to Anna Renfield Hall to get the first pick of beds in her room.
"I grew up attending boarding schools. I'm used to living in a dorm, but ready for new experiences here," said Bean. "I'm excited to meet new people from around the world."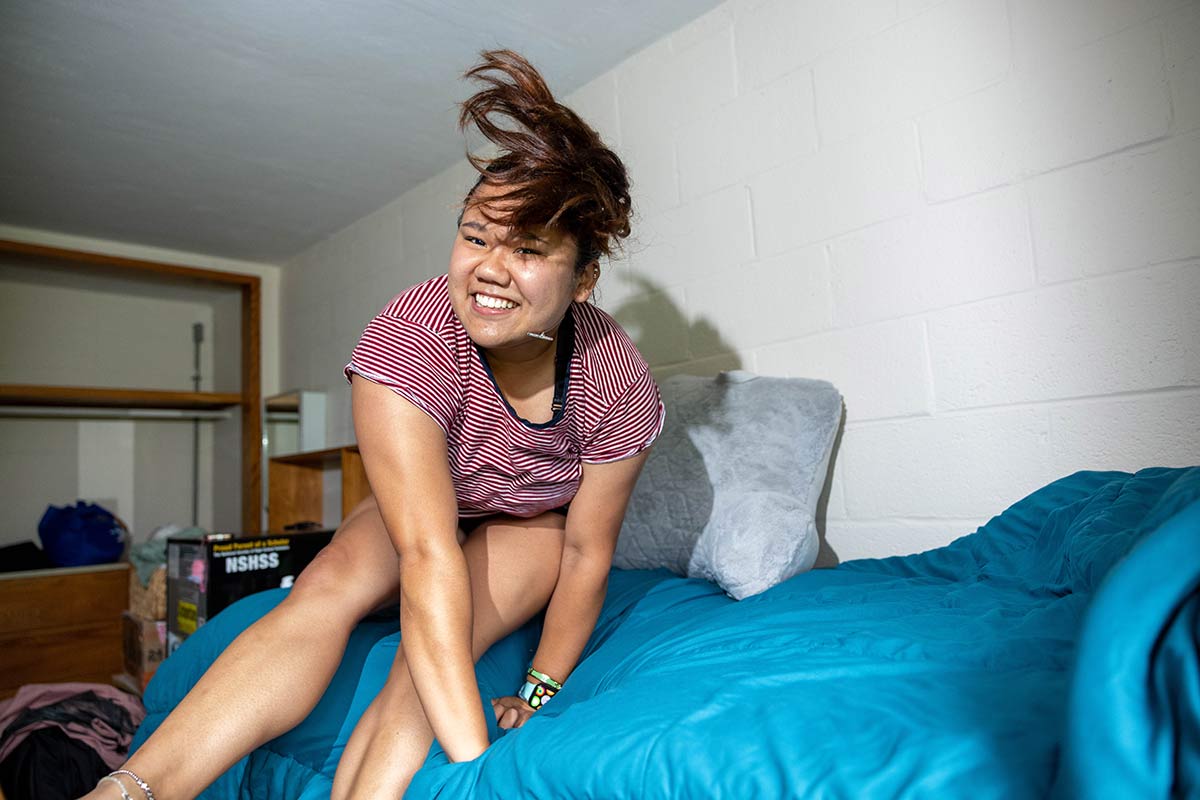 Along with the Class of 2027, the rooms and hallways of residence halls were filled with friends and family who were lending a hand. Lyra Gold was joined by mom, dad, siblings, and friends.
Gold chose to attend Brandeis because of the immediate connection she made with a faculty member — even before she arrived on campus. When researching majors for a career in marine biology, she reached out to Sally Warner, associate professor of climate science, to learn more about the different programs on campus. After getting her advice over zoom, she decided to attend Brandeis with a double major in biology and environmental studies.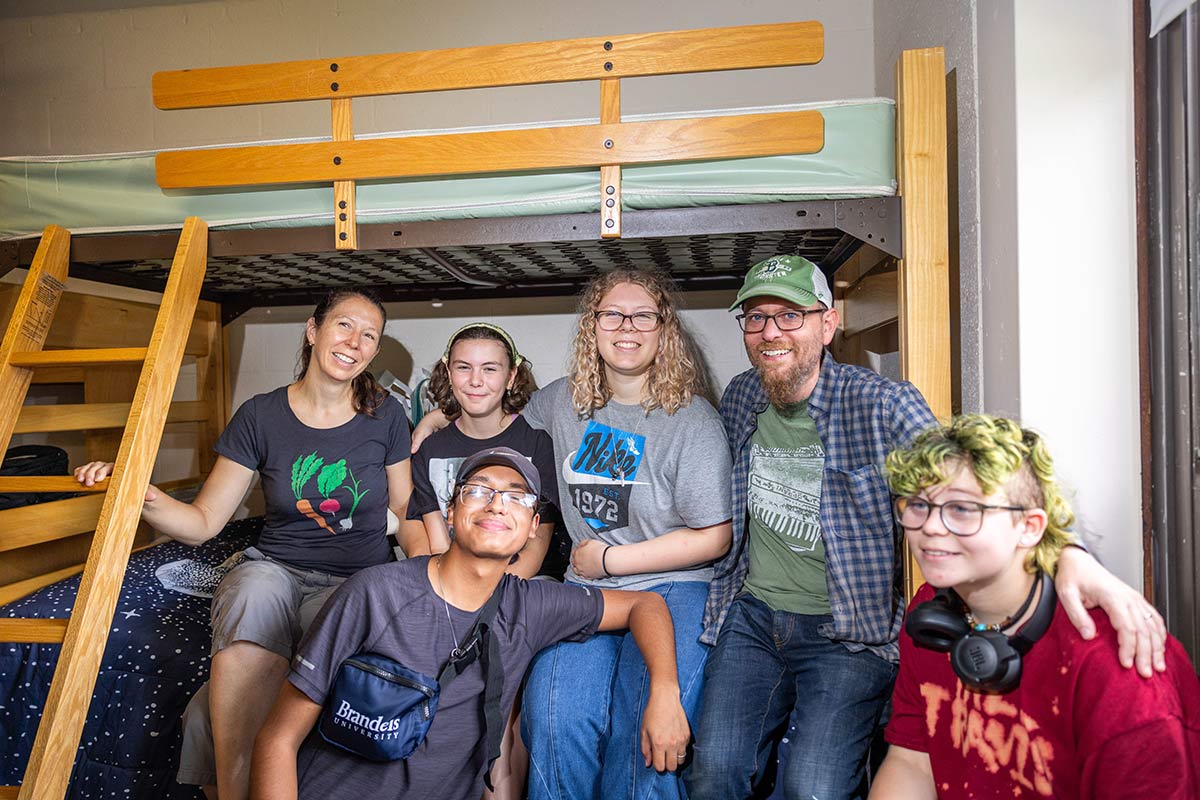 "Professor Warner was really supportive, even before I formalized my decision to attend Brandeis," said Gold. "I'm looking forward to getting started with my programs."
Students brought keepsakes to remind them of home — stuffed animals, actions figures, framed photos and posters. In Massell Quad, Natalie Liapis squeezed a photo pillow of her family dog.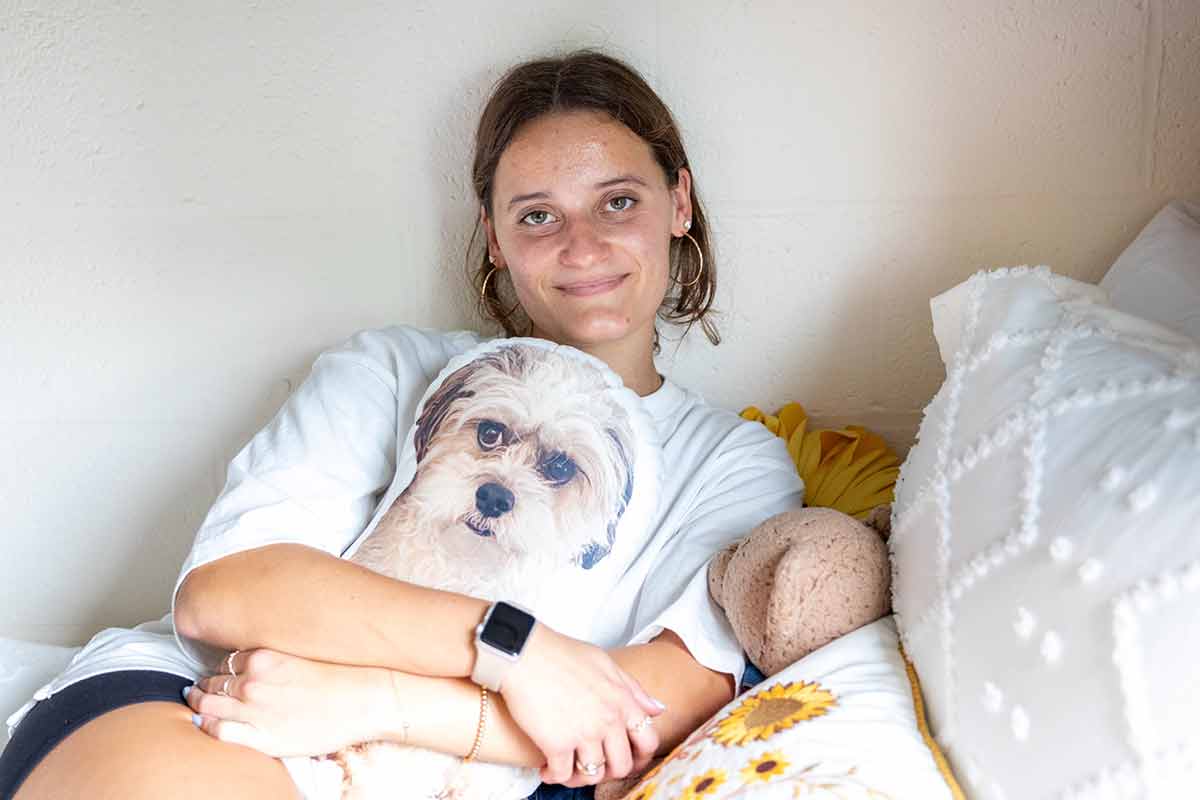 Natalie Liapis '27
Adaline Chinian '27 and Natalie Liapis '27
"My parents got my twin and I matching pillows as a going away gift," said Liapis.
Among meeting new friends, many met their roommates in-person for the first time. Adaline Chinian, Liapis's roommate, was excited to get to know her roommates after months of chatting.
"After we were assigned to share a room we followed each other on social media. We got to know each other and figured out who would bring the mini fridge."
After settling in and meeting their roommates, the Class of 2027 and their families gathered in the Gosman Athletic Center for Convocation on Sunday afternoon. President Ron Liebowitz shared words of advice for the class.
"Brandeis will offer you a vast array of opportunities to learn, grow, and change, and I encourage you to delve deeply into the interests you bring to campus today, to try your hand at things fully new to you, and to become better educated in the broadest sense of the word."
Brandeis President Ron Liebowitz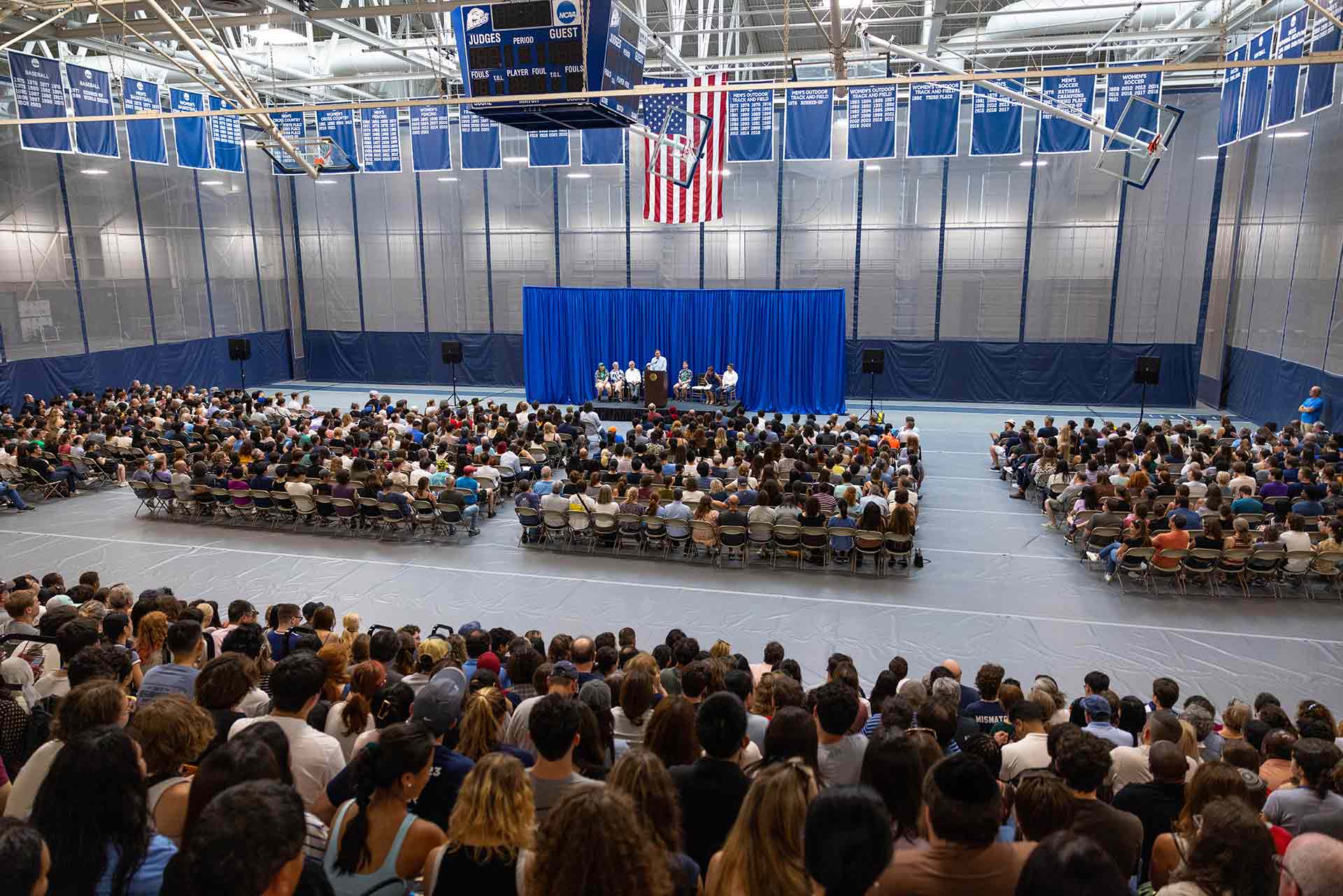 Convocation