Public health through a global lens
This summer, 15 Brandeis students, each with a variety of majors related to public health, experienced their coursework through a global lens.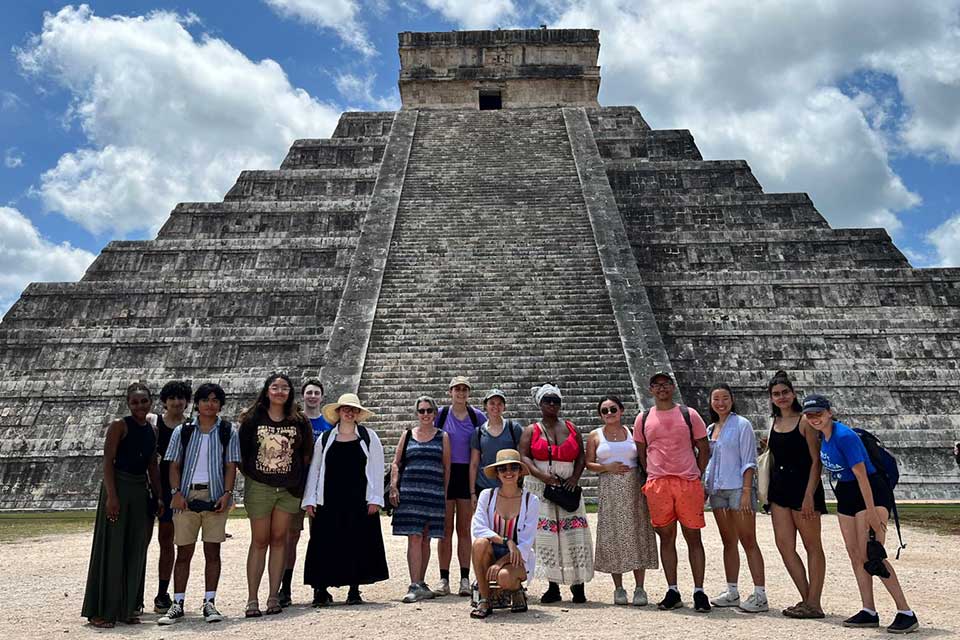 Photo Credit: Cindy Thomas
Brandeis in Mérida, a public health program hosted in the capital city of the Yucatan Peninsula, brought students to clinics, hospitals, and medical facilities located outside of the United States.
During their six weeks in Mexico, students participated in a fully-immersive study abroad program, each living with a host family, attending educational classes with local community members, ranging from a cooking class to a salsa lesson, and experiencing day trips to the Mayan ruins of Chichén Itzá and Uxmal.
Students took courses about comparing different health systems and contemporary issues in the Yucatan. They were joined by Brandeis faculty members, including Cindy Parks Thomas, professor and Associate Dean for Research at the Heller School. With an expertise in public health policy, she was excited to join the students in the classroom and on field-trips during her week in Mexico. After embarking on May 26 for a six week program, the students recently returned to the states.
"I think these students will come back from this experience with a renewed sense of global understanding," said Thomas. "They've learned this material in the classroom, but this opportunity immersed them in looking at the topics through Mexican culture. That changes you and broadens your perspective."
The program also included a short visit to Havana. During their time there, students discussed the Cuban medical and education system, listened to talks about Santería and other religions in Cuba, and had a conversation regarding the socio-economics of Cuba.
Mishara Nozea '25, an American studies and International Global Studies major and Health: Science, Society, and Policy minor returned with a solidified passion for health policy and a new desire to experience other cultures throughout the world. Nozea shared her highlights from her study abroad.
Can you describe a day in the life during the program?
I lived with a host family during my time in the Yucatan. I've taken Spanish for over 5 years, so it was great getting to immerse myself within the culture. My host family was so generous, kind, and welcoming throughout the program.
Each day started with our Comparative Systems of Health course. We'd take a break for lunch at 1 p.m. before finishing up the day with Contemporary Issues in the Yucatan and Spanish lessons.
After class was finished we'd have the evening to enjoy our time in Mexico. My classmates and I went out for dinner, went to the beach, spent time by the pool at one of our host families' homes, and visited the malls. I was amazed at how large the malls are there, as I've never seen any of that size in Boston.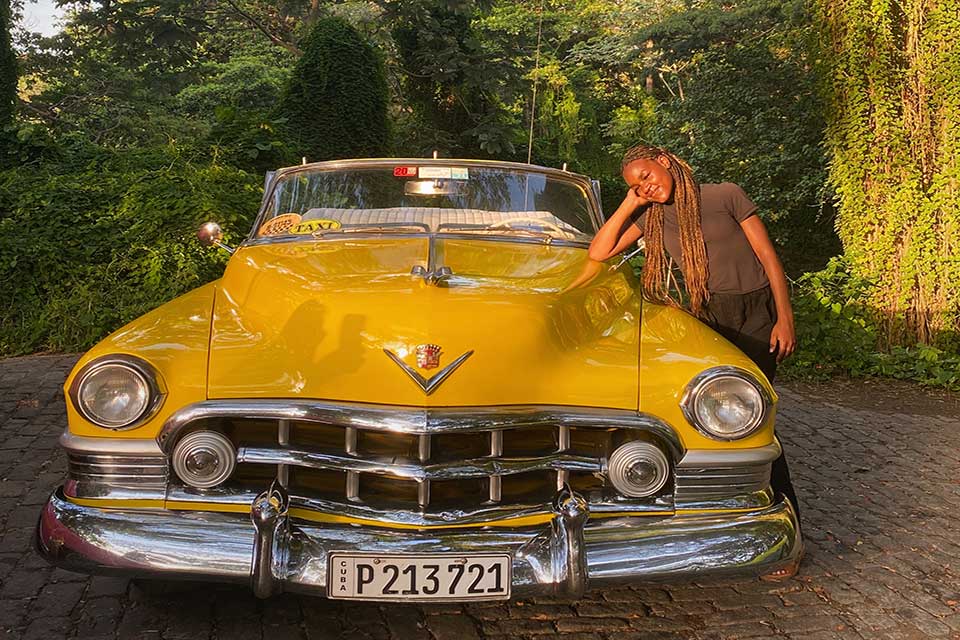 Photo Credit: Mishara Nozea '25
Can you describe your experience in Cuba?
I came to Cuba with biases, assuming that there would be a lack of resources and an unfriendliness toward Americans due to the complicated relation with the United States.
I was proven wrong. Everyone there was very friendly and there was such a richness of culture. As a Black woman, it was also really welcoming to see so many people that looked like me.
What will be your biggest takeaway from this experience?
I only recently declared my minor in HSSP. This experience impassioned me to pursue a future career in health policy. Our two courses were rigorous and gave us an amazing hands-on learning experience. We visited hospitals, clinics, and medical facilities throughout the area.
We witnessed the benefits of their healthcare systems, but also limitations for community members, like access to transportation and other resources. As a Black woman, I've always understood there are concrete effects from legislation, but seeing how they affect other people has made me more passionate in my career path.
I also discovered that I want to continue to explore the world. As someone with a fear of flying, I was nervous for the four hour flight to Mexico. In overcoming that, I realized that I want to visit new places and have a more diverse understanding of people in this world.