A dynamic coding duo: Marco Qin '24 and Mahmoud Salah '24 place in hackathon events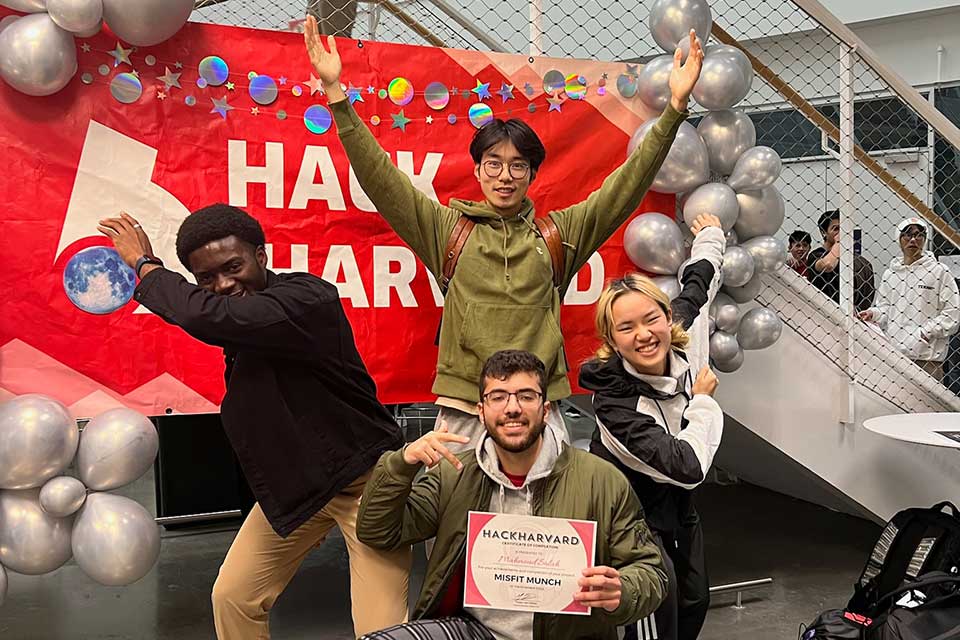 Photo Credit: Marco Qin '24
Inspired by their win at Brandeis University's DeisHack, Marco Qin '24 and Mahmoud Salah '24 have taken their coding talents to some of the most competitive college Hackathon events in the country. 
"Hackathons" is a combination of the phrase hacker (an advanced coder) with the word marathon. Participants in hackathons are given a theme and challenge to create a solution or product for a nonprofit using their coding skills. The competitions often feature prizes, networking opportunities, and the chance to apply to roles within major companies. 
After a strong showing at the Brandeis-hosted Deis Hacks in February 2023, the two computer science majors competed in events at Massachusetts Institute of Technology and Harvard University. At DeisHacks, they won $500 for the Highest Organizational Impact. That was followed by placing in the Top 10 Finalists in the Healthcare track at HackMIT 2023, and most recently a 4th place finish as the judges favorites at The Harvard Hackathon 2023 in October.
During their sophomore year, the pair became friends through a mutual classmate. They spend time working together during their capstone project for software engineering, a course that provides students with the opportunity to build complex software systems in small teams of programmers. It was here that the two discovered a common interest in creating solutions for coding projects and decided to team up.
"Marco isn't just a teammate; he's a dear friend," said Salah. "Having shared numerous classes, we've developed a mutual understanding, both technically and socially. Dividing tasks comes naturally, as I recognize his strengths and vice versa. Our shared passion for tech and its potential to effect change becomes evident when we merge our skills, resulting in impactful innovations." 
Hackathons are often held over the course of two days. During this short amount of time participants must brainstorm, develop, and present a coded solution.
The Harvard Hackathon kicked off with an opening ceremony that brought together over 600 participants on Harvard's campus. Qin and Salah, and the other participants were told the topic and challenge of the event, formed teams, and began developing their solutions. 
"There's this incredible energy we feel when collaborating with talented engineers, designers, and scientists," said Qin. "This collaboration elevates our creativity. The best part is transforming our ideas into solutions that genuinely benefit people."
""My capstone software engineering project, data structures course, and data science internship have all made a big difference.""
Mahmoud Salah '24
With a strong background in coding, the two knew they wanted to add creative and technical dynamics to their team. After posting a search for teammates on discord, they joined forces with a content creator from Queens University and a graphic designer with 3D modeling experience from Brown University.
"We were a great fit because we all had a lot of high energy," said Qin. "We all had different ideas but they complemented each other."
The group spent the first 12 hours brainstorming, getting to know each other, and putting their project into motion. While they found time to sleep during their other hackathons, the team pulled an all nighter to complete their project. 
"I learned how important it is to get a good night's sleep during these events," said Qin. 
Participants were given the option to choose from a variety of challenges. Qin and Salah's team chose the Earth and Space track to solve an issue related to the environment, space, or sustainability. The team focused on sustainability, discovering that 25% of edible produce is discarded due to an imperfect appearance. When these items aren't fit for the shelves of grocery stores, they also impact methane levels in the atmosphere.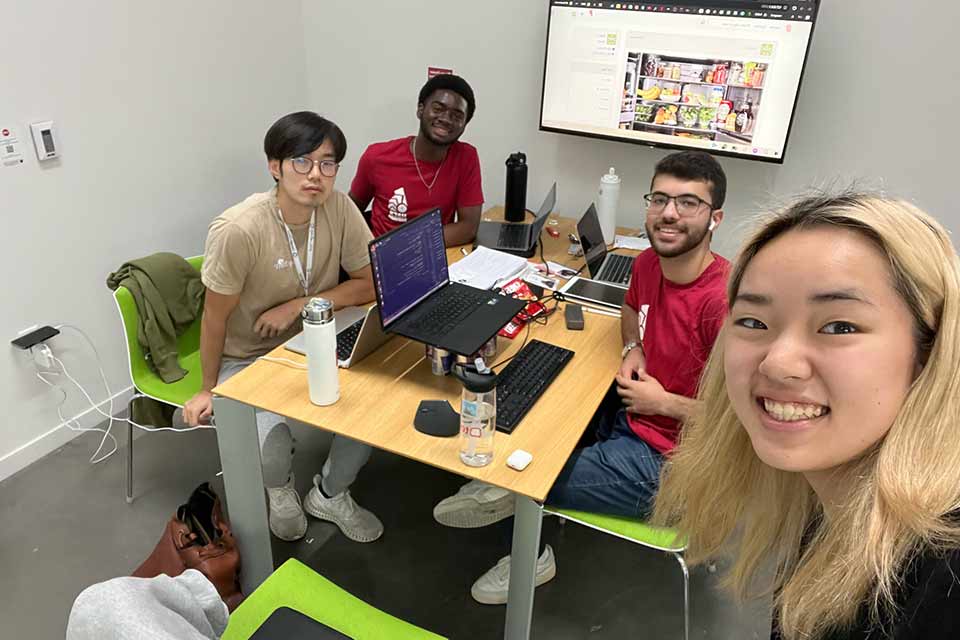 Teammates worked together to build the final product.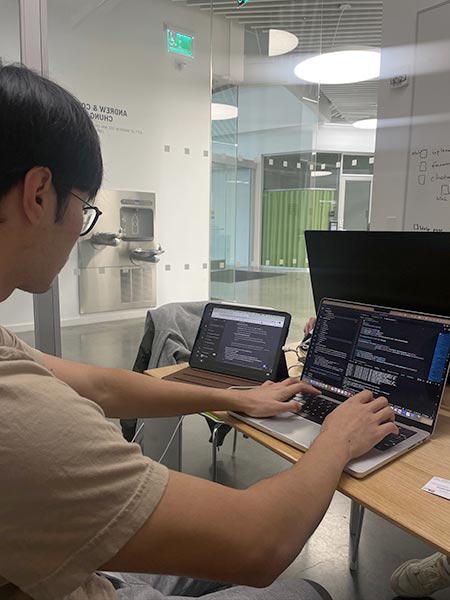 In response to this, the team developed 'Misfit Munch,' a website and app for farmers to sell their imperfect produce directly to consumers. The team showcased their different talents in their final presentation, video, and product by leveraging artificial intelligence (AI) within Flask-powered web applications, paired with SQLite for data management, to engineer a seamless user experience. They also utilized computer-aided design (CAD) for efficient prototyping, and explored innovative features such as the integration of drone technology for product delivery.
"Beyond the technical aspects, the community and networking opportunities at hackathons have been invaluable," said Qin.  "Engaging in insightful discussions with tech industry leaders, and renowned professors, and connecting with peers worldwide has broadened our horizons in ways we hadn't anticipated."
Qin and Salah plan to continue participating in hackathon events together in the new year. They contribute their skills to their coursework and campus life at Brandeis. 
"The technical skills I've learned at Brandeis have given me a great foundation," said Salah. "My capstone software engineering project, data structures course, and data science internship have all made a big difference."
"Being a board member in different clubs has given me a lot of cross functional communication opportunities," said Qin. "Life is about talking to all different types of people and getting things done. Having these experiences at Brandeis is great."