Fostering data-driven change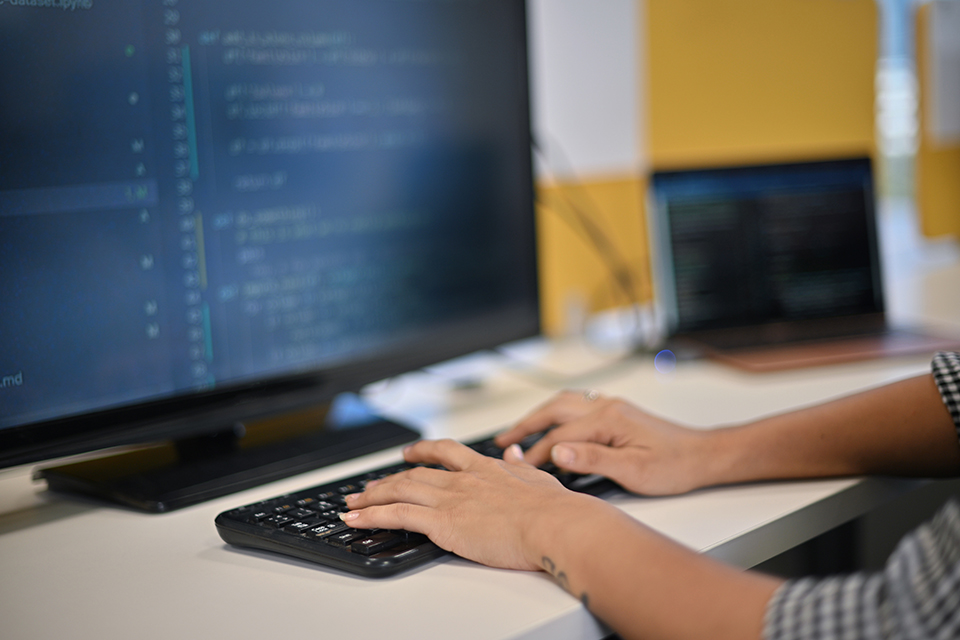 Photo Credit: Getty Images
A Brandeis internship program is giving undergraduate students real world experience while bringing innovation to the university community and beyond. The Data Science Internal Internship in Higher Education was launched in 2021 by research scholar Jessica Liebowitz and computer science professor Timothy Hickey. 
As a result of their data analytic work together, exploring job postings in the higher education sector, the two discovered that research universities were among the fastest growing drivers of supply and demand for data scientific talent in the decade leading up to the pandemic. 
"It was no surprise to see the huge boom in demand for data science skills across industries, but it caught our attention when we noticed that research universities stood out at the front of the pack," said Liebowitz, "with more and more new faculty being expected to bring these skills to the classroom at the same time that more and more university staff and administrator job postings were calling for them too." 
Their research showed the opportunity to craft an "internal internship," as Liebowitz and Hickey describe it, as a way to "bridge the academic side of the house with the administrative side through the shared focus on data science." 
The initiative pairs staff across administrative departments with an undergraduate intern who has excelled in relevant computer science classes. While the interns apply skills they've been learning in class, they are providing staff with innovative tools and techniques for improving work-flow and increasing opportunities for data-informed decision-making. 
Many of the projects so far have been motivated by senior administrators Stew Uretsky, Executive Vice President for Finance and Administration, and Carol Fierke, provost, encouraging their direct reports to identify operational challenges or unmet office objectives that could be addressed through data scientific innovations. 
"Our office has been able to leap-frog in our understanding and use of our data, and has given us the ability to continually ask new questions of the data to help drive institutional decision-making," said Morgen Bergman, ​​Associate Provost for Research Administration.
Other projects resulted from administrators who heard about the work of DSI Interns in related offices and realized that their own work-flow could also benefit from new technologies and techniques for managing, distributing, analyzing, and understanding data.
After a department determines they'd like to take on an intern, they work with Liebowitz and Hickey to define a clear job description for the project. Then a competitive application process is completed to select a student. Students must demonstrate a certain level of computer science mastery while also showing a track record of success in taking on independent work. 
The DSI Internship selection committee, which includes professors Olga Papaemmanouil, Nianwen Xue, Antonella Di Lillo, and Pito Salas, in addition to Liebowitz and Hickey, chooses the finalists. But the administrator on each project makes the actual hiring decision.
Throughout the semester, students in the program bring data science applications into the workflow of their departments. They're tasked with multiple objectives, depending on the project, including identifying and integrating relevant data sets, automating updates, enabling predictive analytics, building interactive dashboards of key metrics, illuminating and visualizing important but otherwise not obvious trends, and creating the infrastructure necessary for administrators to share their new findings and tools – with all the necessary data security protections in place – with relevant staff beyond their own offices.  
Staff members and their Interns develop a dynamic working relationship of intensive learning on both sides. As 'administrative mentors,' the staff are guiding the Interns in quickly learning the specifics of a new field. Without such domain knowledge, students would not be able to implement effective solutions, no matter how sophisticated the techniques. 
At the same time, since most of the staff mentors are not data science experts, they are relying on the students to explain and justify the value of new techniques in accessible and understandable ways. 
Students work independently but are expected to be in regular communication with their Admin mentors. Students also meet as a DSI Intern cohort once a week, with Liebowitz and Hickey. This gives them the chance to share what they've already accomplished, what they plan to accomplish, describe key challenges, and also favorite discoveries. 
While DSI interns place great value on the opportunity to apply and learn new skills, and to acquire concrete career-building experience as a result, Hickey finds they are most excited about helping their departments.
"Brandeis students love to make a difference in the world. They want to be positive change agents," said Hickey. "To use the skills they've been learning to impact their community; they find it engaging and they're good at it. They come in, take on real problems and make a difference."
More than 10 offices have participated in the program, including Information Technology Services. 
Anne Marando, Deputy CIO within the Information Technology Services office, shared the value the students have added to departments across campus. She also highlighted the diligent process students are taking to ensure data governance is held to a high standard, protecting Brandeis information shared in different departments. 
"The interns are also helping to advance the Data Governance program, adhering to its protocols to ensure all Brandeis data shared is accurate, accessible, complete, and secured," said Marando. 
Pamela Poland, executive director of prospect development and information strategy in institutional advancement, shared that the biggest impact has been the students' contributions on how she and her staff can deepen insights that can be pulled from their data. 
"As we teach the students about fundraising data, they learn why the data is valuable and relevant, and then they implement their new analytical techniques, which in turn leads us to new insights too, not just about what our data is telling us, but also about how worthwhile it is to acquire the tools necessary for new ways of looking at it."
Past interns have gone on to careers in software engineering, continued their computational studies in master's of science and PhD programs, taken on data scientific roles in consulting firms, and have been hired into their internship departments at Brandeis, staying on the team to continue the innovative work they helped launch. 
The spirit of the DSI Internship program resonates with the growing interest in data science across departments at Brandeis, as well as with the curricular reform now being implemented in the undergraduate program of the computer science department. 
"Our vision is for the Brandeis computer science department to take advantage of this distinct opportunity to foster the students' practical understanding of computer science and their ability to creatively use what they've learned to enable interdisciplinary insights," notes Antonella Di Lillo, professor and chair of the computer science curriculum committee.
"Computer Science has always been rooted strongly in interdisciplinary endeavors, but it can be easy in a purely academic context to lose those connections without a more intentional approach. The DSI Internship is one component of many that are creating momentum and energy for us to create the best possible computer science education in a liberal arts context for the 21st century."